Air cooled engine uses airflow directed at fins on the cylinders and heads is the cooling medium: heat is transferred directly to the air. The air comes either by natural convection or by forced air.
Water cooled engines circulate coolant around the heads + cylinders though a surrounding water jacket, and use a separate high-efficiency radiator for the final heat exchange to the air. (Marine engines are a bit different - they use the surrounding water instead, either directly or though a water-to-water heat exchanger.)
Air cooled engines are simpler, lighter and easier to maintain as they don't have the 'wet' cooling system elements. They excel in cold climates where coolant freezing can be a problem. However, air cooling is less efficient due to the low heat capacity of air so these engines suffer from hot spots which reduces power, increases emissions and shortens their life.
Air cooled engines are also considerably noisier - both from the engine directly and also from the air blower cooling fan if used.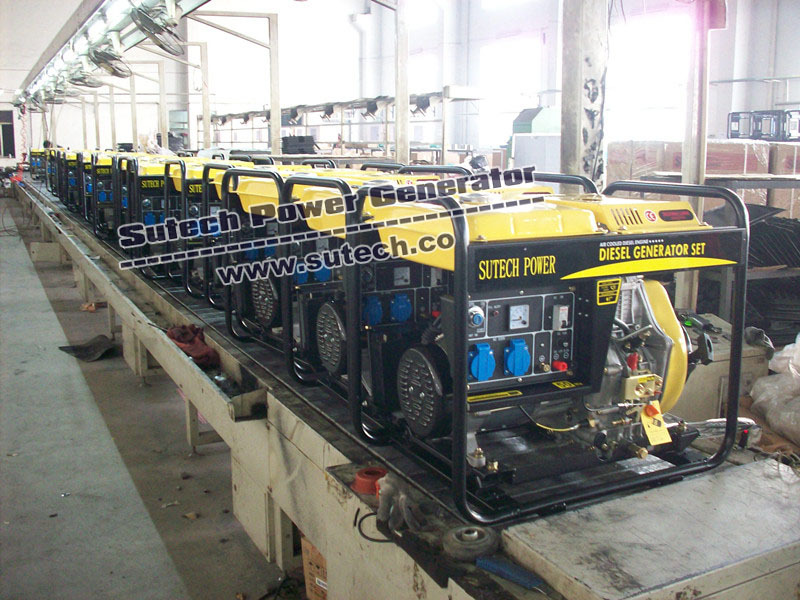 Frequency(Hz)

50

Max.(KVA)AC output(KW)

5.5

Rated AC output(KW)

5

DC output (V-A)

12V/8.3A

Rated voltage(v)

220

Power Factor

0.8

Phase

Single phase

Excitation System

Self-excitation

Dimension(LxWxH)mm

950x550x770

Net Weight(kg)

140

Type

Single-cylinder,vertical,4-stroke,
Air-cooled, direct-injection

Displacement(cc)

406

Fuel tank capacity(L)

16

Lube. oil capacity(L)

1.65

Staring System

Electric starter

Low oil pressure alarm system

With
Packaging : The packaging of The packaging of hot sale 5kw small diesel generator for home use is plywood case
Shipping: about 7 work days upon receive the 30% prepayment
Open type from 1kva to 12.5Kva