Plasma silicon wafer cleaning equipment /Wafer plasma cleaner with LCD touch screen
Feature of Plasma silicon wafer cleaning equipment
1. Environmental technologies: plasma process is the role of gas - solid coherent reactor consumes no water resources,
no need to add chemicals and no environmental pollution.
2. Wide adaptability: regardless of processing substrate type, such as metals, semiconductors, oxides, and most of the
polymer material can be a good deal;
3. Low temperature: close to room temperature, particularly suitable polymer materials, have a longer retention time
and a higher surface tension than the corona and flame method.
4. Multifunctions: it involves only a shallow surface of polymer materials (10 -1000A), while preserving the characteristics of the material itself can give it one or more new features;
5. Low cost: the device is simple, easy operation and maintenance, continuous operation,a few bottles of gas can replace thousands of kilograms cleaning fluid
6. The whole process technology can be controlled: all the parameters can be set by the computer and data recording
7. Treated geometry Unlimited: Big or small, simple or complex, parts or textiles can be processed.
Plasma silicon wafer cleaning equipment
Technical parameters of Plasma silicon wafer cleaning equipment
Plasma silicon wafer cleaning equipment
| | |
| --- | --- |
| Model | CY-P10L-B |
| Working current: | Total working current not higher than 2A (Not include the vacuum pump) |
| RF frequency | 13.56MHz |
| RF power | 200-400W |
| Frequency offset | <0.4KHz |
| Vacuum degree | 60Pa-100Pa |
| Cleaning time | 1-6000s adjustable |
| Gas flow | >10-100ml |
| Process Control | manually/automatic |
| Power | 10-100%adjustable |
| Cleaning capacity | 10L |
| Exhaust pipe | KF vacuum flange+vacuum aluminum pipe |
| Vacuum Pump | Bipolar direct rotary vane pump |
| Impedance matching | automatic |
| Display | LCD |
| Power supply | AC 220V 60Hz |
Application of Plasma silicon wafer cleaning equipment

1.Car industry: ignition coil engine oil seal film

2.Defense industry: Aerospace electrical connectors,Kevlar deal

3.Electronics industry: hard plastic parts, earphone, Cell phone cover

4.Medical industry: intravenous infusion, catheter treatment

5.Textile fiber,rubber and plastic industry and etc.
More photos of Plasma silicon wafer cleaning equipment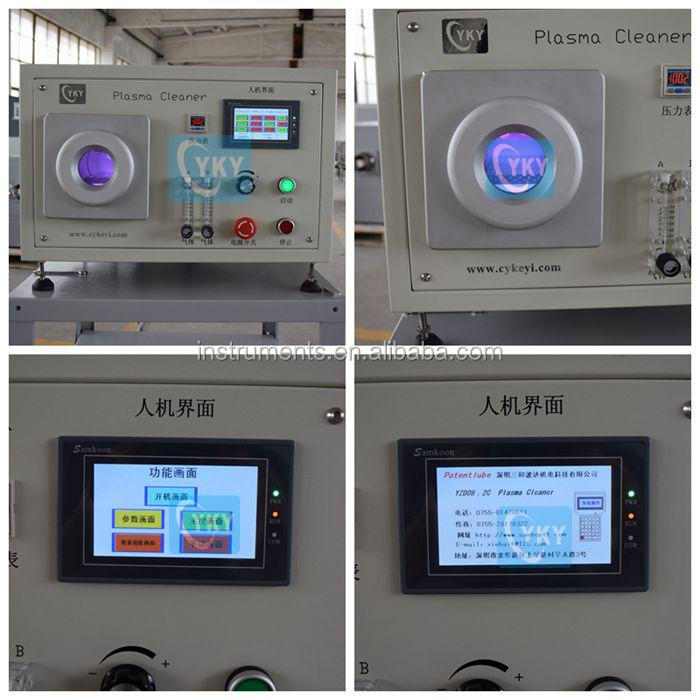 Other types of Plasma silicon wafer cleaning equipment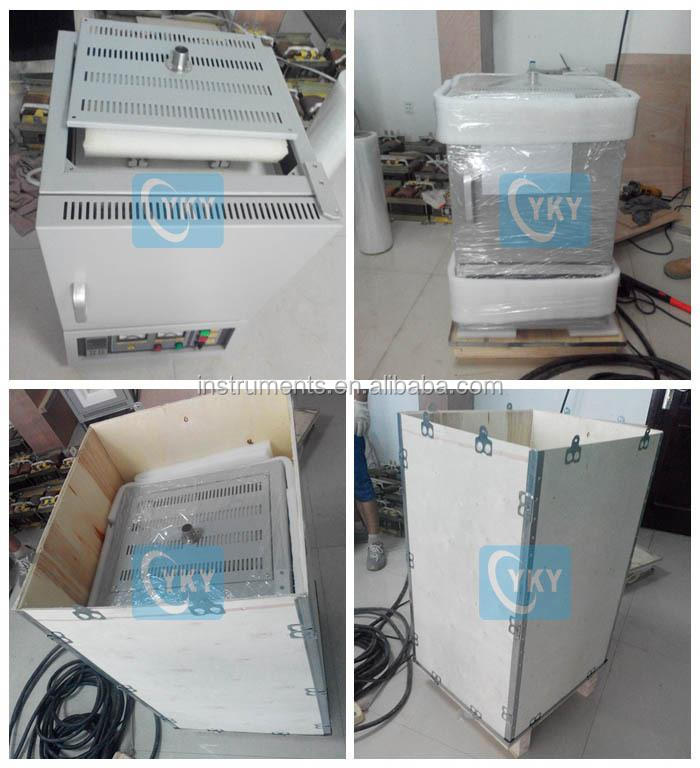 Our service
1. Factory prices with the best quality.
2. One year free-of-charge maintenance for all the dental equipment
3. Customized service for special demand
4. Fast and flexible delivery, by sea, by air, by express
5. Quick response within 24 hours
How to order
1. If you are interested in our products, please tell us the model number and quantity.
2. We will make a proforma invoice for your order.
3. We will deliver the product ASAP on receipt of the payment
Guarantee
1. Guarantee for one year after shipment.
Payment
1. Western Union
2. PayPal
3. Secure Payment through Alibaba
4. Telegraphic transfer
5. L/C
Zhengzhou CY Scientific Instrument Co., Ltd is mainly engaged in the research and development, design, manufacturing
and sales of equipment used in scientific researches. Independence and innovation is the company's tenet.Our main
products include: tube furnace, muffle furnace, plasma cleaner, vacuum furnace, atmosphere furnace,CVD system and
customized lab equipment.Welcome you come to visit us.