SHENZHEN KINGSTAR SHIPPING CO., LTD.was China's Class A international freight forwarder (Licence No.98798) Established in 2004 at Shenzhen, one of the biggest ports in China.Shenzhen Kingstar is group company :Shenzhen Kingstar Shipping Co., Ltd & Shenzhen Qianhai Kingstar Supply Chain Limited,NVOCC NO:MOC-NV 07079.CIQ registed NO. : ZC2813,China council for the promotion of international trade(Shenzhen) registed NO. Boston 4).Our services are as follows for all type of cargo.
Competitive advantages:
Ensured best & latest shipping rate
guaranteed space with all carriers and private off dock warehousing at most destinations

specialize in freight consolidation with receiving inland offices located throughout the China

non vessel operating common carrier (NVOCC) with main offices throughout the P.R China and partners throughout the world.

Class A" Forwarding Company. approved by the Ministry of Foreign Trade and Economy Cooperation of P.R. China

We can offer u 24 hours online service ,quickly response .

We have more than 9 years experiences in LCL sea shipping from China.Can deal sensitive goods for ur business.
Company details:
1.7 years golden supplier in Alibaba
2.more than 10 years in Logistics
3.Head office in Shenzhen and can handle All the ports in China
If I get some informations about your goods, I can provide you a precise and fast rate.
Quick response Direct handling Professional operation
Worldwide network Cost effectiveness Competitive Rate
MSK,EMC,CSCL.MSC,APL shipping sea freight,jebel ali,karachi,india,gulf ports

POL

POD

Carrier

Transit Port

ETD

Transit Time

Norfolk

Shenzhen

EMC

24

OOCL

21

Shanghai

EMC

22

OOCL

25

Xiamen

EMC

21

Hanjin

Seattle

Thursday

21

Ningbo

Kline

Long Beach

Saturday

21

EMC

Tacoma

Saturday

30

Qingdao

ZIM

Direct

Saturday

33

COSCO

Direct

Monday

30

Tianjin

EMC

Long beach

Saturday

30

YML

Shanghai

Tuesday

35

Notes:

The schedule is the estimated one. Pls check with us when you book the container

Let me know if you need the schedule from other port

AMS is need for container to USA

Fumigation is need fo sea freight shipping china to canada/usa/australia -----abby r wooden package when clearance in USA
shenzheng greight forwarding to canada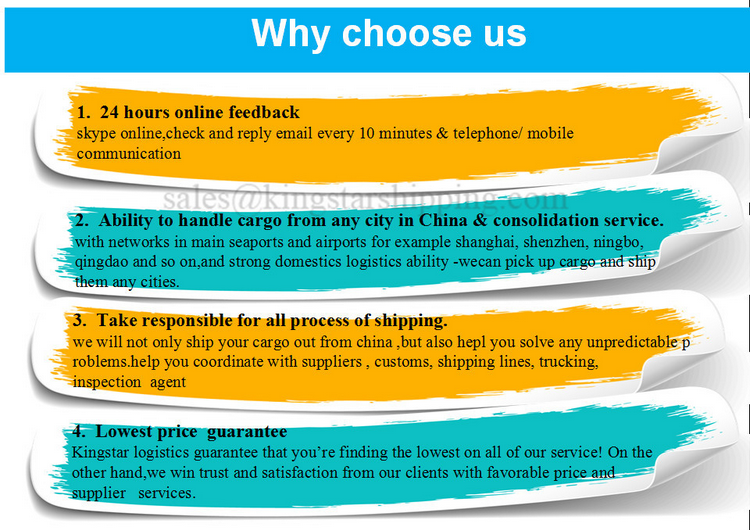 Our services are as follows for all types of cargo ranging from general cargo to perishable or hazard live animals.
(1) Air and ocean freight from mainland China to France and from France to China .
(2) Express /Courier by DHL/ FEDEX/ TNT/ EMS/ UPS between China and France.
(3) DDU, DDP and door to door service in France
(4) International Railway Transportation from China main Cities .
(5) Sea freight on FCL and LCL for import and export traffic.
(6) Consolidation arrangement weekly between China and France in our approved warehouse.
(7) Local trucking and storage in China and France.
(6) Packing and distribution for personal effects .
(9) Import and export customs clearance in China and France.
(10)Making CO, Form-A/E/F/M,FTA, cargo inspection, sanitary inspection and Fumigation, freight collect and receiving L/C, Insurance, Agent for CIQ, SASO, BESC, C/E, and endorsed by Embassy,etc.
Our highly trained and experienced professionals will provide you with quality service and assist you to achieve your goal in most efficient and cost-effective way.
Kingstar'sservices is more than shipping. We are your representative office in China who takes care of your purchase from china.
1)We collect your samples from different suppliers and send it by courier UPS/ DHL/ TNT/EMS under our 50% discount contracted rate.
2)We pick up your goods from different suppliers and consolidate into one shipment to save your expense at destination.
3)We offer export license,export permit to your purchase in the market or some EX WORKS products.
4)We collect and ship your goods under Kingstar's name to protect your business secret from your suppliers and buyers.
5)We clear customs for your goods and deliver to your designated places by our worldwide partners.
6)We can help you pay different suppliers in china to save your bank charges.
7)We can help you inspect the products and check the suppliers credit from China.
If you have any inquiry ,Pls let me know .I will quote you best rates at first time.
SKyPe:ks85908329
QQ:285 391 5913
WeChat: sh403800
Phone: 150 128 499 03
Trademanager:cn1501528496