PD - OB1- E LED High luminance illuminator
Patent No.20092005163613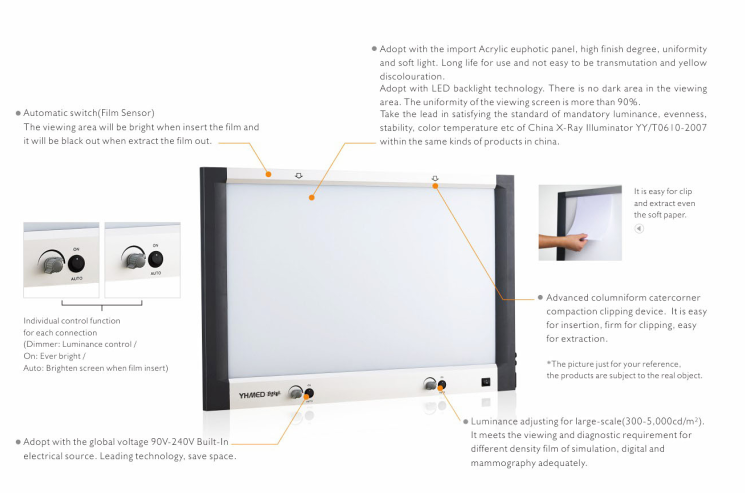 •Automatic switch (Film Sensor)
The viewing area will be bright when insert the film and it will be black out when extract the film out.
•Adopt with the import Acrylic euphotic panel, high finish degree, uniformity and soft light. Long life for use and not easy to be transmutation and yellow discoloration.
Adopt with LED backlight technology. There is no dark area in the viewing area. The uniformity of the viewing screen is more than 90%.
Take the lead in satisfying the standard of mandatory luminance, evenness, stability, and color temperature etc of China X-Ray illuminator YY/T0610-2007 with the same kinds of products in china.
•Adopt with the global voltage 90V-240V Built-In electrical source. Leading technology, save space.
•Advanced columniform catercorner compaction clipping, easy for extraction.
The picture just for your reference, the products are subject to the real object.
•Luminance adjusting for large-scale (300-5,000cd/m²). It meets the viewing and diagnostic requirement for different density film of simulation, digital and mammography adequately.
•Nobler thin design
The three-dimensional design frame use silver and dark gray, and the new-style material such as electrophoresis aluminum-alloy, plastic alloy etc. It shows the nobler character. The shape is thin, the thinness is only 4cm.
•The highest average luminance for the latest illuminator is more than 5,000cd/m² (average illuminance 16,000 lux).
This new type of patent product adopt with the international advance technology high luminance LED as the backlight. Compare with the former CCFL for LCD product, the highest average luminance increase from 1200 cd /m² to over 5,000 cd /m² (≈ 16,000 lux), it could be used for viewing and diagnosis high density digital film and mammography film.
•The life of LED is 100,000 hours. It is over 5 times than the CCFL lamp.
•9300K while and light-blue light color temperature is more suitable for viewing and diagnosis film than the 6500K while light.
High luminance LED, Backlight 100,000 hours life
LED illumination Stand, the size is 1-4 Connections
Specification and Technology Parameter
Model PD - OB1 -E
1 Connectiom

2 Connectiom

3 Connection
4 Connection

Size (H*W*T mm)

470*545*40

830*545*40

1190*545*40

1550*545*40

Viewing area

(H*W mm)

360*440

720*440

1080*440

1440*440

Power Consumption

50 W

100 W

150 W

200W

Backlight type, color temperature, life

High luminance LED. 9,300K. 100,000 hours

Power Supply

AC 90V-240V, 50/60HZ Built-In electrical source

Luminance and adjusting area

Average luminance 300 cd/m²-5,000 cd/m²average illuminance 900 lux- 16,000lux

Luminance Uniformity

≥90%

Cipping Device

Columniform catercorner compaction cilpping device

Install way

Wall mouting, standing (the stand is the spare parts for choice, have to pay for it separate)

Suitable Film

Normal Simulation X-Ray Fillm, High Density Digital X-Ray Film, Molybdenum Target Mammography Film

Use Condition

Illuminance of the viewing rooms should less than 100 lux

Company Information: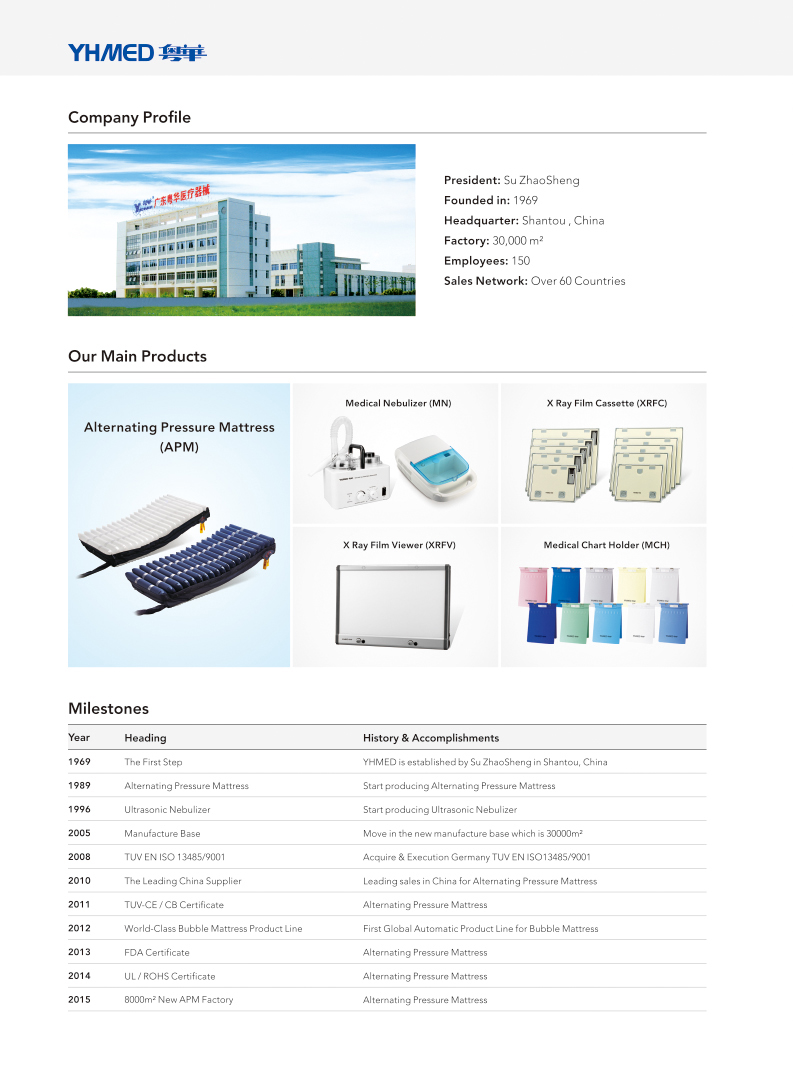 YHMED Booth: