Powergrid FRP pultruded grating passed ASTM E-84 from Nantong
Contact
Nantong Josson offers a wide range of FRP pultruded grating products, including a variety of thicknesses, open areas, cross bar spacing, surfaces, and resins. Pultruded grating is often used where spans are longer than molded grating can allow, and chemical resistance requirements aren't as high.
The most important feature of FRP pultruded grating consists of the fact that the glass to resin ratio is higher in the bearing bar direction, therefore the span capacity of pultruded gratings is higher compared to that of the molded grating. This reflects in a reduction of support structures and lower costs.
We normally have the dimentions as below: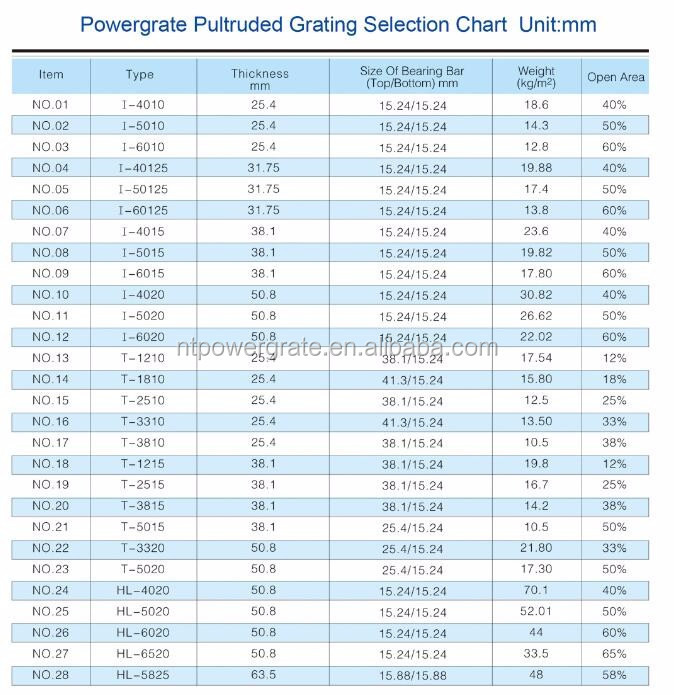 Applications
Our company
Molded grating workshop
Pultrusion profiles workshop
Mould processing workshop
BMC/SMC workshop
Nantong Josson New Material Technology Co.,Ltd. is one of the world's leading manufacturers of molded and pultruded fiberglass (FRP/GRP) grating products.
We offer a complete line of Powergrid brand products such as grating, covered grating, conductive grating, stair treads, stair tread covers, plates, and other accessories.
Our high-quality fiberglass grating products are designed and manufactured to provide long lasting performance for industrial and offshore applications.
Since our inception, Powergrid has been dedicated to the ideal of making best value Fiberglass grating products in the world through the combination of wide selections, high quality and competitive prices.
Contact us to find out the secret to our success and what makes us the preferred partner of many world's leading companies in composite and grating industries.
Test reports