RW1001 Cell Phone Security Tethers including RW1000 Cell Phone Security Tether and RW0001 Ring Terminal cable end.
Cell Phone Security Tether also known as security cable, Extendable Rope, recoilers, security tether and pull-box, it can be broadly used for point of retail product positioning, purchase security, wire harness positioning in electronic equipment, equipment counterbalancing, signage support, and product or parts feeding. For example, it can be used in supermarkets, such as Wal-Mart Electronic products display and some other daily products display.
RW1000 is a Drop shaped Cell Phone Security Tether, wide range of applications for this recoiler.
RW1000 Cell Phone Security Tethers Exit Locations:
We provide 2 cable exit location possibilities for this Cell Phone Security Tethers ( also called Security Tethers, Cell Phone Tether) that is because the best performance and life are achieved when the cable is extended straight out of the box.
The RW1000 Cell Phone Security Tethers exits are shown as following:
product name: Drop-shaped Extendable Fix Anti-theft Rope used in mobile phone security display
RW1000 Cell Phone Security Tethers Specifications:
Cell Phone Security Tethers

Model Number:

RW1000

Cell Phone Security Tethers

Supply Ability:

80000 pcs per week, production capacity can raise for urgent order.

Cell Phone Security Tethers

Materials:

Box is made of ABS plastic, with retractable spring built inside

and stainless steel cable winding onto the reel inside.

Cell Phone Security Tethers

Box Size:

5.0x3.25x1.55 Cm

Cell Phone Security Tethers

Gross Weight:

21 g/pc

Cell Phone Security Tethers

Available Retracting forces:

1/3LB

Cell Phone Security Tethers

Box Colors:

Black / White / Customization

Cell Phone Security Tethers

Cable Colors:

Black/ Transparent nylon cover the stainless steel cable.

Cell Phone Security Tethers

Cable Exit Locations:

A / B

Cell Phone Security Tethers

Cable length:

96 cm

Cell Phone Security Tethers

Cable Diameter:

0.9 mm
More details about RW1001 Mobile phone security cable Cell Phone Security Tethers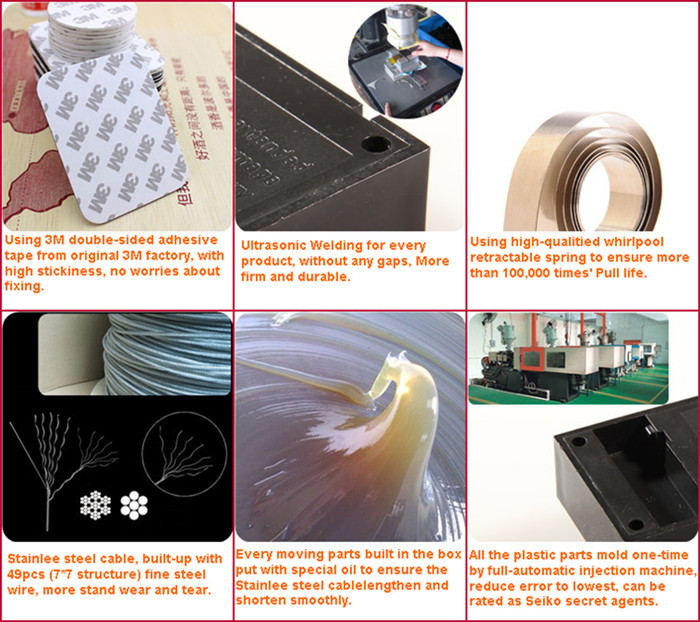 This RW1000 Cell Phone Security Tethers can work with any other Connectors or mounting base / holder from us, such as following Cell Phone Security Tethers Connectors, link following picture will bring you more Surprise: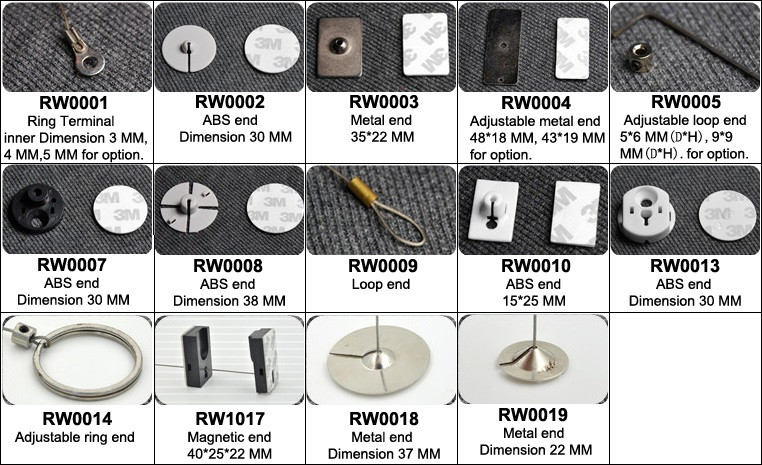 If this Cell Phone Security Tethers is not the best your need, we also have many other Cell Phone Security Tethers
for your options, link following picture will bring you more Surprise: