Induction hot forging machine for steel ball

Features of induction hot forging machine

1, my company transistor (IGBT) high frequency power-saving than vacuum tube up to 40-60%, saving 60%, external support facilities to reduce investment by 75%.
2, a unique cooling circulation system, ensure that the equipment 24 hours of continuous work.
3, small size, light weight, easy to move, no million-volt high-voltage danger, safe operation.
4, high reliability, easy to maintain and improve the over voltage, over current, overheating, lack of, water and other self-protection.
5, use large scale integrated circuit digital automatic control, with manual, automatic, semi-automatic, and the lack of heat insulation of cold sub-time control functions.
6, automatic frequency tracking, stepless power adjustment, easy to use, 10 minutes to learn to use.
7, the company has a complete sales service system and the treatment of professional engineers, to ensure that you have no worry about technology or service.
Technical paramters of 160kw machine induction forging

Model

WZP-160 KW


Work power

3 phase 380V+/-10%, 50-60HZ

Input voltage

320V-420V

Input current

6-300A

Input power

10-160KW(power adjusted stepless)

Oscillation frequency

10-50 KHZ

Cooling water pressure

0.3 MPA

Size of geneartor:

Transformer

850*600*1330mm

780*540*520mm

Weight of generator ; transformer

147kgs; 108kgs

Water cooling protection point

Below 50 degree celsius
Induction forging machine front and rear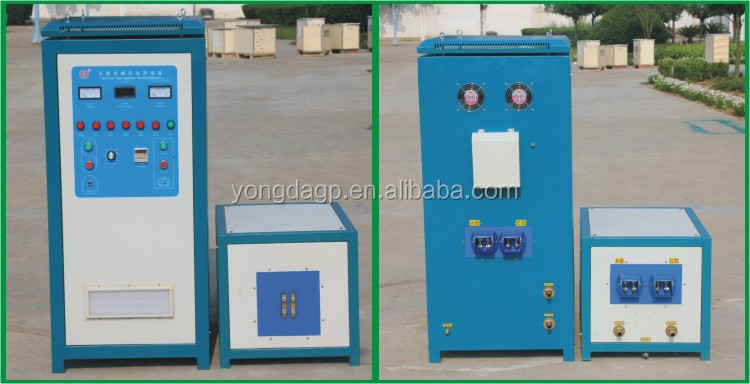 Applications of induction forging machine
heating (hot forging, heat shink, melting):
1, it is mainly hot forging the workpiece to a certain temperature after heating (heating temperature according to different materials are also different), through the press, forging bed or other forms of forging the workpiece into other shapes. For example: Case, table embryo, handle, mold accessories, kitchen utensils supplies, crafts, standard parts, fasteners, machinery parts processing, Brass Padlock, rivets, drill rod, drill with the hot extrusion and so on.

2, heat shink it mainly refers to, between different kinds of metal between the metal and nonmetal metal by heating, using thermal expansion or hot-melt solution so that the two principles together. For example: copper and aluminum radiator computer, speakers buried net value of welding, steel-plastic composite pipe, aluminum foil sealing (toothpaste tubes), rotor, electric pipe sealing and so on.

3, melting it mainly refers to the temperature of the metal, the metal into the liquid, mainly used in iron, steel, copper, aluminum, zinc and various precious metals. Such as gold, silver melt.
Small steel ball production, heating 20-40 steel rod for forging steel ball, use yongda brand induction forging machine , high efficiency ,save energy,save cost for enterprice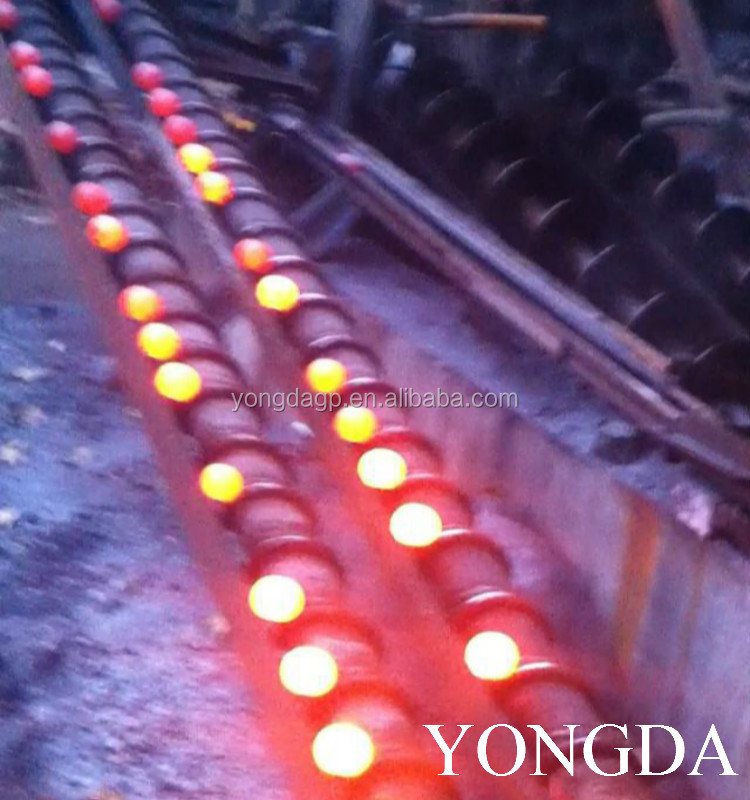 Packing for induction forging machine

1.Two wooden cases (plywood) or caron,as you request.
Inside,will be filled with plastic foam,for waterproof and shockproof.
2.Accessories: high frequency cable 2 pcs, (connect generator and transformer)induction coils,foot switch and installing and operating instructions
Shipping: by sea LCL(less than container load) or by air/train etc.
1. Check material and specifications of your work pieces
2. Recommend suitable machine model
3. Send quotation
4. Communication about price, transport and other details
5. Order machine
6. Production machine
7. Delivery goods
8.Tracking goods unitil customers get the machine, help install and instruct operating machine.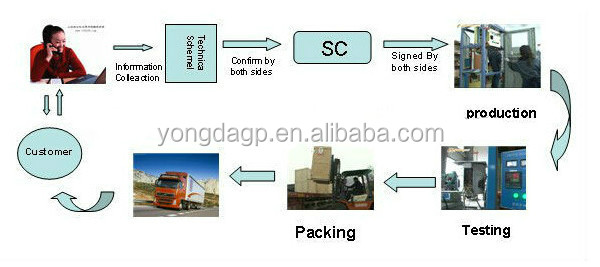 Yongda induction heating equipment, is your first choice , competitive price, high quality, best after sale service. since 1996. Hot sale yongda brand solid-state forging furnace induction machine to all over the world.