High quality 50mm PVC pipe/hose/tube low price
Product features and advantages:
1. Good insulativity: UPVC pipe has excellent insulation nature against electricity. Our PVC pipe can withstand high pressure and not easy to breakdown. It can avoid electricity leakage and electric shock effectively.
2. Damp-proof and corrosion resistance: UPVC pipe has its excellent resistance to the erosion caused by acids and alkalis, especially suitable for corrosive environment.
3. Light weight: The PVC pipe weight is one fifth of the steel tube. It's convenient to handle (load, unload and install)
4. Convenient Installation and low construction cost: It is convenient to cut off and easy to install. The pipe can bend different angle optionally in the normal temperature, It's beneficial for many working circumstance.
5. Small resistance to fluidity: the smooth surface of UPVC pipe reduces resistance to the fluids. Its roughness coefficient is only 0.009, much less than other pipes. Smaller caliber of the pipe can be used under same discharges.
6. Healthy and non-toxic: It's green building material and doesn't affect on water quality when the water flows through.
7. Strong mechanical strength and aging resistance: good resistance to water pressure and outside impact. PVC has long service lifespan under proper using.
Brief Introduction of Products:
This products is widely used in industrial and civil building, including indoor and out door drainage, sewage pipe project, in considering the material corrosion chemical conditions, also can be used for agricultural irrigation system, chemical drainage, sewage, it also suitable for ventilation pipe and drainage pipeline, etc.
UPVC Drainage Pipe is flexible which is different from a rigid pipe, high strength and rigidity, resistant to corrosion and aging, easy to install, lift span above 50 years, non-poisonous, very economical making cost.
We make any size pipe at spot (O.D 50-200 mm),Newest piping-making craft, lowest piping manufacturing and transportation cost for O.D 50-200 mm pipe.
Material: U-PVC (Rigid Poly Vinyl Chloride)
Place of Origin: Jilin China (Mainland)
Technics: casting
Size: 50mm,75mm,110mm,160mm,200mm
Thickness: 2.0mm,2.3mm,2.8mm,3.2mm,4.0mm,4.6mm,4.9mm

Color:

transparent white or other color as your request
Application:Running water piping project, water saving irrigation pipe project, construction pipe system, Post and communication cable pipe, industry fluid transportation pipe, shaft sinking project, medicine piping project, electrical piping project etc.
U-PVC Pipes:
WHY choose us to cooperation?
Outstanding advantages as below:
1. Authenticity and Reliability: Jilin Tianze Pipe Industry Co., Ltd. is a verified company by some professional third-party inspection companies: ISO, BV (BUREAU VERITAS) and Alibaba.com.
2. Patented product——Manifold: This is designed and developed individually by our independent R&D team. Especially using plastic instead of steel/copper is a great advance.
3. Production facilities are imported from South Korea: Computer monitoring system, totally enclosed automatic feeding system, advanced technology processes, perfect testing instruments.
4. Main raw materials: South Korea LG raw materials (XL1800), SK global chemical DX 800 and HONAM 8100GX, without any reclaimed filler or damaged material in the products.
5. Accessories: imported from Japan and Europe. Such as Germany Degussa DTBP cross-linking agent, Switzerland CIBA A/O1076 major antioxidants, PS802FL auxiliary antioxidants.
6. Years of production & service experience: High-quality products, Customer First..
7. Stable domestic market and stable stock.
Corporate Culture:
Our vision:Provide high-quality green environmental protection pipe system for construction industry.
Our targets: Mutual respects, excellent service, commit improvement, create values
Our management concept: Humanized, militarize and scientific
Our service concept: Thankfulness, dedication, sincerity, high efficiency and win-win
Our mission: Create the outstanding brand in the plastic pipe field.
Our motto: Development and innovation is of top priority.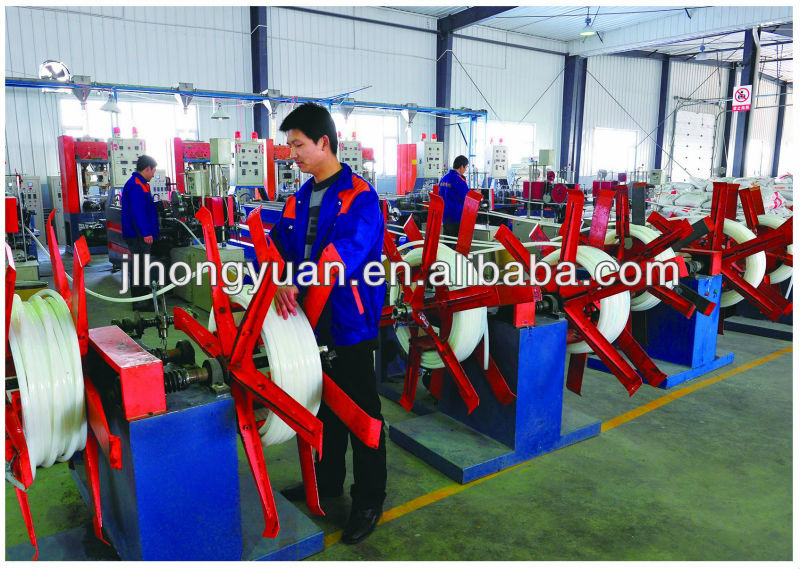 We are the manufacturer specialized in producing many different kinds of pipes and fittings more than 6 years, mainly dedicated to developing and producing "Hongyuan" brand PE-Xa heating pipes, PE-RT geothermal pipes, PP-R hot/cold water pipes, PP-R fittings and manifolds.
If you are interested in any products, please feel free to contact us for more information at anytime.