Stainless Steel Reactor Batch Manufacturer For huntsman araldite epoxy resin
Introduction Of Paste/ Liquid Glue/ Adhesive Macking Machine
reactor batch is the main machine for making viscous raw materials, such as resin, paint, glue, silicone oil, etc.
Applications:
1. Resin: Polyurethane resin, Polyester resin, Alkyd resin, Unsaturated polyester resin, Saturated reisn, Acrylic resin, Phenolic resin, Urea-formaldehyde resin, Epoxy resin, Amino resin, etc.
2. Paint: White latex, Water based paint, Oil based paint, Curing agent (hardener), Thinner, etc.
3. Glue: Acrylic emulsion glue, Urea-formaldehyde glue, Epoxy potting glue, Polyurethane sealant/ adhesive, Water based polyurethane, Liquid nails (Free-nail glue), etc. Reactor
4. Silicone oil: Silicone oil, Scrap silicone cracking for silicone oil, etc.
5. Simple Description Of reactor batch
1). Different capacity design from 50L to 50,000L.
2). Made of stainless steel 304/ 316L, or other material (decide by client).
3). Have jacket and coil-pipe style.
4). Vacuum and high-pressure are available.
5). Super mixer for most chemicals / food materials mixing and reacting.
6). Widely used in producing resins, adhesives, paints, cosmetics, pharmaceuticals and
other chemical productions.
7). Can be heated by oil or water or steam, temperature range: 0 - 500 centigrade.
8). With different mixing paddles, can be designed as requirements.Reactor
9). Supply whole production line for different products, also including producing
technology. Reactor
The main parameter of reactor batch
Type

Volume

Heating Mode

Structure

Paddles

Remarks

FYF-100

115L

Electric heating

Or

Steam heating

Or

Water heating

Or

Oil heating

Jacketed

Or

Coil-pipe

(inner & outer)

Anchor & Ribbon paddels

And also equipped with square blades.

Also can equip with dispersing disk.

The motor of the reactor depends on products' viscosity.

The reactors are made of SS304 by default, but can be made of SS316 or Carbon steel also.

Heating mode can be chosen as actual needs.

FYF-200

220L

FYF-300

330L

FYF-500

535L

FYF-1000

1050L

FYF-2000

2080L

FYF-3000

3120L

FYF-4000

4120L

Oil heating

Or

Steam heating

(Seldom use water and electricity heating)

FYF-5000

5150L

FYF-6000

6150L

FYF-8000

8180L

FYF-10000

10200L

FYF-12000

12200L

FYF-20000

20200L

FYF-50000

50300L
You can customize all the machine parts!
6. JCT reactor batch pictures:
Factory Records JCT Machiery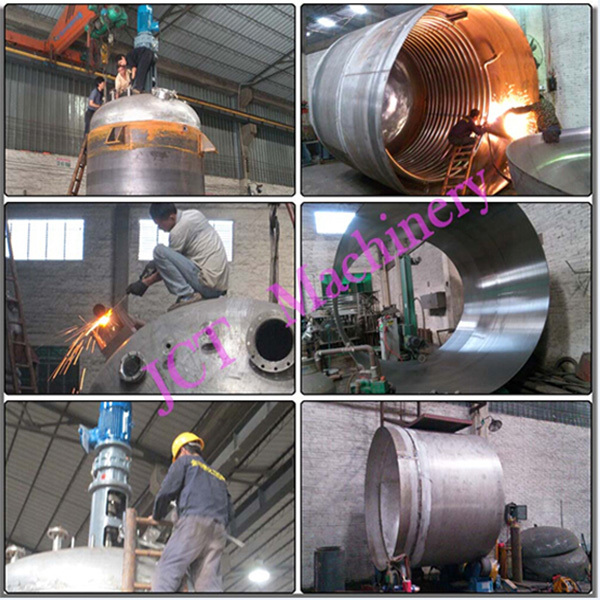 Reactor in the factory.
Reactor JCT Machinery
Coil-pipe Reactor JCT Machinery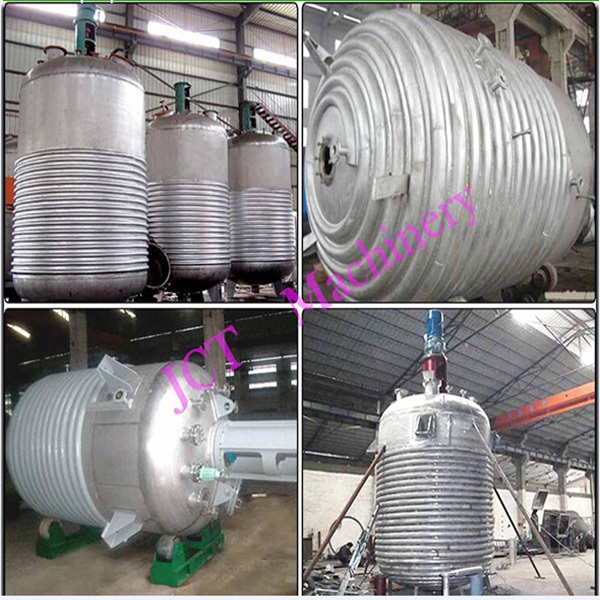 Reactor Paddles JCT Machinery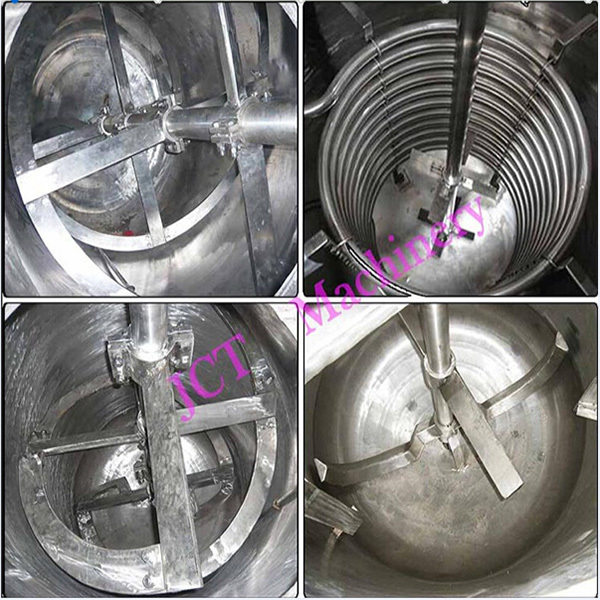 Differnt mixing paddle style of reactor batch .
Standard exporting packing.
1. 100L~500L Adhesive making machine: Quality inspection - Wooden package - Truck loading - Container - Deliver by sea.
2. 1000L~10000L Adhesive making machine: Quality inspection - Plastic bag/ Film materials package - Truck loading - Container - Deliver by sea.
3. 10000L~40000L Adhesive making machine: Quality inspection - Film materials package/ Nude package - Truck loading - Container - Deliver by sea.
Machine Delivery JCT Machinery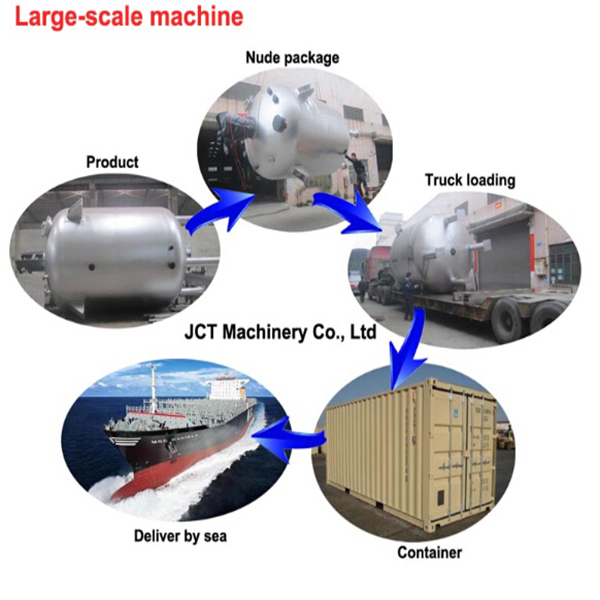 Our Services JCT Machinery
1). Profession: Reactor
We have focused on this area for over 10 years, and the boss of JCT is a professional
engineer who has 20 years' experience in what we are concentrating on!
2). Powerful team:
A 5-experienced-engineer designing team + a 35-skilled-technician team + a 10-passionate-sales team make up the JCT big team.
3). Achievement:
JCT was set up at 2004, through about 10 years' endeavor, our products has been sold to
most important industrial district in China, such as Guangdong, Shangdong, Jiangsu,
Zhejiang, Fujian and so on.
And we have edged ourselves into the top 5 in China.
From 2009, JCT started the international marketing. Now, we have set our feet in North
America, Europe,South Aria, Africa etc. Reactor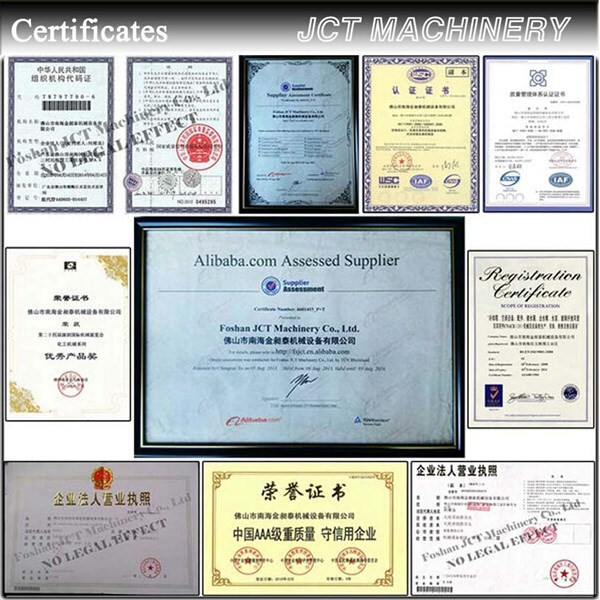 Contact Information
jacketed reactor