Our Service
*Good quality and wholesale price are available in our factory
*OEM & ODM service are also welcomed
*Fast delivery and after -service will satisfied with you
*More designs and colourful samples for reference
*More profitables conditions if bulk
Silk Charmeuse
Silk is a fabric that makes its own statement. It is beautifully elegant and luxurious and feels incredibly soft and sensual. We use a higher than average for our silk (19mm) so it looks richer, fits more beautifully, and feels even more indulgent. Best of all, it is relatively easy to care for and with good care will last longer.
Fun fact: – Silk is one of the oldest textile fibers known to man and is the strongest natural fiber. A steel filament of the same diameter as silk will break before a filament of silk!
Silk Charmeuse – Silk made with a satin weave which is soft, yet supple and drapes beautifully. The front side of the fabric has a satin finish, lustrous and glossy, and the back has a matte finish. This is the smoothest of the silk weaves.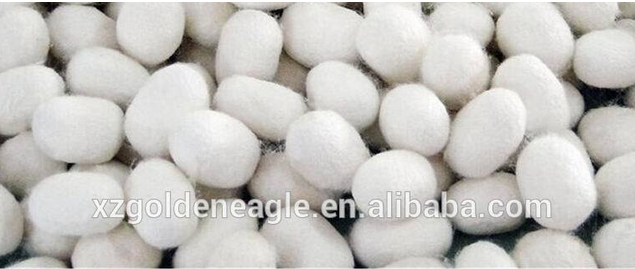 Company Information
Established in 2002, Xuzhou Golden Eagle Silk Home Textile Factory specializes in manufacturing silk bedding products. Our firm has 200 skilled works and is outfitted with more than 220 standard sewing machines and 20 advanced varieties. This allows us to produce 60,000 pieces each month to meet your demands for volume.
Contact Us
This is Xuzhou Golden Eagle Silk Home Textile Factory in China, a proffessional manufacturer and exporter of silk production for over ten years.
We're growing and we're excited you have joined us. And we continue to need your help! We have appreciated and incorporated much of the feedback you have given.
Tell us what fits and what doesn't.
Tell us what you like (and of course, what you don't).
Tell us how we can make your shopping experience exceed your very high expectations.
And of course, share us with all your partners. We are sure they can have much spirit of their bussiness from our products.
Our door is always open, we sincerely invite you back here offen!