KODI YPG Model Soybean Protein Pressure Spray Dryer Spray Drier Equipment
1, YPG Soybean Protein pressure spray dryer / Soybean Protein pressure dryer / Soybean Protein pressure drier

2, Liquid or slurry drying processor
3, Easy operation and control
4, Stainless steel
What is Soybean Protein
It is a protein that is isolated from soybean. It is made from soybean meal that has been dehulled and defatted. Dehulled and defatted soybeans are processed into three kinds of high protein commercial products : soy flour, concentrates, and isolates. Soy protein isolate has been used since 1959 in foods for its functional properties. Recently, soy protein popularity has increased due to its use in health food products, and many countries allow health claims for foods rich in soy protein.
YPG Soybean Protein Pressure Spray Dryer Description
KODI Soybean Protein pressure spray dryer is suitable for solution, suspension, slurry, paste material, etc. Liquid material is atomized to small fog drops. And fog drops contact with hot air directly in the drying tower. Moisture content is evaporated instantly. So spray dryer features high efficiency, high mass transfer area, and short drying time, in general it is 5~30 seconds. Operating temperature can be adjusted according to actual situation, in general inlet air temperature is 150~500°C. And its automation control degree is control, environment solution environment can be solved.
YPG Soybean Protein Pressure Spray Dryer Application
Foodstuff industry: Amino acid and similar substance, flavoring, protein, starch, dairy products, instant coffee, fish powder, meat powder, tomato paste and so on.
Pharmaceutical Industry: Chinese patent medicine, agrochemical, antibiotics, medical drinking agent and so on.
Chemical industry: Organic catalyst, resin, synthetic washing powder, thiamin, dyestuff, intermediate of dyestuff, intermediate of dyestuff, white carbon black, graphite, ammonium phosphate and so on.
Ceramic industry: Magnesium oxide, kaolin, metallic oxide, dolomite and so on.
YPG Soybean Protein Pressure Dryer Features
1. The machine has high efficiency to collect dust
2. Without the phenomenon of adhering wall
3. Energy saving and high efficiency
4. Particularly it is suitable for thermal sensitive material
5. Short drying time
Details of YPG Soybean Protein Pressure Drier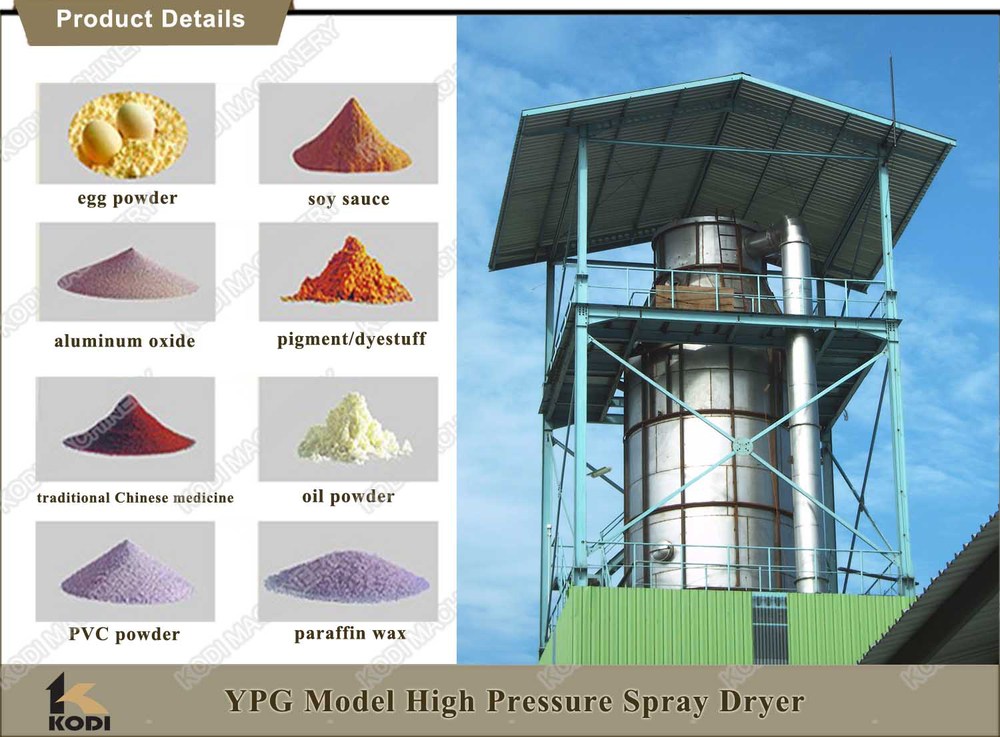 Working Principle of KODI Soybean Protein Pressure Spray Dryer
The solution, emulsion, suspension liquid or slurry are sprayed into fine beads in the hot air, going down from the top of the drying chamber to the bottom, the water will be evaporated to and the product becomes small granular product. Induce hot air from the top of drying tower, at the same time, pump the material liquid to the top of the tower by high pressure pump, the feeding solution becomes fine beads or small droplets through the pressure nozzle(s). When the droplets meet the high temperature hot air, the water will be evaporated immediately, and the material liquid is dried into dry product in a very short time, the product is discharged from the bottom of the drying tower, or from the cyclone (depend on the configuration). When the hot air contacts with the droplets, the temperature declines significantly, and the humidity increases greatly, and then will be exhausted by exhaust fan. The fine powder in the air will be collected through different separating devices There're different fine powder separation and recovery devices, such as cyclone (the common type and various combination type), bag filter, cyclone + bag filter, cyclone + wet scrubber, and bag filter + wet scrubber etc. We should different fine powder separation and recovery devices as per the characteristics of product and requirements of customer. Depend on the product features and requirements, we might install secondary drying and cooling system (such as ZLG vibration fluid bed or pneumatic transportation), formulation system or powder sieving system etc after the spray dryer, or dehumidifier. The particle size of the product from pressure spray dryer is normally within the range of 120mesh to 20 mesh. If bigger particles are required, we suggest FL Fluidized Granulator or re-combined agglomerator.
YPG Soybean Protein Pressure Dryer Technical Parameters
Model Item

YPG-25

YPG-50

YPG-100

YPG-150

YPG-200

YPG-300

YPG-500

YPG-1000-2000

Evaporated Capacity (kg/h)

25

50

100

150

200

300

500

The index depends on the practical situation.

Diaphragm Pump

Power(KW)

0.35

4

7.5

11

15

22

30

Pressure
(MPa)

It can be adjusted from 0.6 to 5 according to the material experient. In general, the pressure will be between 1 and 3.

Heating Style

electricity

electricity +steam

electricity +coal fuel (oil) hot air furnace

Diameter Of Tower Body (mm)

1300

1800

2400

2600

2800

3200

3800

Total Height Of Equipment (mm)

7800

9200

11600

14000

15300

17100

19000
Flow Chart of YPG Soybean Protein Pressure Drier
Successful Experience Overseas of KODI Soybean Protein PressureSpray Dryer
YPG Soybean Protein pressure spray dryer has a very mature technology and process, and KODI company has rich overseas site installation experience and good after sale service .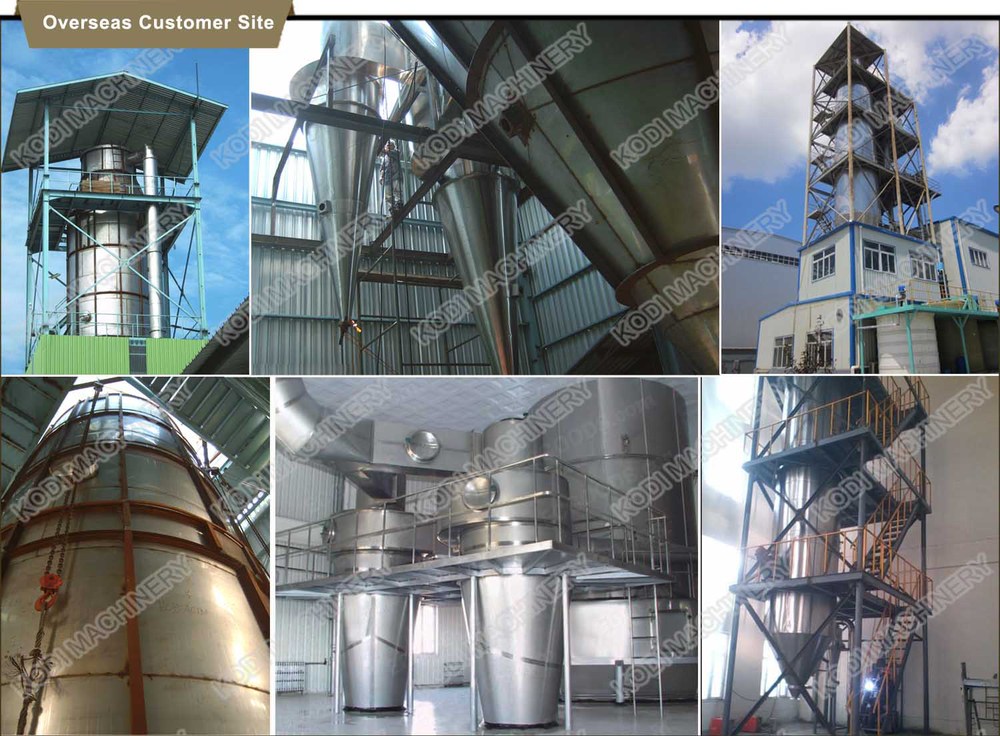 International high quality certification product chain

Manufacturer, more reasonable price

Solid technical support and after-sales service

Uphold the principle of "Customer Supreme"( Balance payment after equipments run normally)

Exports to more than 20 countries and regions, good customers feedback

One-stop service, customized exclusive project feasibility report
Changzhou KODI Machinery Co., Ltd. located in the birthplace of China drying equipment----Zhenglu Industrial Park, Changzhou City, Jiangsu Province which is 150km away from Shanghai city, with a comfortable environment and convenient transportation access.
KODI company is a professional manufacture of drying machine, which include Seaweed processing machine, Seaweed drying machine (Cottonii to carrageenan, Agar agar ), LPG Spray dryer, Food spray dryer, Soybean Protein pressure spray dryer, Soybean Protein pressure dryer, Soybean Protein pressure drier, Flavor spray dryer (Cocoa, Maltdextrin,Gum Acacia), Lab Spray dryer, Spray drying equipment,Gelatin processing machinery, Gelatin drying machine (Hide and bone),Gelatin production line. we also deal in high-quality fermentation tank, Bright tank , Extraction tank, concentration tank , evaporator and etc.
We have implemented a strict and complete quality control system, which ensures that each product can meet quality requirements of customers. Besides, all of our products have been strictly inspected before shipment. Our products conform to international standards, such as CE, SGS.
KODI company also has a lot of top talent which have more than 15years of work experience, include research, design, manufacture and after sale service. Our products sell to all of the world (such as China, Australia, Malaysia, Indonesia, Vietnam, Philippines, Korea, Brazil, Chile, Peru, Argentina, Russia, Ukraine, South Africa, Cameroon, Sudan, Syria) and also have the good cooperation with the foreign client and vendor.
We are sure that our high quality products and excellent services will be appreciated by the growing list of satisfied customers. Contacting us is the first step to build a long and successful business relationship with us. Welcome!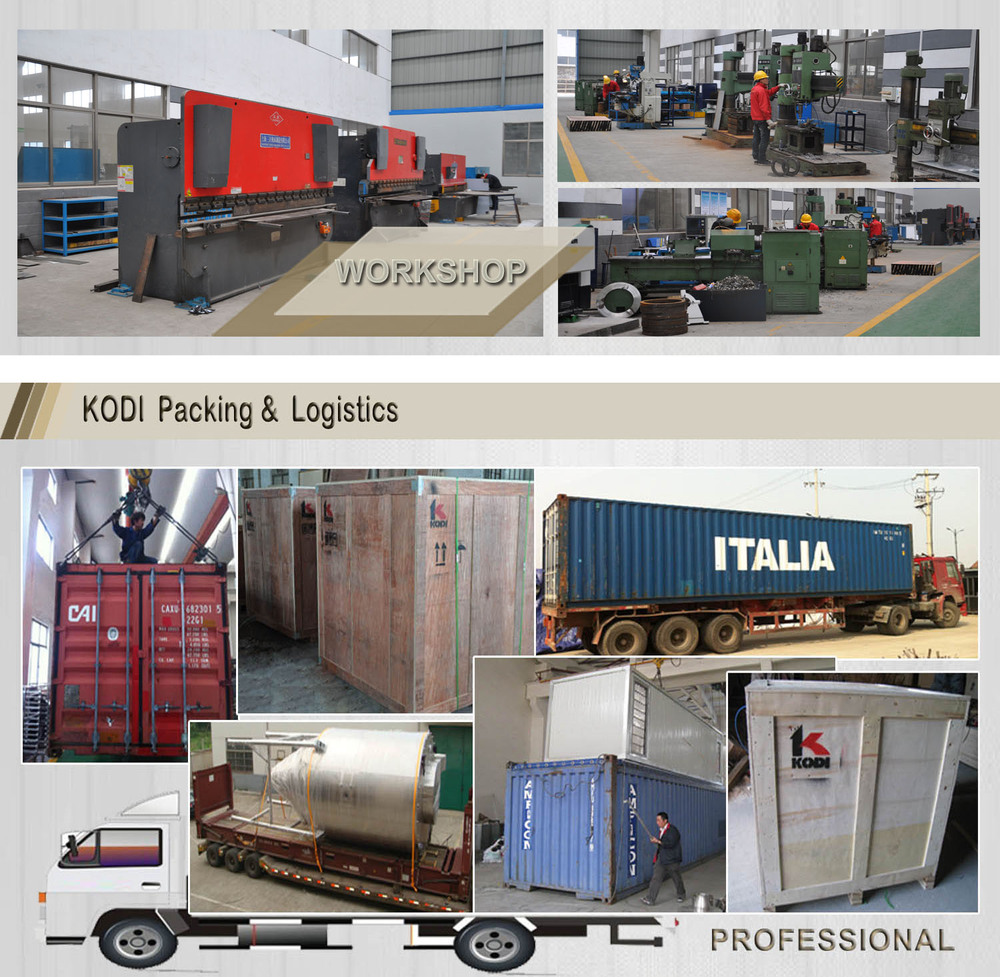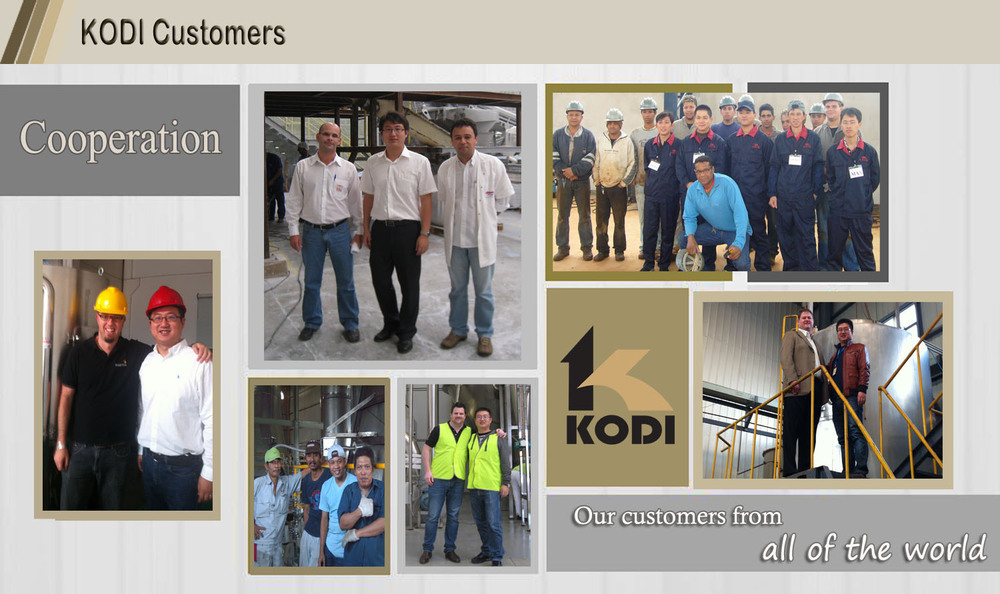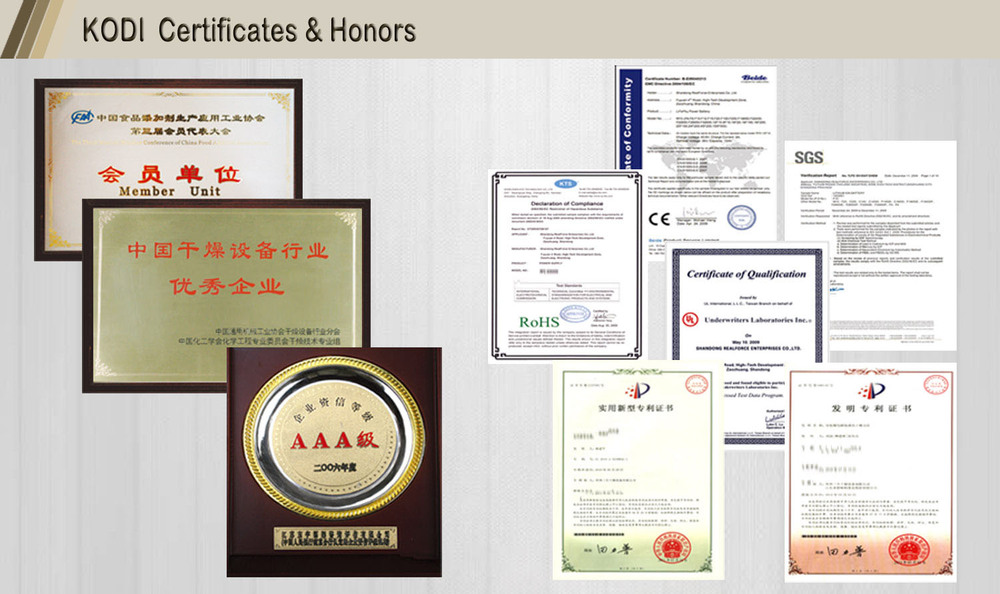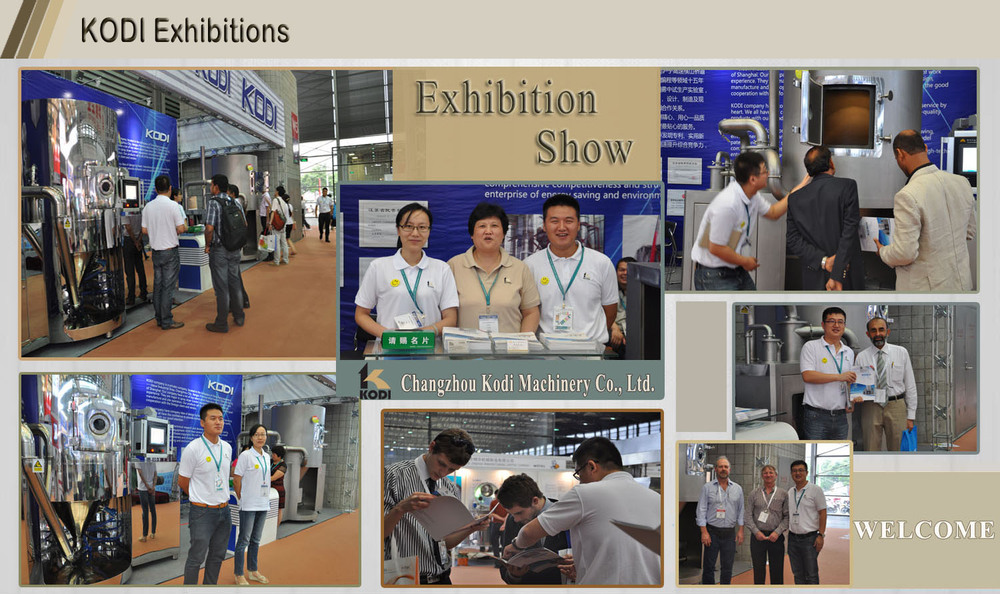 Pre-sale service
Act as a good adviser and assistant of clients to enable them get rich and generous returns on their investments.
1. Introduce the product to the customer in detail, answer the question raised by customer carefully;
2.Make plans for choice according to the needs and special requirements of users in different sectors;
Sale service
1. Ensure product with high quality and pre-commissioning before delivery;
2. Delivery on time;
3.Provide full set of documents as customer's requirements.
After-sale service
Provide considerate services to minimize clients' worries.
1.Assist clients to prepare for the first construction scheme;
2.Install and debug the equipment;
3.Train the first-line operators;
4. Examine the equipment;
5.Take initiative to eliminate the troubles rapidly;
6.Provide technical support;
7.Establish long-term and friendly relationship.
Service commitment
1. Provide clients one-year warranty to make sure the machine work well;
2.We always keep certain inventory level of spare parts, which means the replacements can be sent to you timely;
3.Send every client a preferential quotation.
In order to quota you the right Soybean Protein pressure spray dryer / Soybean Protein pressure dryer / Soybean Protein pressure drier with best price, we would like to get the following information include in your inquiry:
-What is the raw material? Material related characteristic? Does it corrosive, strong basicity, or highly acid? Please confirm.

-What is the capacity per hour you need (kg/h)?

-What is the initial moisture and final moisture of finished products you require to get?

-What about the maximum heat temperature of raw material?

-What kind of fuel you use to heat the dryer? Natural gas, electricity, fuel oil or steam?

-Which equipment material do you like prefer? SUS304, SUS316L or Carbon steel?

-Provide us your country's electricity information, such as phases, voltage, HZ?

-How about dust collect requirements?

-Other special requirements?
Frequently Asked Questions
Q: Can I visit your factory?
A: Yes. Many domestic and international customers visit our factory every year. Our company is near Shanghai.It only takes you about 1 hour to get Changzhou.Or we can visit you in Shanghai.
Q: What's the quality of your products?
A:Parts of our products come with best quality, and our products passed CE certification, exported to lots countries around the world, such as Australia, Malaysia, Indonesia, Vietnam, Philippines, Korea, Brazil, Argentina, Russia, South Africa, etc. You can rest assured with the quality absolutely.
Q: What to do if the machine has a problem?
A:24 hours timely response of mail and phone calls. If the parts broken belong to non-artificial factors within 12 months, we offer free replacement. If beyond 12 months, customers should bear the freight back and forth and accessories cost.
Q: How long is the warranty of your equipment?
A: Our warranty period is one year generally.
Q: What is your payment term?
A: Our usual payment term is: 30% TT in advance, 70% TT before shipment. Other ways can also be received after we both sides discussion and agreement.
Q: Does your price include freight?
A: Our usual price is based on FOB Shanghai, if you request CIF, please give us your delivery port, and we will give you CIF price.