TIBOX waterproof housing plastic junction box electric
1. Material: ABS PC
2. Protection Level: IP66
3. Color of Door: Grey
4. Temperature Range: -40°C to +120°C
5. Standard unit: -cabinet base;
-door with gasket;
-locks;
-hinges;
-back panel mounting screws.
6. Advantages: 1). beautiful appearance
2). excellent stability guaranteed by high intensity ABS and PC: can bear harsh industrial and outdoor environment
3). one side 3mm double locks, the other hinges: easy to handle and oper
7. Applications: small terminal boxes; signal box; relay; calculator; junction box etc.
Lock+hinge type

Grey door

Dimension(mm)

WxHxD D1+D2

Mounting Plate

Plastic Metal

Installation size(mm)

W3 H3

TJ-KG-2030
200X300X180 130+50
TJ-2030P TJ-2030
171 271
TJ-KG-3030
300X300X180 130+50
TJ-3030P TJ-3030
269 269
TJ-KG-4030
400X300X180 130+50
/ TJ-4030
270 370
TJ-KG-4050
400X500X200 150+50
/ TJ-4050
371 471
TJ-KG-4060
400X600X220 170+50
/ TJ-4060
370 570
More sizes to be supplied as request...
Advantages:
1.Charming design and beautiful appearance
2.Reliable quality and safety
3.Cheap and competitive price
Packing: in cartons for TIBOX waterproof housing plastic junction box electric
Shipping: 30 days after the order confirmed(according to your quantity)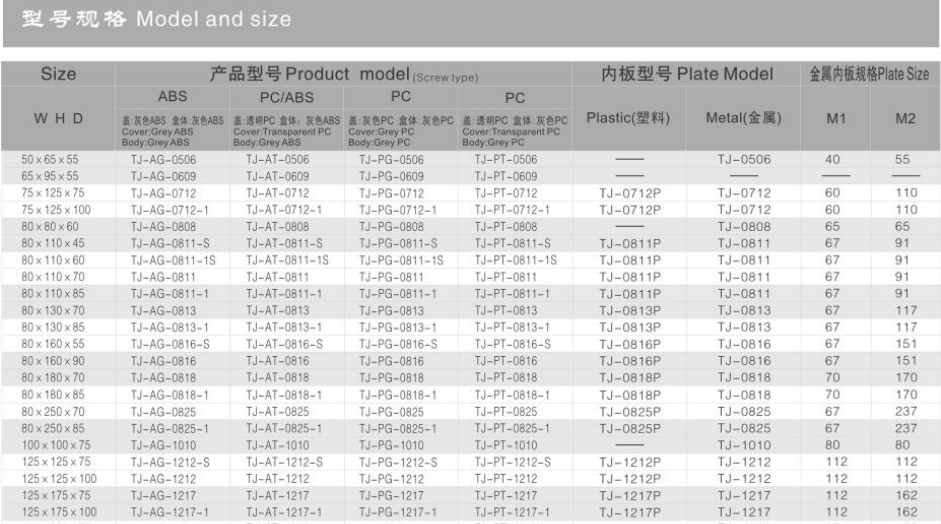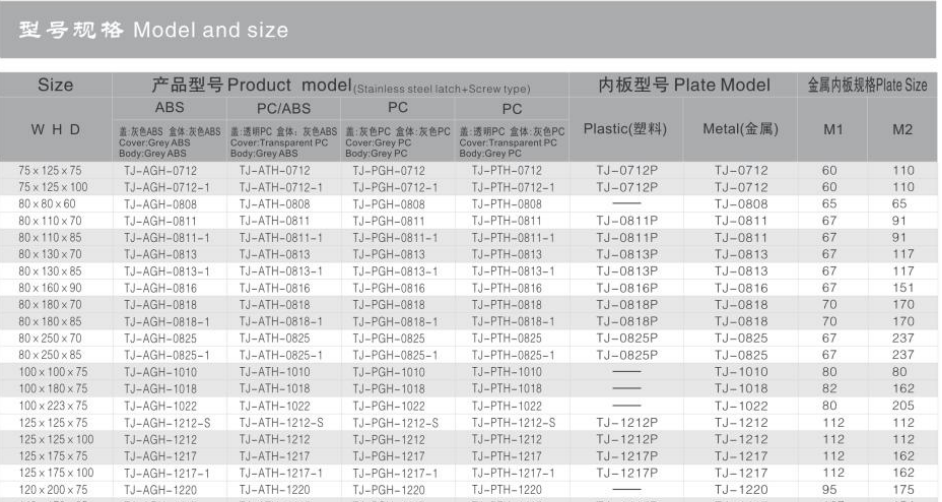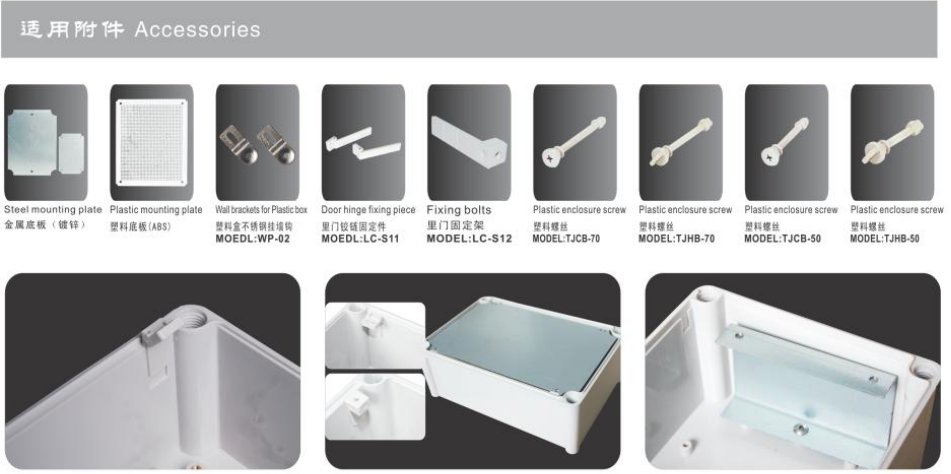 1. The quoted price is always valid for 15 days due to the fluctuation of raw material cost.
Please feel free to contact us for the catalog or prices.
2. Please kindly inform us which items you are interested & the best price will be provided you upon receipt of your new inquiry asap.
3. Samples will be offered to you for our future cooperation.
Verified information
We with 17 years experience in electrical industry, is one of the leading manufacturers of distribution boxes in China. Founded in China 1998, located in the beautiful landscape of the largest China Bamboo sea. It is in the north of Zhejiang province, covering an area of 66000 square meters and it has 400 employees. The company has got the national quality system certificate of ISO9001 and also received warm welcome in its circle. Our ISO9001:2758 and ISO14001:2754-certificated factory is equipped with seven production lines, which allow us to supply up to 60000 pieces every month.The company also got OHSAS 18001:2007 of occupational health and safety management systems.
We offer 400 different products for clients to choose from. And our engineers add 5 to 10 new items to this variety every year. We can also develop a new product according to your special requests within 40 days.
Our trained staff work on imported production equipment, and we have over 20QC personnel to strictly inspect our products, which carry CE and ROHS marks, and are SGS-and TUV-inspected and UL approved. We export to buyers in the US,Canada,South America, Southeast Asia,the Middle East, India, Africa and other countries and regions. For delivery,you can except to get your order in 30 to 60 days,depending upon the quantity. E-mail us today.
Ex
h
ibition
Corporate culture
We are at your service