KGS DIAMOND the world's leading manufacturer of flexible diamond abrasives and electrolitically metallised fabrics. Founded in Switzerland in 1952m KGS has 14 sales and distribution offices. The control of complex technologies such as metallisation of fabrics, electroplating, metal bond and resin bond sintering, moulded resin expertise, spray coating and standard coated abrasives technologies allow for technological synergies and truly unique innovations.
KGS's business success is rooted in a traditional set of core values which link back directly to its founders some 60 years ago..... while products and markets continue to change, the KGS core values have remained the same.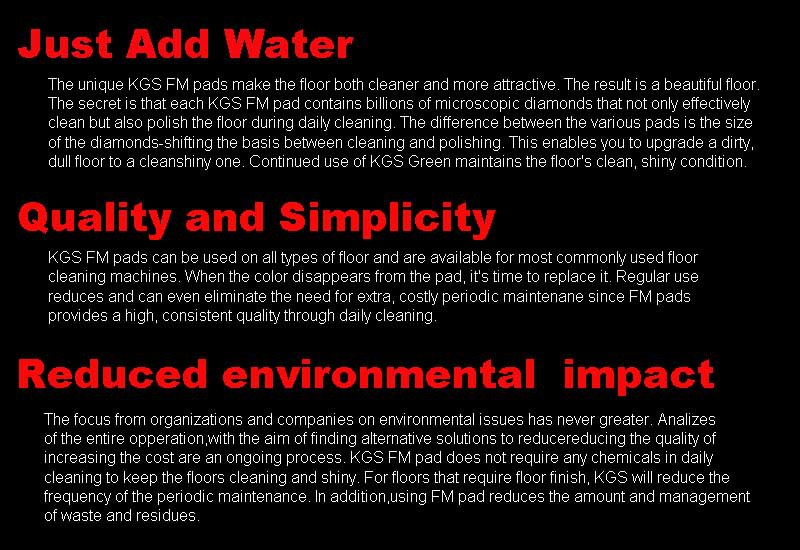 airports, Super Stores, Hospitals, Hotels, Schools or High Tech Production Plants. If the surface is right, KGS Floor cleaning and polishing pad will maintain and polish it.
Product the environment ! Forget about complex and unsafe systems, with KGS diamond floor cleaning and polishing pads, you just need water to keep your floor clean and polished, avoiding the use of chemicals that may be very difficult to manage or even harmful. By being more effective and cutting down on the time required, you also save energy!
Grit (Colour)

Finishing steps

Finishing results




Red pad: Coarse

Step1- Coarse pad is mainly used for heavy duty surface renovation.

Intended for deep cleaning and as a base to establish a good starting

point for the rest of the process.

-Rough, greasy or very dirty surfaces.

-Process starter/ Occasional use


Blue pad- Medium

Step 2- Medium pad can be used for deep cleaning and produces an economical light reflective finish, most popular in large industrial and commercial applications.

-very high traffic floors, dusty areas.

-Occasional deep cleaning/ Daily for light gloss.


Yellow pad- fine

Step 3- fine pad is intended for both daily polishing and cleaning,

producing a clear reflective shine.

-All floors/ Maintenance

Regular finish/ daily for high gloss.


Green pad- very fine

Step 4- very fine pad, used wet or dry will finish off the four step

process leaving a polishi to your floor with the highest shine available.

Daily use will maintain and improve the polish.

-All floors/ Cleaning / Buff

-Daily for Cleaning/ Extra high gloss.
Advantages:
-Lasts at least 2.5 times longer
-Thicker and stronger 20mm pads
-Open weave provides self-cleaning
-consistent finish in all surfaces
-Proven long lasting results