Ultra Pro Hockey Training Mat/PE board ice rink barrier for sports arena system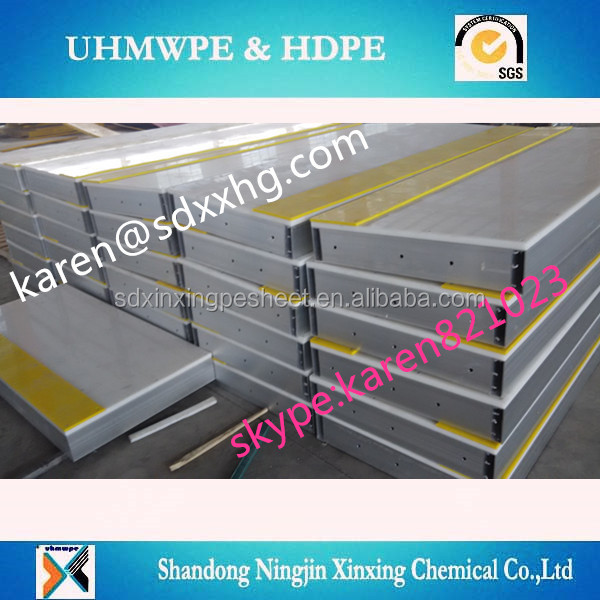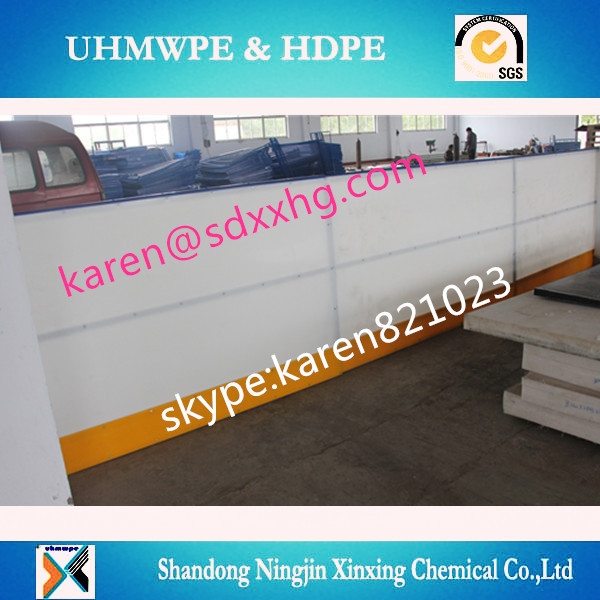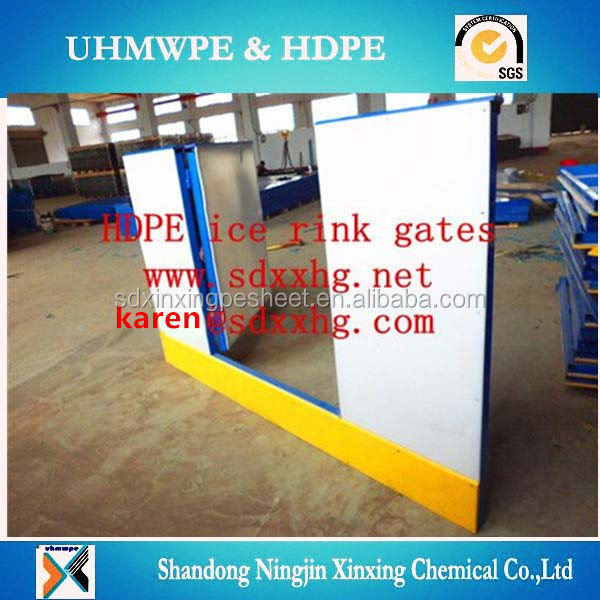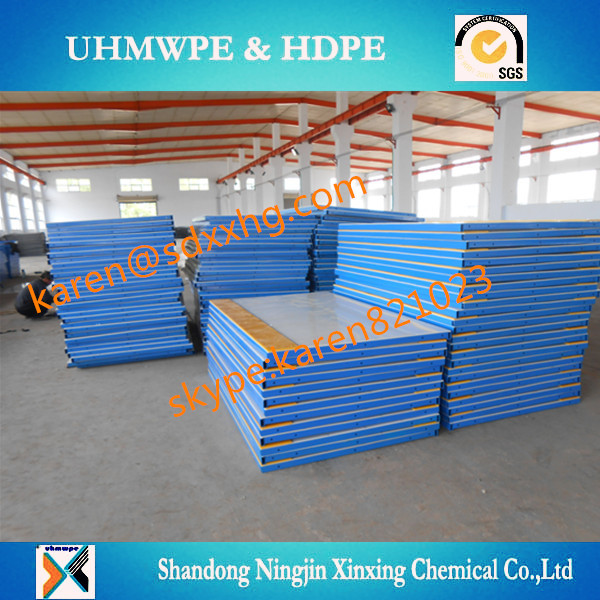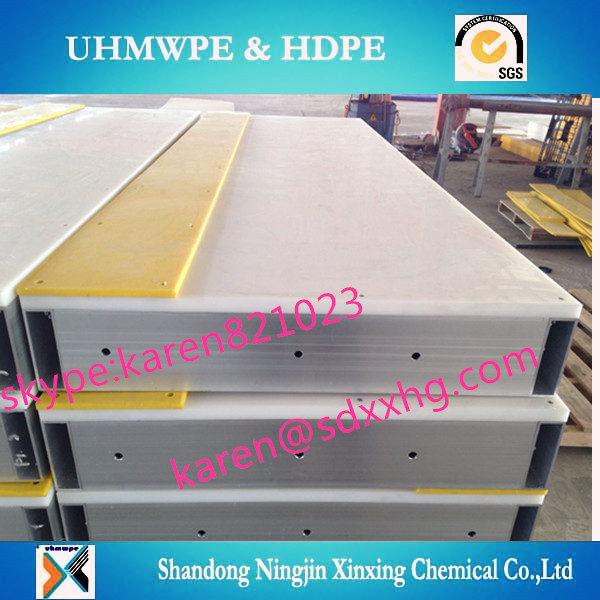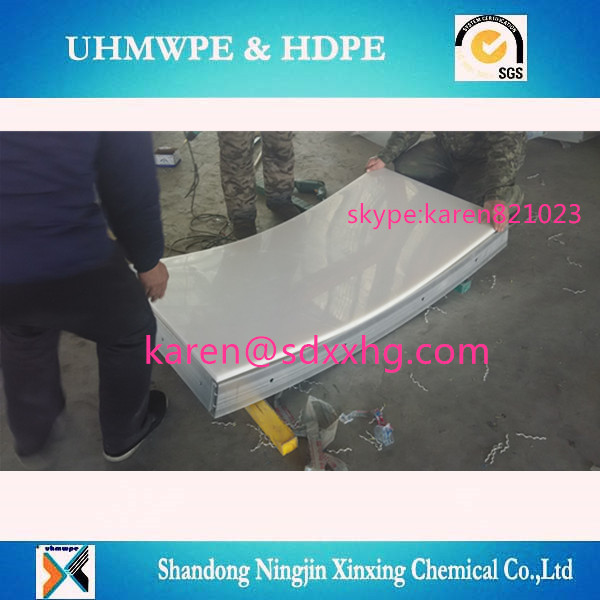 Our ice rink barrier board is made of HDPE sheet :
HDPE sheet Advantages & Key Features
--Highest abrasion resistance of any polymer, 6 times more wear resistant than steel
--Anti-Weather & Anti-Aging
--Self-lubricating, Very low coefficient of friction
--Excellent chemical & corrosion resistant
--superior impact resistant, Noise- absorption, Vibration-absorption
--Temperature range: -2600C ~ +800C; Very high resistance to cold,doesn't become fragile even under -1800C
--High tensile Strength
--Non-Toxic and smell
--UV resistance
--Flame Retardant; Relatively low in water absorption
--Excellent electrical properties
--Good performance in resisting environment stress crack, 200 times of ordinary PE
--No adhesion
--Light weight and easier to handle and fix
--Cost efficient; Resulting in low energy consumption
--Does not rot, split or crack; 100% recyclable
--Great liner material for industrial material handling applications
--Easy Reprocessed
Ice rink barrier/fence sheet advantage:
Use Conveniently: Adjust the area of ice rink according to the market and the business
situation Quick installation: Quick assembly/ disassembly indoor and outdoor
low costs: Low operating and maintenance costs.
Usable 365 days a year: The system can be used in any place and in any weather condition.
Environment Protection: No pollution, no noise, recyclable, water-saving and energy-
Saving Long life services: The lifespan is significantly longer than that of the traditional plastic sheet
Our ice rink barrier sheet Characters:
1.very flat on the surface
2.The thickness tolerance is +2 -0,some made according to your requirements.
3.The color is pure and any color can be made by us.
4.We can give you an accurate size of UHMW-PE Sheet with advanced machine.
5.Different shaped UHMW-PE Sheets also can be made by us like bending sheet.
6.According to different requirements with different application, special specifications can be customized, like anti-UV, fire-resistant,anti-static and with other characters.
Our synthetic ice barrier DATE sheet
Property

Units

Value

ASTM Method

ASTM Type, Class, Category

-

IV,A,4

D 1248

Melt Index

g/10 min.

0.70

D 1238

Density

g/cm3

0.960

D 1505

Hardness

Shore D

68

D 2240

Mechanical

Tensile Strength @ Break

psi

4,500

D 638

Elongation @ Break

%

>600

D 638

Flexural Modulus @ 2% secant method

psi

120,000

D 790

Tensile Impact,(2)

ft-lb/in

100

D 1822

Environmental Stress Crack Resistance,F50

<5000 hrs.

-

D 1693

<5000 hrs.

-

D 2561

Thermal

Low Temperature Brittleness, F50

℃

<-7.6

D 746

Heat Deflection Temperature @ 66 PSI

℃

78

D 648

Vicat Softening Point

℃

125

D 1525
Our synthetic ice specification
| | |
| --- | --- |
| Net weight | 45g/m2--350g/m2 |
| Net width | 1m, 2m, 4m or by requirements. |
| Rolls Lengths | 10m, 50m, 100m or by requirements. |
| Colours | Green,Black ,Dark green ,Yellow,gray,Blue and white or by requirements. |
| Material | 100% new material (HDPE ) |
| Using life | 3~10 years |
| Export market | South America,Japan, the Middle East ,Europe , markets. |
| Terms of Payment | T/T, |
| Packing | Rolls on cardboard tubes & wrapped in plastic with color label |
| Item | New HDPE plastic fence net/fence netting |
Our ice rink barrier Size
Comes in 48''H standard heights. Modular pieces allow for complete customization and scalability for any size rink.
Custom lengths available on request.
Our ice rink barrier sheet Colour Options:
Blue Cap Rail, Gold Kick Plate, White Facing Colour
Blue Cap Rail, Red Kick Plate, White Facing Colour
Our ice rink barrier Material option:
1.galvanized steel tube + HDPE anti-UV Sheet
2.Aluminum tube +HDPE anti-UV Sheet
Company Information
Shandong Ningjin Xinxing Chemical Co., Ltd. is one of the most professional manufacturer of UHMW-PE(Ultra-high Molecular Weight Polyethylene) sheet and rod, HDPE(Highdensity Polyethylene)sheet PP sheet, PVC sheet, and sorts of products machined preciaely according to the drawing provided by customers in China. Such as Three layer board ,Outrigger Pad, Duck Bumper, Cushion Block, Liners (coal bin liner, hopper liner ,truck bed liner etc.) and other items.
Our company was found in 1989. So far , we have obtained much rich experience for more than 20years in producing UHMW-PE and HDPE products. We can research , develop and produce series of relevant items by ourselves and form an unique product development system.. The products have been marketing to more than 30 countries all over the world . and we have gained high reputation , sincere service from our custom. So, we believe the high quality , sincere service and competitive prices will grab your interest.
The staff are all dedicated to producing more and more high quality and technique UHMW-PE and HDPE products for customers.
We always share the things "Quality first, Customer first ,keeping improving " to win more benefits for our customer.
In order to achieving rapid and sustainable development, we are willing to establish a wide and deep cooperation
1.Q:Is the size fixed?
A:No.we can meet your needs according to your requirement. That is to say, we accept to customize.
2.Q: What is your MOQ of this item?
A: 500 kilograms.
3.Q: Is it all right to make customer's own brand name?
A: That's all right to engrave your own brand name.
4.Q: What is your company's available production capacity?
A: Usually 5000 tonnes per year.
5.Q. Can you special order a product for me?
A. We are typically able to special order products for customers. OEM service .