Stainless Steel Solar Water Heater
Model: SN-NPSS35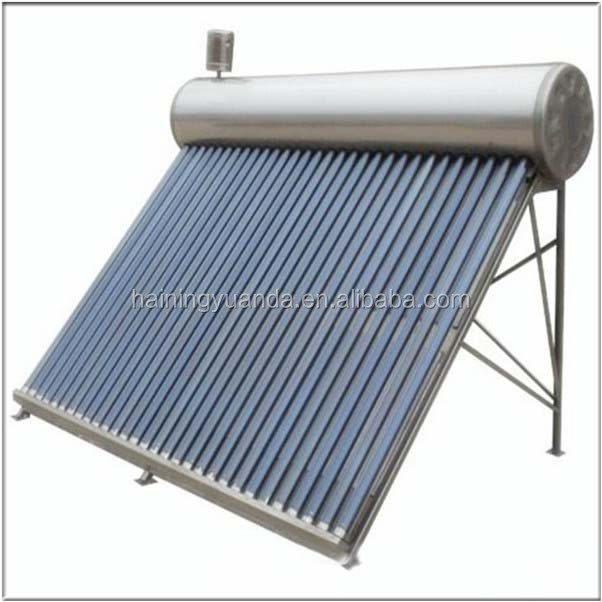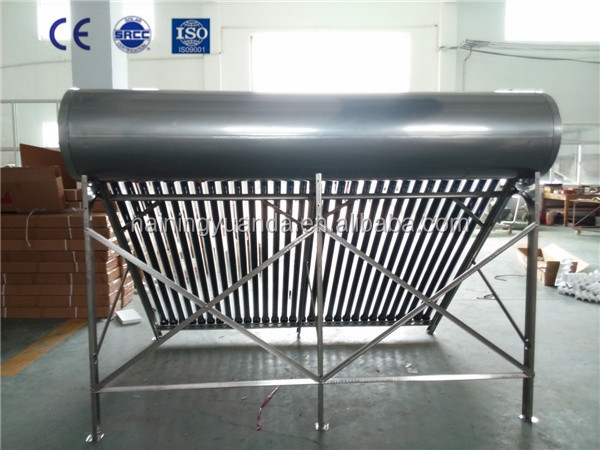 Working principle:
Solar vacuum tube was evacuated into the tank, the coating inside of tube can absorb more than 92% heat energy from sunshine.
The cold water in water tank flows into the tube and become hot, because of different density between cold and hot,
there will be a natural circulation in the tube. Hot water will float back to tank.
The polyurethane heat insulation layer can keep the water warm about 2 days without any sunshine.
Consumer can enjoy comfortable bathe anytime.
Feature:
1. Easy installation;
2. Reliable and efficient ;
3. Corrosion resistant materials;
4. Stable solar conversion during the day;
5. Most efficient and most economic model;
6. Ideal for many solar water heating applications;
7. Economic goods surpass their money with good efficiency;
8. Aluminum frame, Galvanized steel frame, or color steel frame;
9. Simple structure and working principle but the most economical.
Specification:
Brand Name: SANNENG / OEM
Type: Evacuated Tube
Pressure: Unpressurized
Circulation Type: Direct / Open Loop (Active)
Connection Type: Direct-Plug
Heating System: Thermosiphon (Passive)
Support Material: Stainless Steel, Aluminum, Galvanized steel
Capacity: 300L
Certification: CE,ISO,CCC,SGS
Warranty: 5 years for full system / 15 years for vacuum tube
ITEM NO.

QTY. OF TUBE

TANK'S CAPACITY

TUBE SIZE/MM

FOR PEOPLE TO USE

QTY IN CONTAINER

20GP

40GP

40HQ

NP-15

15

150L

58mm*1800mm

3~4

42

92

113

NP-20

20

200L

58mm*1800mm

4~5

37

73

90

NP-25

25

250L

58mm*1800mm

5~7

28

61

76

NP-30

30

300L

58mm*1800mm

6~8

23

50

62

SPECIFICATION & MATERIAL

Water tank

Inner tank:SUS304-2B food grade stainless steel with thickness 0.31mm

Outer tank:Galvanized Steel Sheet/Stainless steel/Color steel

Tube

47mm*1500mm/47mm*1800mm/58mm*1800mm/58mm*2000mm/

Insulating layer

50-60mm PU(Polyurethane)

Bracket

Galvanized Steel Sheet with thickness 1.5mm/stainless steel/aluminum alloy

Qty. of tube

12/15/18/20/22/24/25/30/36/42

Certificate

CE,ISO,CCC,SGS

Warranty

5 years for full system / 15 years for vacuum tube

Heat preservation

72hrs

Hail resistance

25mm