2015 hot selling duplex/triplex/quadruplex abc cable
1.Application of abc overhead cable:
The product is a new type of aerial cable for power transmitting. It is extensively used in overhead
power transmission line. It improves the safety and reliance of electrified wire netting.
2.Construction of abc overhead cable:
Conductors are composed of stranded compressed 1350—H19 aluminum wire(AAC Conductor).
The material of insulation is PVC or XLPE. Load cable is stranded aluminum wire which twisted by aluminum
wire or steel core aluminum stranded wire which meet the standard 6201 series.
3.Technical Parameter of ABC cable which based on Standard
ASTM ANSI/ICEA S—76—474 and NFC 33—209
4.Technical specification of abc overhead cable: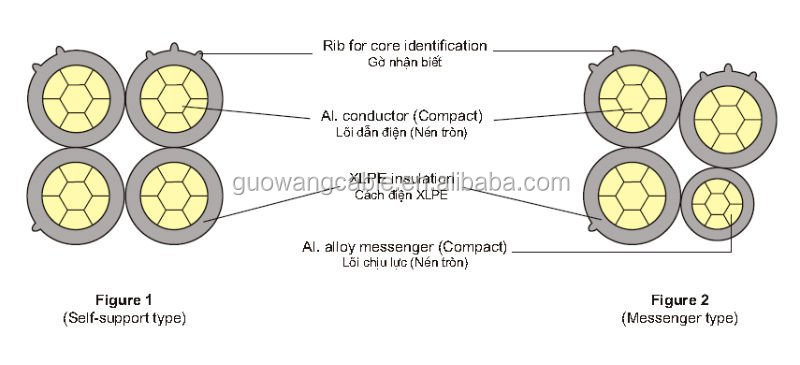 Code word

AWG or kcmil

Bare Neutral Messenger

Phase Condutor Code word


Weight
(kg/km)

AAC


Rated Strength
(lbs)

AAC


Insulation Thickness
(mm)


Stranding and Wires Dia.
(mm)


Stranding and Wires Dia.
(mm)

Pekingese

1*6AWG+1*6AWG

7/1.56

563

1/4.11

1.14

92

Collie

1*6AWG+1*6AWG

7/1.56

563

7/1.56

1.14

94

Dachshund

1*4AWG+1*4AWG

7/1.96

881

1/5.19

1.14

139

Spaniel

1*4AWG+1*4AWG

7/1.96

881

7/1.96

1.14

141

Doberman

1*4AWG+1*2AWG

7/2.47

1350

7/2.47

1.14

216

Malemute

1*1/0AWG+1*1/0AWG

7/3.12

1990

19/1.89

1.52

347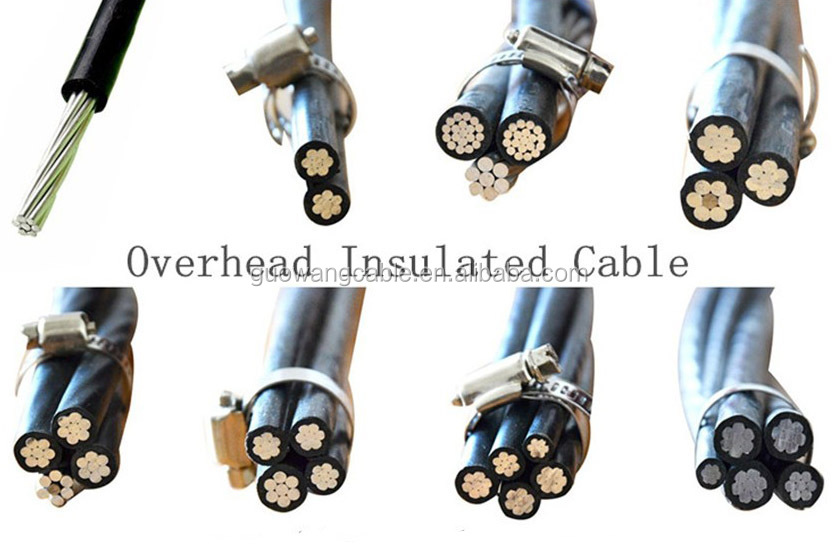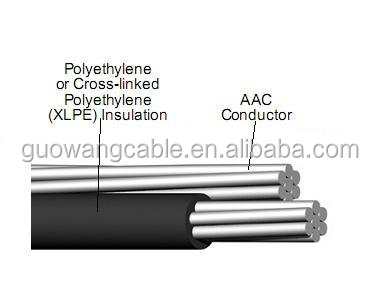 Our Team
Our team members are the strongest pillars of the group, whose diligent efforts have enabled us to become a reputed supplier.
* Technical consultant
* Designers
* Quality controllers
* Marketing and salesmen
* After sale service personnel
Quality Control
Being a qualityorientd organization, we strictly adhere to quality standards and achieve total excellence in our range of machinery.
Our experienced quality controllers handcheck every machine using advanced testing facilities and ensure all the machines complies with the international quality standards
Our advanced technology and engineering excellence has enabled us to cater the needs of our esteemed clients. We have received consistent acceptance and appreciation for our highly durable machines.
Timely Delivery
We are well supported by a spacious storage of machines and ancillary equipment, ensuring ontime delivery of every order. Our ability to feed bulk orders within tight deadlines to any corner of the globe differentiates us from other competitors.
Certifications: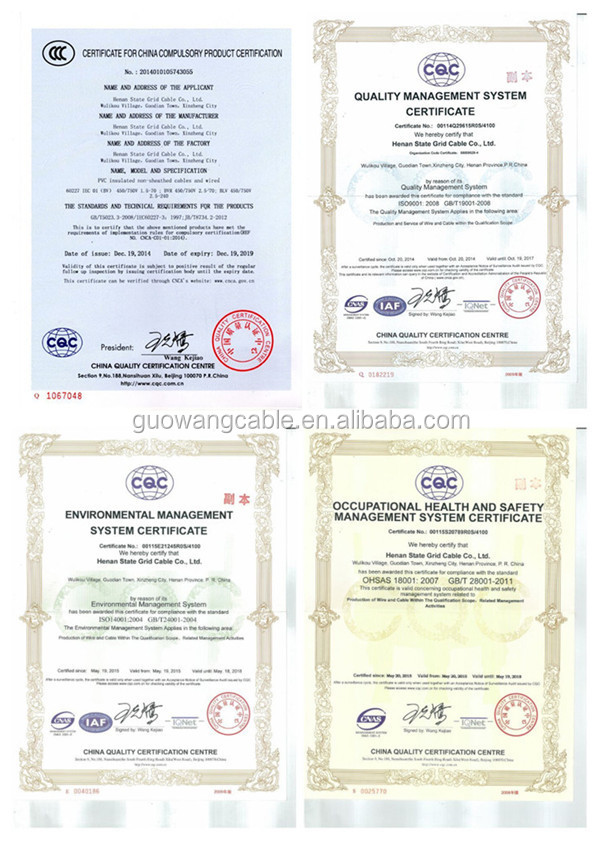 As one of top rank cables manufacturers in China, henan guowang cable Co.,LTD is mainly specialized in PVC Insulated Building Wire, PVC and XLPE Insulated Power Cable with Voltage up to 35kV, Rubber Cable and Welding Cables. And also it is specialized in Aerial Bundled Cable(ABC Cable), Bare Overhead Power Transmission Line such as All Aluminum Conductor(AAC Conductor), All Aluminum Alloy Conductor(AAAC Conductor), Aluminum Conductor Steel Reinforced(ACSR Conductor), Aluminum Conductor Aluminum Clad Steel Reinforced (ACSR/AW), All Aluminum Alloy Steel Reinforced(AACSR), and Aluminum Conductor Aluminum Alloy Reinforced(ACAR).
ABC CABLE PRODUCTION LINE:
1.what is our payment term ?
Our payment term is usually T/T 30% in advanced, the balance before picking up the goods or L/C at sight.
2.what is the lead time ?
The lead time usually is 10 - 30 working days.
3.what is the package of the cable ?
The package is usually wooden drum or steel-wooden drum or coil.also according to customer's requirment.
4.Could we provide the free sample for customer ?
Sure, we provide the free sample for customer to checking.