wholesale type of plumbing pipe fiting
Product Code
Pressure Grade
Size
Product Code
Pressure Grade
Size
RP20-1
PN10/S5
20×2.0
RP20-3
PN16/S3.2
20×2.8
RP25-1
25×2.3
RP25-3
25×3.5
RP32-1
32×2.9
RP32-3
32×4.4
RP40-1
40×3.7
RP40-3
40×5.5
RP50-1
50×4.6
RP50-3
50×6.9
RP63-1
63×5.8
RP63-3
63×8.6
RP75-1
75×6.9
RP75-3
75×10.3
RP90-1
90×8.2
RP90-3
90×12.3
RP110-1
110×10
RP110-3
110×15.1
RP160-1
160x14.6
RP160-3
160x21.9
RP20-2
PN12.5/S4
20×2.3
RP20-4
PN20/S2.5
20×3.4
RP25-2
25×2.8
RP25-4
25×4.2
RP32-2
32×3.6
RP32-4
32×5.4
RP40-2
40×4.5
RP40-4
40×6.7
RP50-2
50×5.6
RP50-4
50×8.3
RP63-2
63×7.1
RP63-4
63×10.5
RP75-2
75×8.4
RP75-4
75×12.5
RP90-2
90×10.1
RP90-4
90×15.0
RP110-2
110×12.3
RP110-4
110×18.3
RP160-2
160x17.9
RP160-4
160x26.6
1, Material: 100% HYOSUNG new material.
2, Standard: DIN 8077/8078, ISO15874
3, Specification: 20~160mm
4, Colors: Green / Grey / White / OEM
5, Honour: China honor brand / Shanghai top brand.
6, Factory: 150 thousand Square meters, 400 employees.
7, Exclusive distributor acceptable .
Shanghai Zhongsu Pipe Co., Ltd. found in 2004, is a large, professional, high-technology based nanufacturer in plastic piping systems. It is located in Zhuanghang Industrial Zone, Fengxian District, where covers over 60,000m².
Based on the perfect management, we have obtained the ISO9001:2000 International Quality Management System Certification, ISO14001 International Environmental Quality System Certification.
Our company has established complete products system, now we have PP-R pipe, PP-R Fiber Composite Pipe, PVC-U Sewage Pipe,UPVC Conduit Pipe, MPP Casing High-voltage Power Protection, PE-RT Pipe, PE Pipe For Water Supply, PE Pipe for Gas, PE Piping System for Ground Source Heat Pump-specific, Steel Wire Reinforced Thermoplastic(PE) Composite Pipe, Metal Reinforced Polyethlene(PE) Spirally Corrugated Pipe, HDPE Double-wall Corrugated Pipe and various of pipe fittings.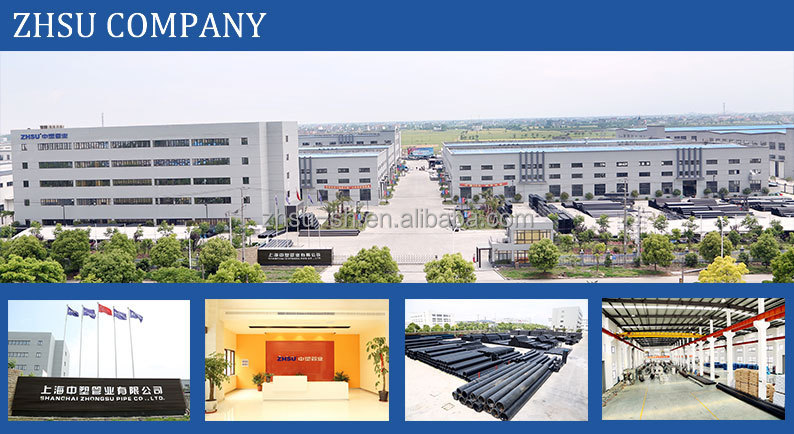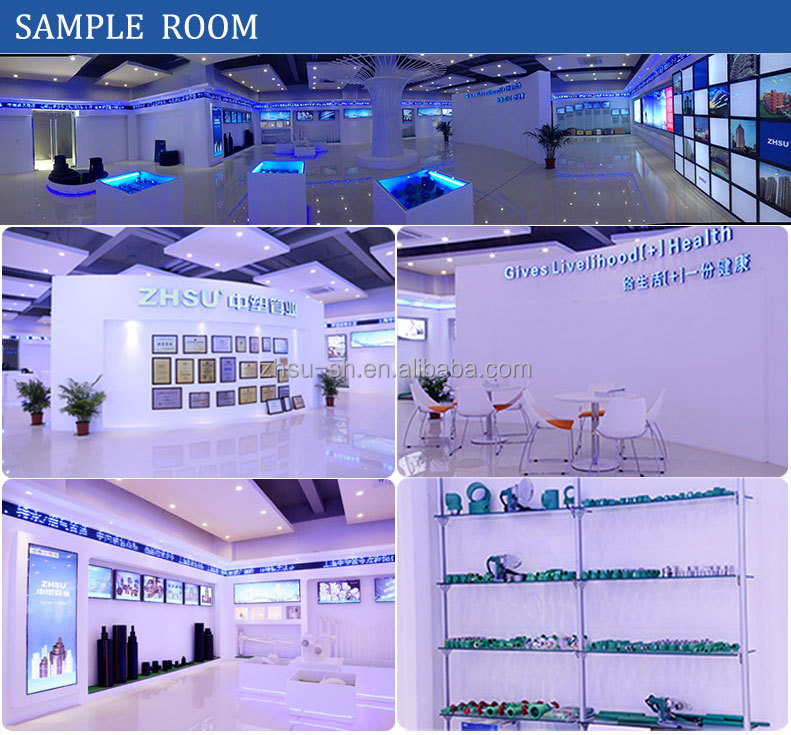 Q: What the Raw material ?
A: We only use 100% new material.
Q: What is your MOQ?
A: As customer's request. ( For example :PPR pipe D20, MOQ 3000m)
Q: What is the production ability ? or delivery time ?
A: Our production ability support 40HQ order finish in one week.
Q: What is the regular shipping port ?
A: Shanghai or Ningbo
Q: What is your payment ?
A: Advance payment or TT before shipping or LC
Q: Can we have sample ?
A: Sample free, freight free in China any place. Overseas freight cost you.
Q: For urgently doubuts, who online ?
A: Sales and marketing Manager 24 hours online service.
Viki (Ms)
Manager Director

Tel : +86-21-57461561
Fax : +86-21-67293555
Whatapp:+86-18721379989
Email/Skype : zhsu(at)zhsu.com

Shanghai Zhongsu Pipe Co Ltd (ZHSU)
Add : 61, Jian-an Road, Shanghai, China.
Web : www.zhsu.com