ORBITA are a leading hotel lock manufacturer in China, professionally produce hotel locks, cabinet locker, minibars, safes, telephones etc. We have 46,000m2 garden-like manufacturing base and advanced facilities. Over 13 years development, more than 10,000 hotels ranging from 3 to 5 star are using our products.
Orbita Smart Swipe Card Key Electronic Hotel Door Lock with Free System
Valuable Features:
1. Hidden cylinder and sliding beutify two-part lock

2. Repalce your old mechanical lock with you electronic lock

3. Keep you mortise and carpenty save your door & money
Technic Parameters
Dimension of External Panel:

L95MM*W62MM*H26.8MM

Material:

Stainless Steel,Moisture Proof,Fire Retardant

Worining Voltage:

DC6V or 4 AAA Alkaline batteries

Power Consumption:

Static Load<10Ua Dynamic Load 100~150Ma

Working Environment:

Working Humidity:20%~90%

Working Temperature:-50℃~60℃

Keycard Option:

RF Temic card,Mifare 1 card,Ultra-light card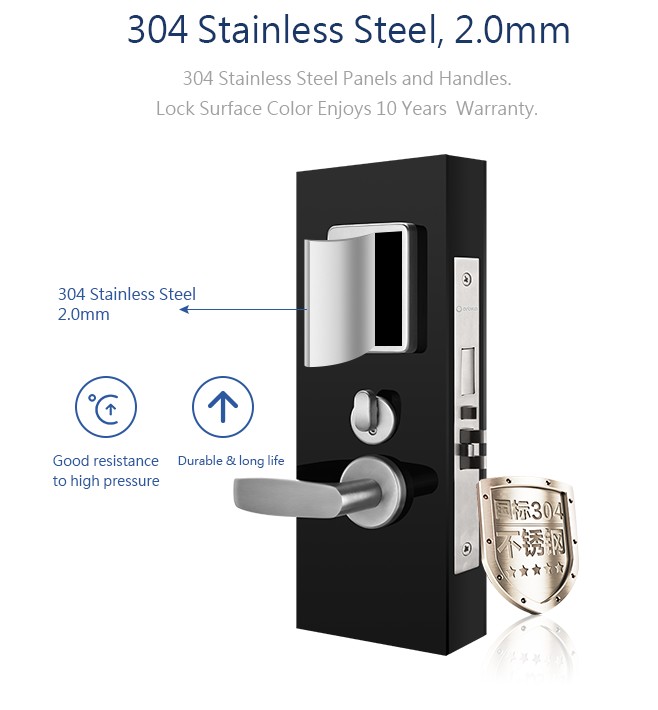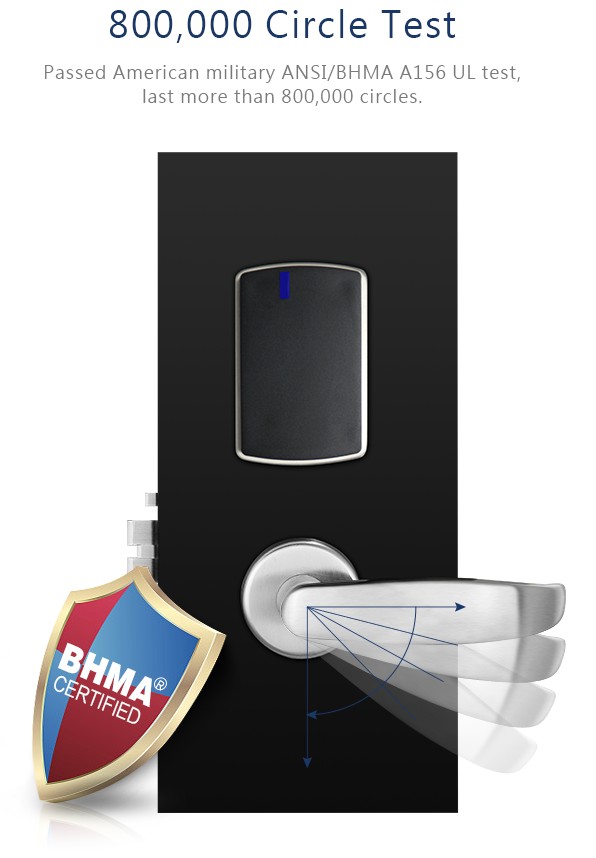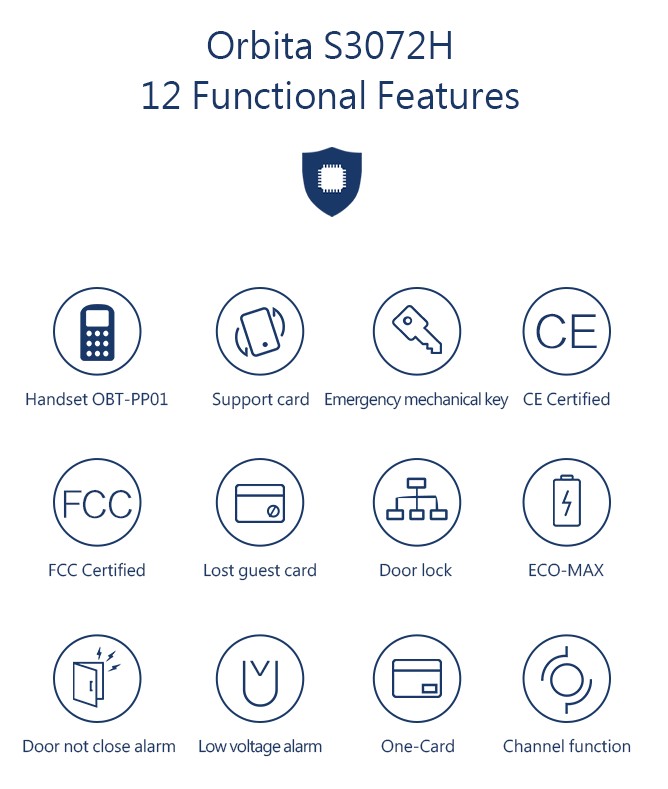 How does ORBITA hotel door lock system work?
Our hotel smart card door lock systems consists of following:
-Hotel electronic door lock (Installed on the hotel room door)
-PC(usually located on the reception desk of hotel )
-Hotel card door lock management software(Download to PC,setting the software system )
-Encoder (Connect to PC,Issue the cards)
-Cards (Open doors)
-Energy saving switch(match with the rfid card system)
How to gain the lock management software and how to install it to the computer?
When you order orbita hotel room card lock system ,we will send you orbita software CD for free.
To avoid permission issues, install Orbita Locking System 5.3 from CD to C:\programfiles\Orbita Locking System by default.This system requires Windows XP, Win7, win8, win10. or higher version. 64bit is supported. If you are using Windows 7 or Windows 8,win10,please install/run the program as Administrator.
Orbita Looking System had registered Fidelio/Operata, can interface with most of PMS
What kinds of card can be issue

Guest Card

Maximum of 8 doors (including common ones and those of a suite room)

of the same floor can be set per card.

Supports blacklist.

Master Card

Can open every door of the same locking system, including those deadbolted.

Same function can be found in theportable programmer. (5. open doors).For

this reason the master card and/or PP MUST BE SECURED when not in use.

Emergency Card

Functions as the master card and meanwhile sets off alarm which

can be canceled by any other opendoor cards or a portable programmer using its open doors function.

For this reason the emergency card MUST BE SECURED when not in use.

Maintenance Card

Can open a specific lock within a period of time or a few times.

Building Card

Can open all doors of the same building within a period of time.

Floor Card

Can open all doors of the same floor within a period of time.

Group Card

Can open all doors of the same group within a period of time.

Supports up to 8 groups.

Clock Card

Sets the time of lock's inbuilt clock.

Same function can be found in the portable programmer.

(6. settings → 1. clock set).

It is recommended that you set time by using the portable programmer when dealing with more than one lock, because the time

in the card remains still while that in the portable programmer keeps going on.

Data Card

(S70 Type)

A lock contains an audit trail of the last 210 openings (at most).

To collect and view the audit trail you must use

a data card or the READ OPENINGS function of or the portable programmer .

Blocking Card

Access to every door of the same locking system can be blocked by this card

and can be regained only by a portable programmer,

a master card or an emergency card, and the status of

a blocked lock can be changed into unblocked by a blocking card only.

For this reason the blocking card MUST BE SECURED when not in u
We will make the lock according to your door thickness and door open way!
We provide after sales service support for hotel room access control card lock
Training for hotel maintenance, IT, security team.
Spare parts support
Online and remote control support
Local on site support
Important Tips When Install the Locks:
Don't use deadbolt as door stopper, this will cause serious problem if deadbolt is damaged or bent.

Make sure enough space is left for any part of the lock. It is extremely prohibited to hammer in the mortise or the screws. Use a knife, saw or file to fix the hole to make sure the mortise can go inside smoothly. Making sure the spindles or cylinder does not hit any wood.

Make sure the hole for the latch is deep enought and no burr left inside, when the latch hit the wood or burr, continuous alarming will be activated.

Adjust and fix the cylinder properly for emergency use.

Be careful with the cable during installation. Any cable breaking will result in malfunction.

The deadbolt knob shuold be upright not horizontal.
How to contact us

1. Please click "send" as following and inquiry for details.

2. Email:sales8(at)orbitatech.com
3. Skype:sales8_orbita
4. WhatsApp:+8618688849553