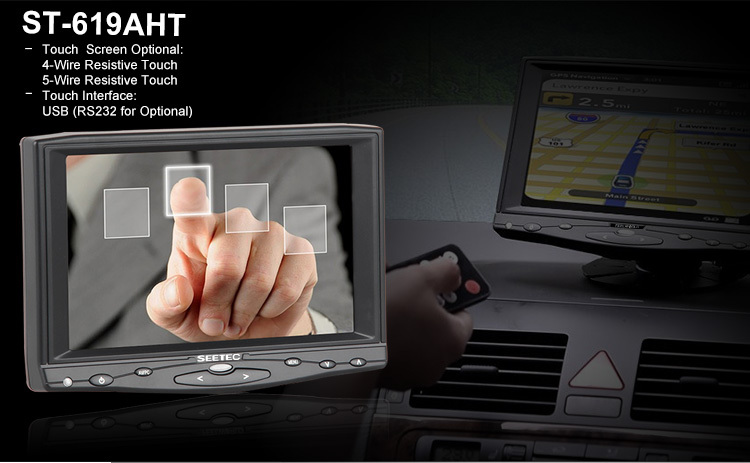 VGA AV HDMI input LCD TV Computer Monitor support Win CE Linux OS wide viewing angles 7 tft display
Introduction:
> ST-619AHT is a 7 inch TFT LCD monitor.
> It uses a high quality new LCD Panel,with 800x480 resolution, 450cd/m² high brightness and 70°/70°(L/R) 50°/60°(U/D) wide angle, which can display clear images.
> It uses LED backlight,which has advantage like Energy-Saving, Long life and enviromental protection.
Description

VGA AV HDMI input LCD TV Computer Monitor support Win CE Linux OS wide viewing angles 7 tft display

Model

ST-619AHT

ST619AHT-450

ST619AH W/O Touch

ST619AH-450 W/O Touch

Brightness

300cd/m²

450cd/m²

Touch Screen

4-Wire Resistive Touch(5-Wire for Optional)

Touch Interface

USB (RS232 for Optional)

Dot Resolution

800*480 pixels (max to1920*1440)

Aspect Ratio

16:9

Contrast Ratio

500:1

Backlight

LED

Viewing Angle

70°/70°(L/R) 50°/60°U/D

Input Signal

VGA,Video1,Video2,Audio,HDMI (DVI Input for Optional)

HDMI Format

480i,480p,576i,576p,720p,1080i,1080p(50/60Hz)

Mounting Process

Stand Bracket

VESA 75*75mm

1/4-20 Hole in the bottom

Input Voltage

DC12V±20%

Power Consumption

≤6w

workingTemperature

-20℃~55℃

storage Temperature

-30℃~65℃

Unit Size

188.8L ×128.7W × 40.2H(mm)

Unit Weight

535g
OS Support for touch

Standard Accessories

Packing Details

MAC

Bracket

Box size

35x20.5x7.1CM

Vista

SKS Cord

Per box G.W.

3kgs

Linux

Touch Pen

Per Carton

10pcs

Win CE

Remote Control

Carton Size

48x44x36cm

MS-DOS

VGA+USB Cable

N.W.

19kgs/carton

Window XP

Touch Driver Disc

G.W.

20kgs/carton

Window NT4

Home Power Adapter

Window 9X/ME

Car Cigar Lighter

Operation Manual
Abundant Interface:
>Even small size as 7 inch,ST-619AHT also has HDMI,DVI-D,VGA,Audio (1 RCA)&Video (2 RCA)input, which can support many devices like PC, DVR, Camera, DVD,HD Video Player and so on.
>On HDMI Mode,using under scan function,it is possible to display Full HD videos.
Customized SKS Cable
One Side: Customized 14 Pin SKS terminal
The other side:
> 9 Pin VGA terminal (Black)
> 2 RCA Video terminal (Yellow)
> 1 RCA Audio terminal (White)
> 1 DC input (Black)
VESA 75mm Mount Holes:
There are VESA 75 mm Mount holes (FPMPMI) On rear side of the monitor.So it can be used with wall mount arm which support VESA 75mm.
Speaker Built-in:
As the built-in speaker,if there is audio output it does not need to connect external speaker equipment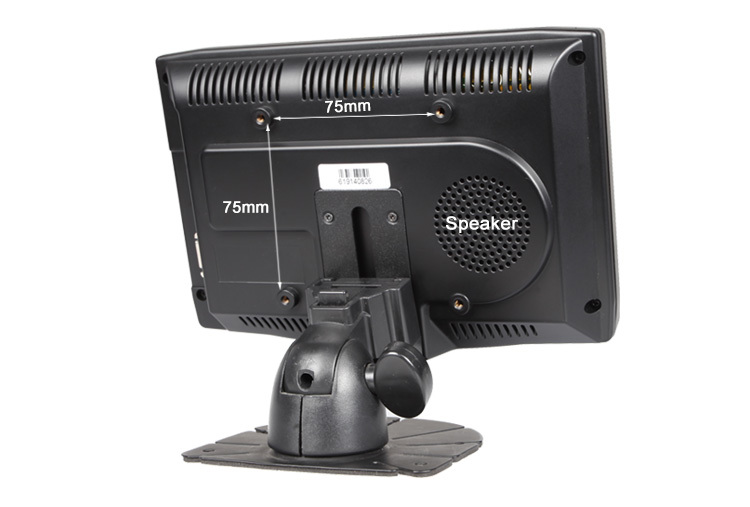 Standard Bracket:
Portable Bracket . It is convenient to adjust the monitor as 360-degree horizontal and 90 degree vertical.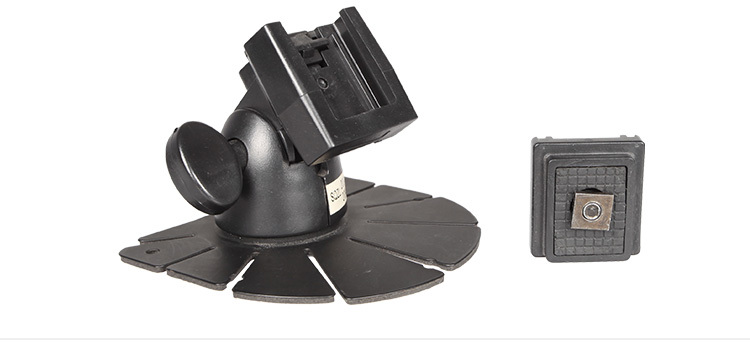 Support System for Touch:
MAC
Vista
Linux
Win CE
MS-DOS
Window XP
Window NT4
Window 9X/ME
Image Flip Function
ST-619AHT has Image Flip(Horizontally & Vertically) function.Using this function.it is convenient to watch the display even the monitor is reverse installation.
Mode Shift between 16:9 to 4:3
Base on different signal input or Practical purposes, you can change the display mode between 16:9 to 4:3.
Application:
This product employs new integrate circuits and high quality TFT LCD Screen. It is putting out with its low power consumption, emits no radiation, and other advantage characteristics. This product is shaped with modern style and is easy to be carried with. The color TFT LCD is the most suitable display for VGA,VCD, DVD and GPS system for motorcars and ships. It also can be used in the office, in flat, at home, ATM, Automation, Gaming, Kiosk, Transportation, Military,Oil Gas & Energy,Microscope,Retail and also in other suitable position. You will certainly benefit from this monitor in lots of ways,to some of them:convenience,safety,space-saving.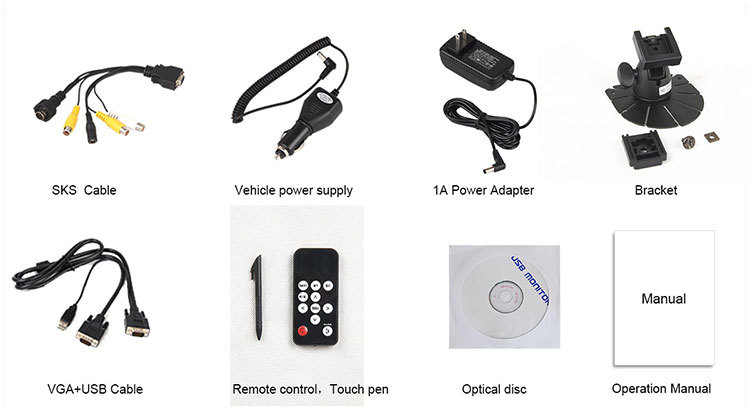 Gift&neutral box 10 pcs/carton
Delivery Information:
SEETEC strives to get all orders out as quickly as possible after QC Dept fully test them!
Shipping Method:
By Express: Fedex,DHL,EMS,TNT,UPS,
By Logistics: by air&sea
Shipping Time:
From Monday to Saturday 8:00am-17:30pm
Shipping Address:
.If by paypal, Please note items will only be shipped to verified users with confirmed shipping addresses
.If by T/T, shipping address as communicate
1.Powerfull Research&Development Experience
2.OEM&ODM Ability
3.Strict QC TEST Control
4.EASY & FAST Communicate
5.Responsible After Service
SEETEC designs and manufactures small HD LCD monitors. Products cover on-camera LCD field monitor, VGA/HDMI/HD-SDI LCD monior, LCD touchscreen monitor,Industril PC etc.
Our products are finely engineered to ease of use, maximum portability, dependability and durability. We make products at the finest quality you can find in the video and photography field.
SEETEC R&D core team leaders are composed by a dozen senior technical engineers have years of experience. They ensure our products are innovative and consistently push the boundaries of both technology and design.
We listen to every customer, and take care of their feedback and advices. It is a good way to improve our products and service. Our mission is to develop creative products to customers with a good experience.
We have also several years experience in OEM & ODM orders, and we can meet a variety of customized requirements of customers worldwide. If you have any interest or advice, please feel free to contact us.
SEETEC Company Video View:
http://seetec.en.alibaba.com/company_profile.html