Outdoor/Hunting/Sea/Military/Playing use Fire Retardant Camo Netting,red de camuflaje,snow Camuflaje
military camouflage netting
Snow hunting lind
Garden net shadow net
white snowfield camouflage net
ceiling decoration netting sunshade screen for home decorations
Welcome to inquiry 24 hours ! skype : rayee2030
Email : rayee2030(at)rayee.com.cn

Specifications:
There are forest, desert,sea and snowfield style available.
Performance indicators are as follows:
1,Material:Polyester Oxford.
2,Size:can be customised
3,Color:can be customised
4,Finishing:Bound to nylon mesh netting for strength and tyingand Reinforced edges
5,Weight: <140g/m2.
6,Operating life: 2 years outdoor.
7,Storage period: 10 years.
8,Environment -40~+50°C.
Technical Parameters:
a) Visible light (color) invisible indicators:
Working Band:0.4~0.76μm;
Invisible properties: Conform with the China National Standard GJB1082-91 <Color for camouflage nets>. The woodland type camouflage net is designed in three colors: dark green, medium green and yellowish brown, matching with the background color of woodland; for the desert type, there're three colors: sandy, yellowish brown and medium green, matching with the background color of desert;

b) Near-infrared invisible indicators:
Working Band:0.76~1.2μm;
Invisible properties: the woodland type has the same spectrum and the same color with green plants. The spectral reflectivity of dark green and medium green is larger than 0.5, which is in accordance with the US. Military's requirements on spectral channel MIL-L-5296(ME)
No.

Performance

Technical

1

VIS(Visible spectrometry)

0.4~0.76μm

2

NIR (Near-infrared)

0.76~1.2μm

3

Radar absorbing

Garnish vertical reflectivity<-10dB(2~18GHz)

4

Dimension

(6.8±0.2) m × (6.8±0.2) m, customized

four single net coupled into a large unit.

5

Weight

100 - 300 g / m2

6

Breaking strength

Control rope≥1200N,

garnish:warp≥650N ,weft≥150N.

7

Tear strength

warp≥50N; weft≥50N

8

Bursting strength

Backing≥300N

9

Storage life

5 - 10 years

Application:
1, military equipments and projects ect.
2, military theme bars, military store decoration and military enthusiasts.
3, restaurants, parks, house decoration,
4, military film props and stage background installations
5, bird-watching,hunting
6, paintball games,sniper.
Product Shown
Desert color
( back side with ropes and meshes , mesh size 5x5cm , 10x10cm or as your request)
white color / snow color
ocean blue color
Jungle / woodland color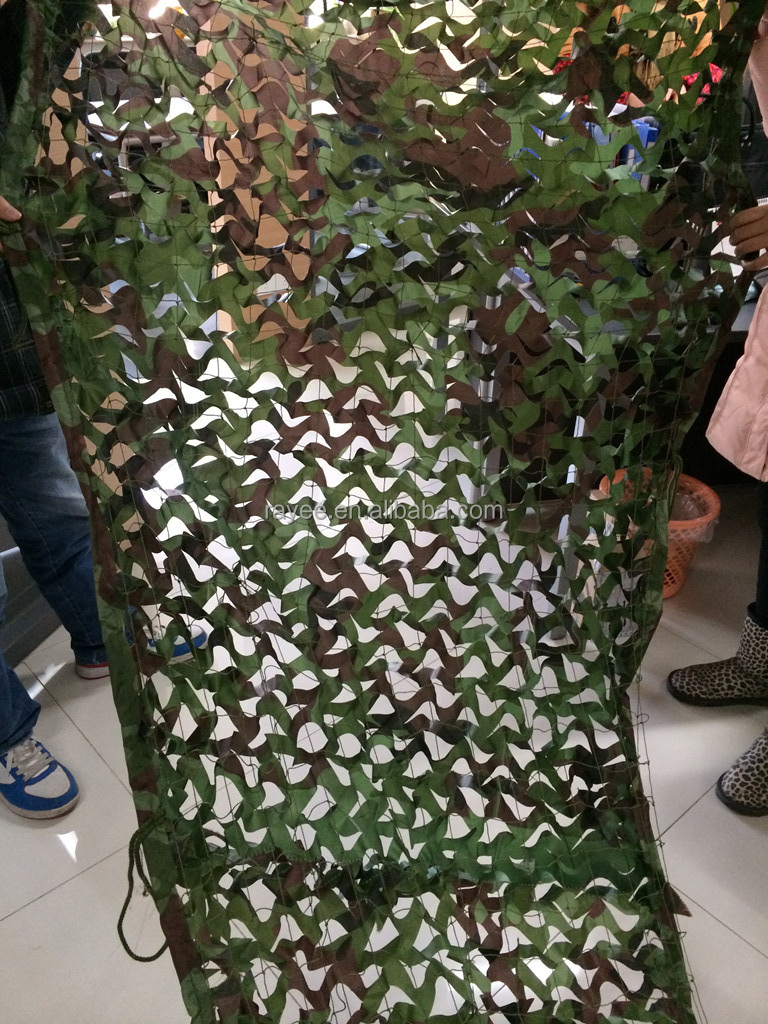 for miltitary use / Car use / Hunting / Decorative
Contact Ways
RAYEE INTERNATIONAL CORPORATION LIMITED
Tel : 86-25-85399266, 58071170, 85399268
Fax: 86-85399267
Skype : rayee2030