Huawei FusionServer RH1288 V3 1U Rack Server with Best Price
The HUAWEI FusionServer RH1288 V3 (RH1288 V3 for short) is a newgeneration 1U dual-socket rack server. It achieves optimal balance of performance and density owing to optimal design. It is an ideal choice for enterprise computingintensive applications, enterprise applications requiring both computing and storage resources, and cloud computing applications.
The RH1288 V3 servers provide the following features:
1) High density and space-saving
2) Integrated device management solution
3) Flexible network configuration
New-generation E5-2600 v3 processors allow high performance
Supports up to two Intel ®Xeon®E5-2600 v3 processors. Each processor supports a maximum of 14 cores, a L3 cache of 35 MB, and 9.6 GT/s QuickPath Interconnect (QPI) speed.

Supports up to sixteen 2133 MHz DDR4 DIMMs to provide a maximum memory capacity

of 1 TB, meeting requirements of memory-demanding applications.

Offers flexible networking. The server provides two or four GE ports or two 10GE ports

without occupying PCIe slots, improving network availability.
Fine-grained power control improves emergency efficiency
Uses 80 Plus Platinum power supply units (PSUs), meeting Energy Star specifications.

Supports 460 W, 750 W, 800 W, and 1200 W PSUs, increasing energy efficiency.

Uses temperature sensors in key components to monitor temperature in real time, and

the fan modules implement intelligent speed adjustment based on the temperature to

improve heat dissipation efficiency.

Uses dynamic power conservation and power capping to safely limit the maximum

server power consumption to a specified level without affecting services.
Professional management module provides comprehensive management
Uses an independent iBMC module to implement Serial over LAN (SOL), remote KVM,

and functions such as remote server startup and shutdown.

Provides a wide variety of management interfaces, including the IPMI, CLI, HTTPS, SNMP,

and WSMAN interfaces to facilitate integration with third-party systems.
Accurate fault locating facilitates efficient O&M
Provides the "black box" function, similar to a flight recorder, to facilitate fault locating

when the server collapses.

Provides error codes through the server front panel to help fault locating

.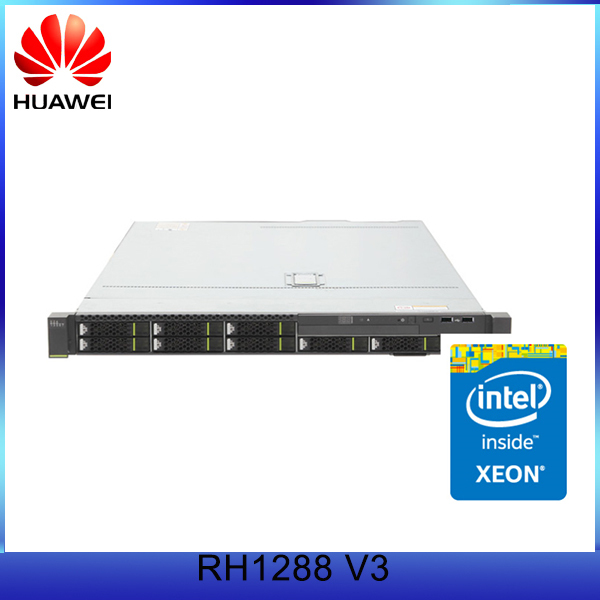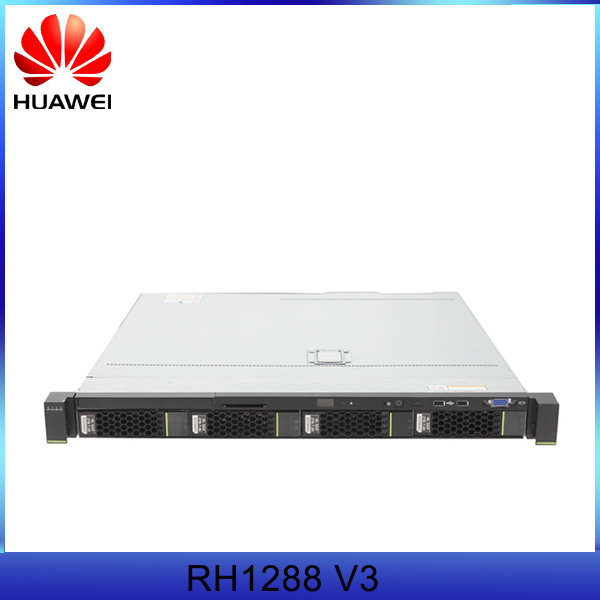 Specification
RH1288 V3

Form factor

1U rack server

Number of processors

1 or 2

Processor model

Intel Xeon E5-2600 v3 series processors

Memory

16 slots for DDR4 RDIMMs or LRDIMMs

Local storage

Supports two types of hard disk configurations:

• Eight 2.5-inch SSDs or SAS or SATA HDDs
• Four 3.5-inch SAS or SATA HDDs
Supports Flash storage:
• Dual SATA DOM
• Dual-SD card

RAID

Supports RAID 0, 1, 10, 5, 50, 6, and 60

Uses a supercapacitor to protect RAID cache data from power failures
Supports RAID state migration, RAID configuration memory, self-diagnosis, and remote web setting

Network ports

Provides two or four GE ports or two 10GE ports

PCIe expansion

Provides up to three PCIe slots

Fan

5 hot-swappable fan modules in N+1 redundancy.

Each fan module has two counter-rotating fans.

PSU

Can be configured with two hot-swappable PSUs in redundancy and supports N+1 redundancy.

The server supports the following PSUs:
• 460 W or 750 W AC or DC PSU
• 800 W –48 V DC PSU
• 1200 W high-voltage DC PSU

Management

The on-board iBMC module supports Intelligent Platform Management Interface (IPMI), SOL, KVM over IP, and virtual

media and provides a 1 Gbit/s RJ45 management network port supporting Network Controller Sideband Interface (NC-SI).

Supported OSs

CentOS

Citrix XenServer
Microsoft Windows Server
Red Hat Enterprise Linux
SUSE Linux Enterprise Server
VMware ESXi

Power supply

110 V to 220 V AC

240 V to 380 V DC
–48 V DC
5°C to 45°C (41°F to 113°F)
NOTE: The RH1288 V3 servers operating at 40°C do not support SSDs, and the fault of one fan may affect CPU performance.

Certification

CE, UL, FCC, CCC, and RoHS

Installation suite

Guide rails
Adjustable holding rails

Dimensions (W x D x H)

RH1288 V3 with 3.5-inch hard disks: 447 mm x 750 mm x 43.6 mm (17.60 in. x 29.53 in. x 1.72 in.)
RH1288 V3 with 2.5-inch hard disks: 447 mm x 710 mm x 43.6 mm (17.60 in. x 27.95 in. x 1.72 in.)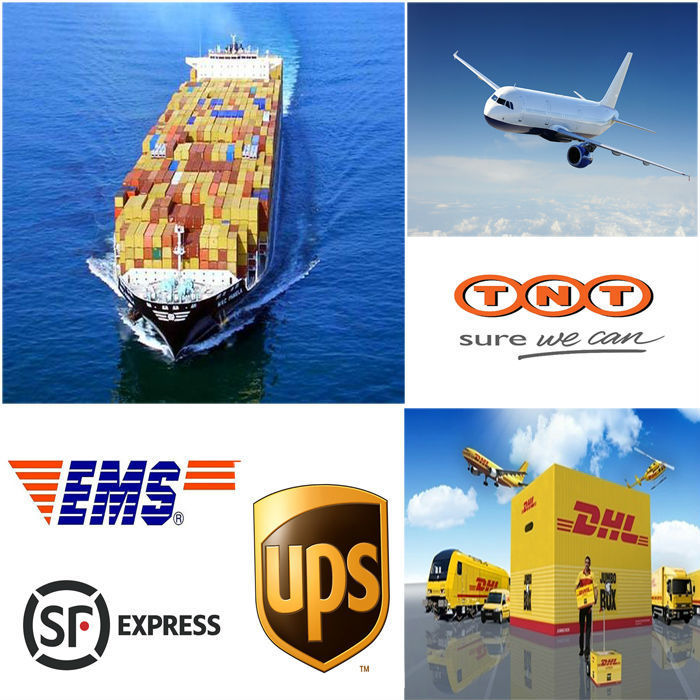 Trade Information
1) Trade terms: FOB,CIF,CFR,etc
2) Price Terms: L/C,D/P,T/T,Western Union,PAYPAL
3) Payment Terms: T/T in advance
4) FOB Price:US $1 - 1,000 / Piece
5) Port: Shanghai
6) Lead time: Within 3-7 working days after receipt payment.
7) Shipment: Express, Air, Sea
8) Sample availability: Yes( not free)
We can provide detail documents and remote help for device installation and configuration.
Warranty: 1 year. ( After the quality guarantee period began to charge appropriate maintenance service fee.)
Our company promises goods enjoy full return due to quality problem since goods delivered within 7 days or 15 days , returned goods must keep original state and it's accessories are complete.
Shanghai Kaifei International Trade Co., Ltd. ,which provides main services in terms of broadband communications and information technology industries, is a research and development, production, sales, service integration, high-tech enterprises. Our products mainly covers the optical signal transmission and access, signal transmission and access, photoelectric signal conversion and photoelectric signal and so on. We are now the agent of well-known international brands such as HUAWEI, ZTE, CISCO, ZYXEL, Grandstream, etc.
We will constantly improve ourself and feed back with our superior-quality products and meticulous care to all walks of partners, creating a win-win situation.