high quality rock wool steam steel insulation pipe
for heat system, rock wool pipe
Rock wool insulation high-quality basalt and diabase as the main raw material,
after melting, adopting international advanced system of four roll centrifugal
cotton, cotton will basaltic rocks of high temperature solution to jilt to form
discontinuity of the 4 ~ 7 microns fiber, and then add a certain amount of binder
dust laying oil and water repellent in rock cotton fiber, after sedimentation,
curing, cutting, according to the different uses to make series of products of
different density

1, thermal insulation:
Our rock wool slag content is low, cotton silk slender flexible, have light
thermal conductivity, so have good insulation performance.
2, fireproof:
Because of our raw material is natural rock, so it is non-combustible, have
good high temperature resistant performance, do not produce poisonous gas
in the fire.
3, non-corrosive:
Our rock wool board leaching liquid PH value is neutral or weak alkaline, for
carbon steel, aluminum alloy copper, stainless steel, cast iron and other metal
equipment and components of the building has no corrosion.
4, healthy and eco-friendly:
Our rock wool do not contain asbestos, production process does not use
CFC orHCFC etc environmentally harmful materials, do not have the growth
of microbial environment, no mildew.
5, energy saving:
Our rock wool can greatly improve the energy-saving utilization efficiency of the
whole building and equipment, and reduce consumption of cold and hot medium
when using more than 85%, not only save energy, and reduce the cost

Item

Rock wool board

Rock wool pipe

Rock wool blanket

size

600*900*(600/1200mm)

600*900*(600/1200mm)

thickness

30-120mm

30-200mm

30-120mm

diameter

27-1016mm

weight

50-200kg/m3

80-160kg/m3

60-120kg/m3

MOQ

25 cubic meter

15 cubic meter

25 cubic meter

package

Plastic bags or cartons also can packing as customer's require

port

Xin Gang port, China

Payment terms

T/T; L/C

Delivery time

7-10 days after receive your deposit

Construction industry - building external wall thermal insulation partition wall and
roof enclosure insulation sound-absorbing noise reductionPetrochemical industry- petroleum, electric power, chemical industry equipment insulation Sound-absorbing
noise reductionIndustrial and mining industry - fire prevention of industrial kiln
drying oven insulation of large diameter storage tank and ship Various types of
cold and hot pipes and hide and leakage pipes insulation
Chao Chen company is a science and technology enterprise a set of production,
sales, research and development,construction in one. The main products are
insulating refractory insulation, soundabsorbing material, chemical material,
sealing material categories. Have engaged in this industry for more than 20
years, have rich experience of production and construction.
Now have joined trade assurance service to ensure the buyer's profits--product
quality and delivery date, if we breached the contract, you will get the
corresponding compensation.

1. 24*7 online service. by email or telephone or messenger.
2. High production capacity,
fast delivery of goods. Standard size have stock, immediately delivery once
your purchase, 7-10 days delivery for out of stock.
3. Professional team, specialized in refractory production since 1995,with
advanced technology and vast experience. and All related Heat Insulation
Materials can be found here and meet your different use
4. Price advantage, provided by manufacturer directly, save much intermediate
fees. and can Supply customized products ensure 100% meeting your require,.
5. Quality assurance, our insulation material use high grade raw material and do
strict inspect during the whole procession. All products adopt GB,ISO,ASTM,BS,
JIS and DIN standard as per requirement. ISO, BV, TUV, SGS certified.
6. OEM service available.
7. New buyer: Tell us your budget and target market and we will give you
professional advice of exact kinds and quantity.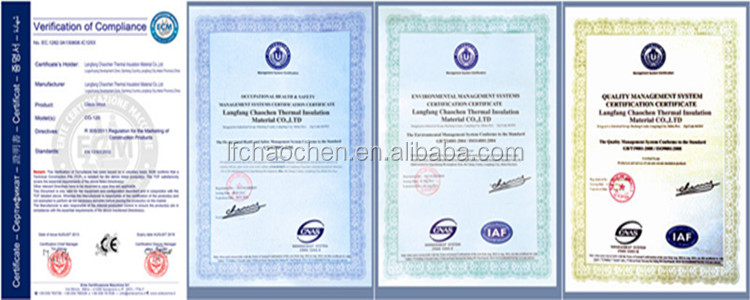 1. When can I get the price?
We will try our best to provide you the price within 12 hours after received your inquiry.
2. What about the payment terms?
T/T 50% advance, and balance upon the copy of B/L
3. whether our information is safe?
Confidentiality clause: The personal information of each customer is safe here,
we will respect the customers' privacy.
4. Are you a manufacture or trader?
Factory+trade (mainly for manufacturing, also do some business of related products).
5. What's the MOQ of trial order?
Transportation cost into consideration, the general is a 20FT,less if we have instore
6. After an order is confirmed, when to deliver?
According to your order quantity, normally, 15 days after deposit received.
7. Is your company accept customization?
We have our own factories and excellent technical team, and we accept OEM service.
8. What certificates do you have?
ISO9001, BV and Test Report, also we can do other necessary certification
according to your requirements.
9. Can you offer samples?
Of course,samples are total free! Freight should be paid by buyers. And we
will return to you when the first order.
Please feel free to ask if any further questions....