DESCRIPTION--Afro Style Hair Extension
100% HUMAN HAIR for BRAIDING

Afro Style Hair Extension !!!

All Natural Look!!!

Ideal For Making DREAD LOCKS Or TWISTS!

Prices Are Based On 30G.
One Bundle Is 30g. Picture Shown Is 30G On Web.

Note : The Length Specified Will Be The Length After The Hair Is Pulled Straight.
HAIR CARE:
WASHING

Keep the hair clean. We suggest that you wash the hair at least once or twice a week with warm or cold water, never hot water (washing the hair too often may cause the hair to dry out).

Before washing the hair, brush out the hair completely using the Flex-O-Brush or Hackle Brush. (We recommend these brushes because they are gentle on the hair and do not pull the hair as much). Then, spray mixture of conditioner and water and brush the hair from bottom working your way up. You must gradually wet the hair down a section at a time and brush it gently before you completely wash the hair. If the hair is very dry and a lot of water is added at once, hair will swell up like sponge and tangle! Therefore, it is important to gradually wet the hair and brush it. After wetting the hair, add shampoo with lots of conditioner and brush thoroughly. Be sure to wash and brush the hair in one direction and rinse the hair completely with water.

When swimming, always wear a cap to prevent prolong exposure to chlorine or salt water which causes the hair to tangle. Make couple of big braids when going to sleep, swim, or exercise (please untangle the hair before making the braids). When going to the spa, the hair should be brushed out completely and should be wrapped in a cold wet towel. Please wash the hair immediately after swimming, spa, exercise, and etc. When dirt and sweat accumulate, hair tangles. Too much leave-in conditioners and other hair care products will create a build up on the hair and will cause it to tangle faster. If the hair feels dry or heavy with build up, deep condition the hair.

You can make a leave-in conditioner at home by diluting conditioner (5%), Infusium 23-hair treatment (5%) and water (90%). Apply the mixture lightly onto your hair and brush the hair from the end to the top near the scalp. Although it is important to apply leave-in conditioners to keep the hair from dryness, it is important to keep the hair clean by washing the hair about twice a week so that it will not create a build up.

NEVER SLEEP ON WET HAIR!!! Make sure the hair is completely dry before going to bed. Make couple of big braids when going to sleep (please untangle the hair before making the braids).
Followed Is My Another Picture,They Are Beautiful,Please Engoy.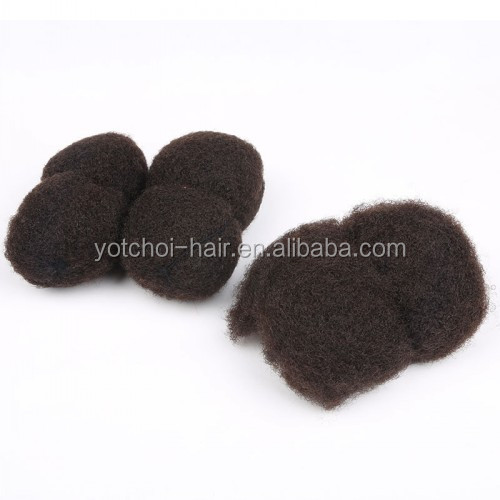 Thank You For Your Browse Our 2015 Hot Sale Tangle Free 100% Unprocessed Virgin Human Hair Afro Hair !!!
Leo Yang
Sales Manager
Qingdao Yotchoi Hair Products Co.,ltd
Add:No.28,Guhe industry Park,Ligezhuang Town,Jiaozhou City,Qingdao,China
Cell Phone:86-13793261487
Skype:leo.yang585
Email:michelleatyotchoi.com
Website:(1)www.yotchoi.com (2)http://yotchoi-hair.en.alibaba.com/