New products 2020 innovative product Better than sweeteners stevia 40~60% polyphenol Sweet Tea extract powder
Quick details of Sweet Tea Extract
Product Name: Sweet Tea Extract
Other names: Sweeteners stevia,sweet tea extract powder, Chinese blackberry,Chinese Sweet Leaf Tea;Ten-cha
Appearance: White fine powder;Yellow-brown powder
Latin Name: Rubus SuabissimusS.Lee
Specification: ≥70% Rubusoside;40%~60% polyphenols
Test Method: UV/TLC/HPLC
Certifcates: GMP,HACCP,KOSHER,ISO9001,FDA,SGS,HALAL
Functions: anti-oxidant,sweetener,balance blood sugar and blood fat,improve kidney health
Applications: Natrual sweetener,Functional drink&food,Food supplement,Pharmaceutical,Medicine,Food additive,Health care product,Costmetic
Characteristics: 2016 hot sale,free sample,alibaba china,high quality,new products 2016 innovative product,100% pure natural;Factory price;Pesticide free;non-GMO;Non-IRRADIATON,China supplier
Product name:

Sweet tea extract

C/O:

China

Latin name

Rubus SuabissimusS.Lee

Main Ingredient:

40%~60% polyphenols

Test method

UV

Part Used:

Leaf

Odor

Characteristic

Appearance:

Yellow-brown powder

Product photos:

Benifits

1.Natural sweetener,low calorie and high-potency sweetness (300 times sweeter than cane sugar)

2. Balance blood sugar and blood fat
3. Improve kidney health
4. Alleviate allergy/asthma,obesity,diabetes and cancer
5. Remove the phlegm and relieving a cough

Non-Irradiation Statement

This ingredient is not treated by irradiation and ETO

Kosher Status

Kosher KOF-K Parve

Guarantees the nature time

Two years
Basic info. of Sweet Tea Extract
Botanical Name: Rubus suavissimus S.Lee
Common name: Chinese blackberry,Chinese Sweet Leaf Tea;Ten-cha
Specification: ≥70% Rubusoside;40%~60% polyphenols
Appearance: White fine powder;Yellow-brown powder
CAS No.: 64849-39-4
Molecular Formula: C32H50O13
What is Sweet Tea Extract
Sweet tea (Rubus suavissimus S.Lee) so named for its leaves taste sweet, sweet tea has a long history in daily uses in Guang Xi province of China,simple processed and then used as drink or add into food for orally taken.
Plant shrub height 1~3 m,stem erect or slope, with hull stick, color green. Single leave crossfigure nearly round, 5~16 cm long, bottom heart shape. Palm shape 5~8 split, needle or ellipse shape,middle split longer normally, sawtooth growing around; flowering from spring to autumn,blossom flowering top branch diameter 3~5cm; footstalk curve,1.5~4.5cm long;fruit egg shape,orange color when mature,taste sweet.
Functions of Sweet tea extract
1. Natural sweetener,low calorie and high-potency sweetness
2. To decrease blood pressure.
3. To remove the phlegm and relieve a cough
4. Anti-obesity,anti-inflammatory and anti-allergy effects
5. To tonify the kidney.
CERTIFICATE OF ANALYSIS
Product Name:
Sweet Tea Extract
Batch #:
160112
Report Date:
Jan. 21,2016
Botanical Source:
Rubus Suavissimus S. Lee
Quantity:
200kgs
Retest Date:
Jan. 10,2018
Part Used:
Leaf
Manufacture Date:
Jan.11.2016
Extraction solvent
Ethanol&Water
ITEMS
SPECIFICATION
METHODS
RESULTS
Description
Appearance
Yellow brown powder
GB 5492
Complies
Odor
Good smell
GB 5492
Complies
Particle Size
100% pass through 80 mesh sieve
CP2010
Complies
Loss on Drying

≤

5%

CP2010
3.59%
Sulphated Ash

≤5

%

CP2010
2.45%
Chemical Tests
Polyphenols

≥5

0%

UV
50.59%
Heavy metals

≤2

0ppm

CP2010
Complies
Lead

≤3

ppm

CP2010
Complies
Arsenic

≤2

ppm

CP2010
Complies
Cadmium

≤1

ppm

CP2010
Complies
Mercury

≤

0.1ppm

CP2010
Complies
BHC

≤

0.1ppm

CP2010
Complies
DDT

≤

0.1ppm

CP2010
Complies
PCNB

≤

0.1ppm

CP2010
Complies
Microbiological Tests
Total Plate Count

≤

1,000cfu/g

CP2010
Complies
Yeast & Mold

≤

100cfu/g

CP2010
Complies
E.Coli
Absent
CP2010
Complies
Salmonella
Absent
CP2010
Complies


Packaging and storage

1) Sample-packing:Good polythelene bag,keep sealing


2) Production-packing:25kg/drum and in paper-drum (D35cm*H51cm) and polyethylene bag inside

3) Storage:Air-tight original sealed container, low relative humidity and dark conditions.

Lead time

3~5 days after order comfrimation

Delivery details

For urgent order and light weight, choose the following express: UPS, FedEx, DHL, EMS.

For heavy weight, choose to deliver the goods by air or by sea to save cost.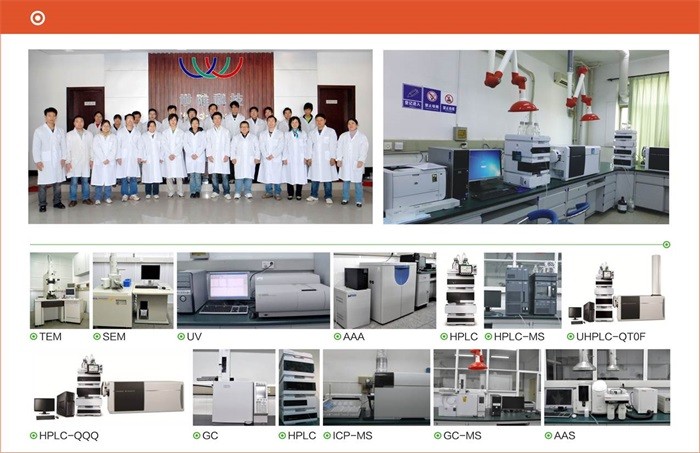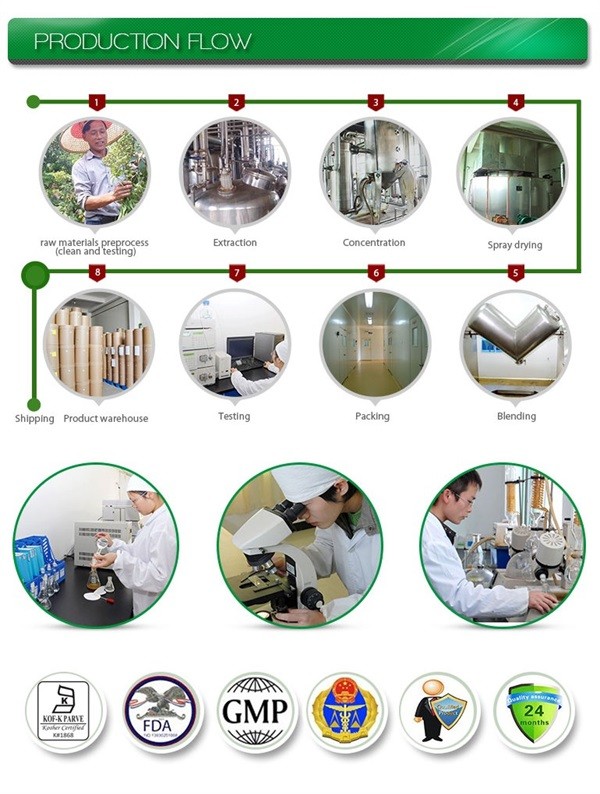 1,CPHI Japan
in April 2019

,
at Booth# M22, Tokyo, Japan
2,Vitafoods Europe in May 2019, in Genava, Switerland
3,CPHI China in June 2019 (Food Ingredients Aisa (FiA),in SNIEC, Shanghai, China
4,CPHI Korea in Sept 2019, at COEX, Seoul, Korea
5,Supplyside West in Oct 2019,in Las Vegas, USA