Grey Cast Iron Sand Casting Products with OEM Service
Dear Customers: ductile cast iron
Welcome to visit our website and hope our products will satisfy you.
We think creatively and manufacture precisely to meet your needs. and we have our own factory and R&D Center.
If you need any of these products, please contact us without hesitation. We are always ready to offer the best service and the competitive price.
Just give us a chance, we will give you a surprise!
Yours faithfully,
Lolin
Product name

Grey Cast Iron Sand Casting Products with OEM Service


Brand name

Lolin

Total staff of the company

600

The typical material supplied

EN-GJL- 150, GJL-200, GJL-250,

GJL-300, GJL-350 EN-GJS-400-18-LT, GJS-500-7, GJS-600-3, GJS-700-2,

GJS-800-2

Austempered ductile iron: ADI800-10, ADI900-8, ADI1050-6 , ADI1200-3, ADI 1400-1

Unit weight

0.1 – 200 kgs

The industries we are supplying

Construction machinery; Automotive industry ; Railway vehicle manufacturing; Machine building

MOQ

0.5 Metric Ton

Packing

European type standard case 1200mmx800mmx900mm

Delivery time

30 days from order date

Business type

trading company

Advantage

OEM service available

Notes

Special specifications and marks can be made according to customers requirements

Port

Qingdao, China

Certification

TS 16949 certified, ISO9001

features

- TS 16949 certified

- 3 sets automatic moulding lines, flask size from 400x400 till 700x700

- 15 units of induction furnaces ranges from 1 ton/hour till 5 ton/hour

- 15 units CNC machining cernters for further machining process

- Spectrum + metalloscope

Capacity goal

40,000 tons / year

MOQ

0.5 Metric Ton

Payment

L/C, D/P, T/T
The Foundry Equipments: grey cast iron
1. Melting furnace: medium-frequency induction furnace: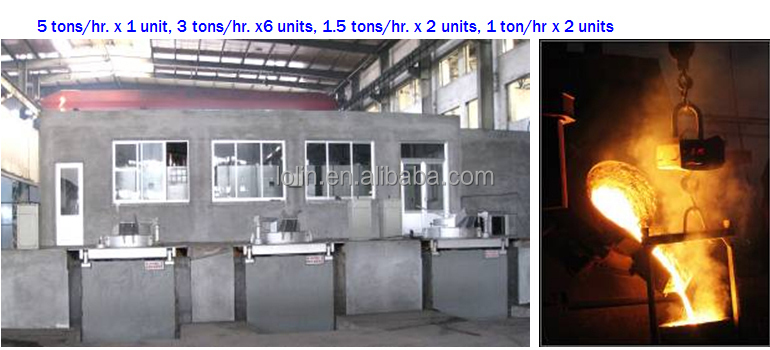 2. moulding lines: grey cast iron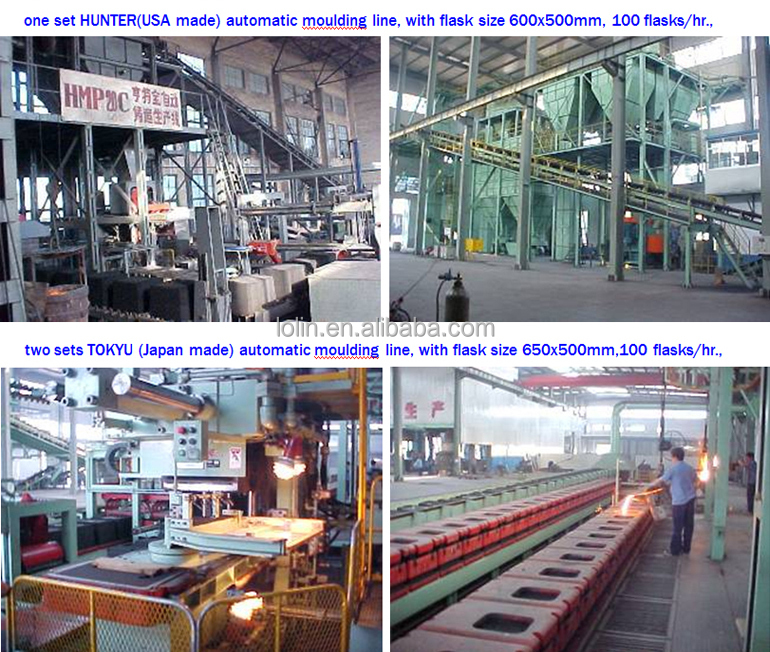 3. core-making shop: grey cast iron

8 units cold/warm box machines with 12 kg capacity.
4. testing equipment in the casting workshop:
5. test equipment in the lab of the foundry: grey cast iron

CAE CASTING SIMULATION SOFTWARE
6. The Machining Equipments: sand casting
1. How do we control quality?
a) Pay attention to adaptation for manufacture process
b) Approval report for shipment cast iron
c) Third party inspection is accepted cast iron
d) Keeping quality guarantee for a long period
e) Guaranteeing quality inspection of each product before assembly and packing.
f) Comply with ISO 9001
2. What are our advantages over others?
a) Lolin's own R&D center could make the clients' ideas to be actual products with support from related engineers from different fields. sand casting
b) Producing and designing forging, casting and stamping parts has made Lolin in a strong position in the OEM and ODM market.
c) Lolin's core business is to help the overseas clients to get high quality products with fair price in China.
d) Any request from the clients would be treated carefully by our experienced staff, the quality of any order would be highly controlled by our skilled engineers.
e) Lolin's teams would like to welcome clients from home and abroad to work for the win-win situation and reach our target: Making Business More Fun! sand casting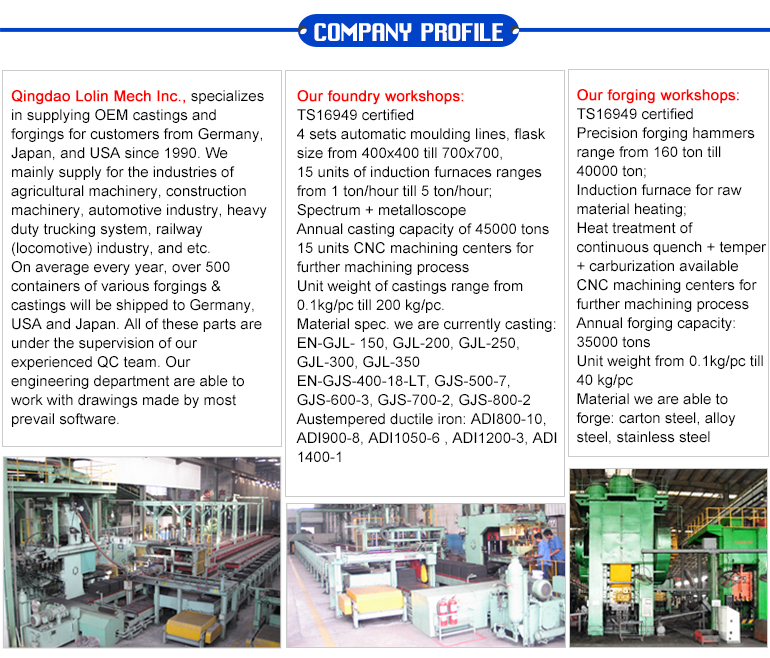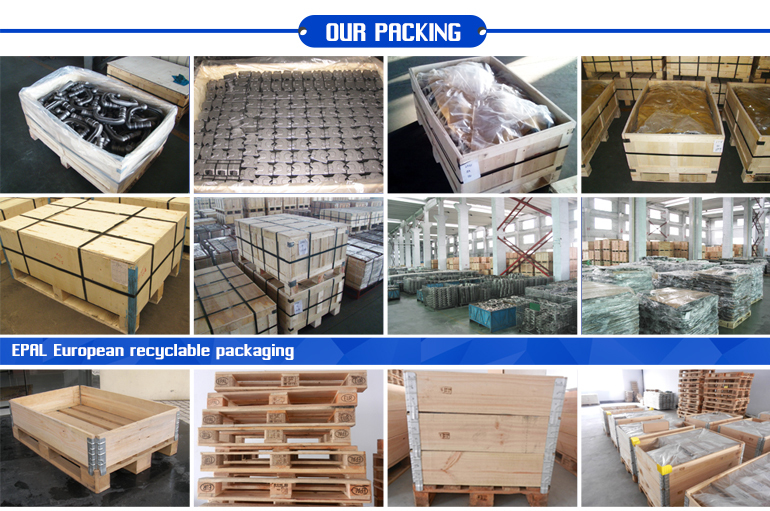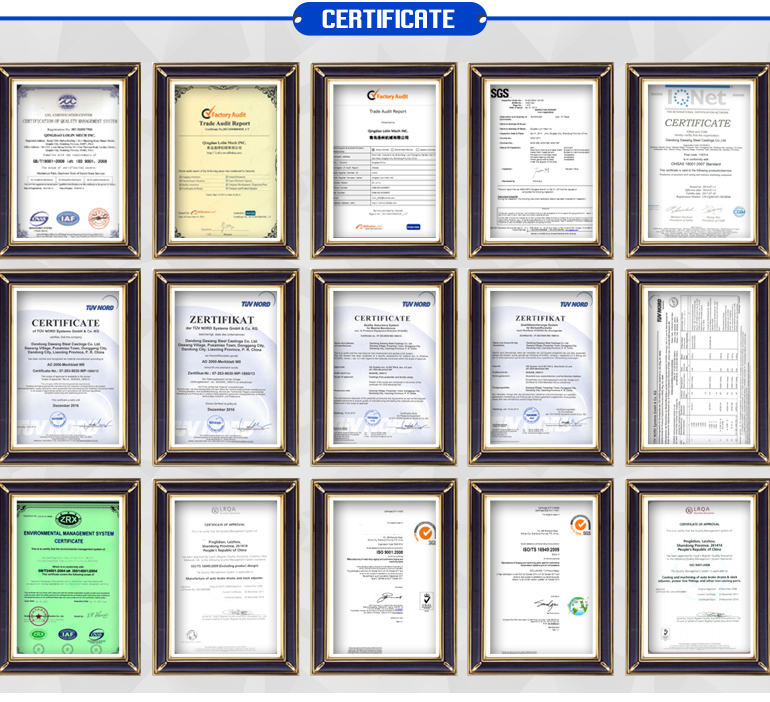 1) Your question will be replied within 12 hours sand casting
2) We offer you professional service in fluent English.
3) Keep the mass production as the sample in high quality
4) Freight forwarder : faster, safer and convenient sand casting