Productive scrap used tire recycling machine / used scrap tire recycling machine
Car tyre / truck tyre recycling
Rubber powder processing equipments:
This production line is used to make the waste tire or rubber into rubber powder or rubber crumb. It can make both
radial tire and bias tire.
Tyre debeader---separate the steel wire from tyre: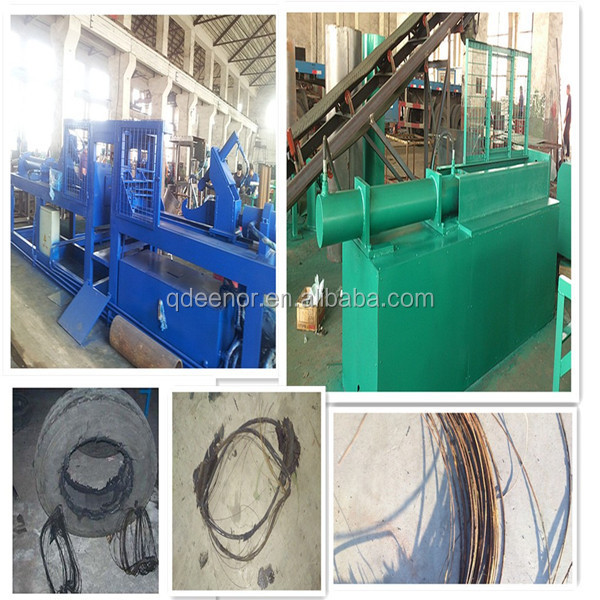 It is mainly use to extract the bead wire from tyre rim
1-Capacity:40-60 tires/hour
2-Pulling force(T): 13 Tons
3-Max.tire diameter:550mm-1200mm
4-Power(KW): 11 KW
5-Operation way: hydraulic system
Tyre cutter: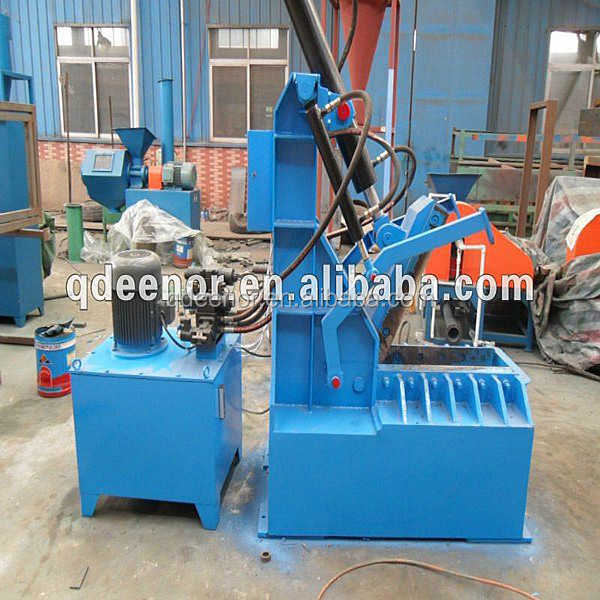 Tire cutter is designed to cut car, truck and rear tractor tires. Range is up to 2000 mm truck tires.
Raw material: 900-1200mm tire
Finished material: 2-4PCS of tire blocks
Production Capacity: 40-60 tire/hour
Pulling force: 13T
Max. Tyre diameter: ≤1200mm
Main motor (kw): 5.5
Instruction:
1.To granulate radial tires into fine rubber crumb of 40~120 mesh with steel and fiber completely recycled at ambient temperature.
2.The input is whole tires,after the processing,steel is completely separated and fiber can be separated up to 99% or above.The finish product is high and competitive in the market
3.Tight construction, small space and simple technique flow.
4. Low energy-consuming and good performance-cost ratio
5.Hight automatization, fewer labours requirement.
6.Reasonable construction,easy operation and low rate of breakdown
7.Environmental-protection,no pollution(no waste gas,no waste residue,no polluted water),meeting the environmental requirement of the government.
Large tyre cutter / OTR Cutting Machine:
Pictures of shredder machine:
Waste Tyre Shredder / Tyre Recycling Plant / Used Tire Shredder For Sale
OUR MOTTO:THE HONESTY IS THE ROOT.
A PROMISE IS A PROMISE.
Knives material: H3 , Germany standard, forged, heat treatment by high frequency, some factory only use 45# steel, the Price is more cheaper(only 1/3 of H3 ), but the life is more shorter! The life of the knives is the most important for the shredder machine.
Final block of tyre:
We can also design and produce according to customer's requirement. We can product all kinds of non-standard rubber machinery,we can design by your requests. If you are interested in our products or have any questions please contact us freely.We will try our best to meet your requirement at first time.
Whole line of automatic tyre recycling:
Rubber cracking crusher:
1. The crusher is mainly composed of by base ,frame,front and back roller,reducer,
motor,gap regulating device,safety switch,electrical control system;
2. Roller is made of compound alloys and its working surface hardness is HS68 degree,
hardness layer is 5-15 mm. Working surface has been grinding processed ,high hardness,abrasion resistance.
3. Interlock power protection to ensure operational safety. The machine is equipped with automatic brakes,when emergency happens,push the button,and it can immediately brake.
4. High-speed quality cutter, sharp edge, durable in operation;
5. Heavy-duty bearings, rolling bearings,large inertial wheel and strong crushing ability.
6. Tight construction, small space and simple technique flow.
7. Low energy-consuming and good performance-cost ratio.
1.1 description
including main machine and accessorial equipment, to crush the scrap tyre into rubber powder, as the same time, separate the fiber and steel wire from rubber powder. you will get the pure rubber powder.
1.2 .Process flow:
tire ring cutter → steel wire extractor→ strip cutter→ block cutter → rubber crusher→ → vibrating screen1→ magnetic separator → vibrating screen2 → storage bin →package.
the whole line has the following features:
1), iron/steel removing ratio>99.5%, fiber removing ratio>98%
2),compact structure ensure running safety, easy maintenance;
3),low energy consumption;
4),adopt automatic control system for whole line, reduce labor cost;
5),no sewage and waste gas discharge, environment protection.
6), available capacity range of our tire recycling lines at present: 400~3000kg/h
7), available finial rubber powder size: 30~120mesh.
8), adopts SIEMENS and Chinese famous brand electrical elements.
1.3 This production line including the below machines: