Herbala Medicine Veterinary Medicine of Qing re san MY-1001
1. Product introduction
Item No: MY-1001
Product Name: Shu An
Trade Names: Qing Re San
Active ingredients: Panax quinguefolium, Indigowoad Root, mirabilitum dehydratum, gypsum , hypericin,, Skullcap,Cimicifuga foetida L.; herba epimedii, bezoar of ox, Forsythia suspensa Vahl etc.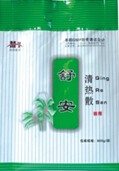 2. Product feature
Function: Anti-bacterial, Anti-virus and enhance the body resistance.
Application: 1. Mixed feeding: Poultry:Chickens, ducks, geese: per 2667 grams mixed with 1000kg feed (ie 800g of the product mixed with 300kg feed), concentrate Feeding will be better, 2-4 days continuously.cattle: 400g/day. Pig :100g/day, twice a day.3-5dayscontinuously.
2. Mixed drinking: per bag of this product added 20kg water ,after boiling, add water 60kg allowed in drinking water,mix the leaves with feed will be better, 2-4 dayscontinuously.
3. Product specification
4.Our services
1. Mixed container, we can mix different items in one container.
2. Quality control, before shipment, free sample for test. after shipment, keep sample for 3 years
3. Prompt shipment with professional documents
4. Packing as your request, with photos before shipment
5. Company information
We have specialized in this field for many years, we have a professional line for the production.

our company has set up two produstion plants since 2004.so far, our companyowns 10 assembly lines of chinese national GMPveterinary drugs,such as veterinary powder, premix, injection,oral solution agent,traditional chinese medicine extraction,disinfectant,granules,etc,Annual production capacity is up to 250 million yuan, and the present annual sales capacity of 120 million yuan.
6.FAQ
1.-If this product have COA and SDS?
-Yes.We can provide them if you need one.
2.-Can you provide an exclusive agency agreement in my region?
-Yes.Provided that we have a long and stable line of cooperation.
3.-Have you company ever participated in exhibitions?
-Yes.We've been to many large exhibitions held in different countries, such as Canton fair.
4.-Do you have factory?
-Yes.We can offer you better price and high quality.
5.-Would OEM be OK?
-Yes.We have enriched experience on it.
Contact me if you have any question!
Contact person:Lincy Fang
Skype: Lincy Fang
E-mail: alisazhao 2013 @outlook.com