Ruder Berna Taiwan Made Fixed Gear Natural Leather Bicycle Saddle
| | |
| --- | --- |
| Port: | Taiwan |
| Supply Ability: | 1000 Piece/Pieces per Month |
| Payment Terms: | T/T |
| Packaging Details: | carton |
| Delivery Details: | 60~90 days ,by case |
| Shell Material: | Leather |
| User: | Men |
| Size: | 280*170mm |
| Place of Origin: | Taiwan |
| Brand Name: | Ruder Berna |
| Model Number: | SD800 |
| Color: | brown, black |
| Model: | SD800 |
View All
RUDER BERNA INTERNATIONAL CO., LTD.
Taiwan | Manufacturer, Trading Company
Response Time

48h-72h
Response Rate

55.6%
Transactions

--
Supplier's local time is 13:45
Buyer Protection
Trade Assurance protects your orders

Multiple safe payment options
Worry-free shipping & quality
Build your credibility
Product Name:
Ruder Berna Taiwan Made Fixed Gear Natural Leather Bicycle Saddle
| | |
| --- | --- |
| Port: | Taiwan |
| Supply Ability: | 1000 Piece/Pieces per Month |
| Payment Terms: | T/T |
| Shell Material: | Leather |
| User: | Men |
| Size: | 280*170mm |
| Place of Origin: | Taiwan |
| Brand Name: | Ruder Berna |
| Model Number: | SD800 |
| Color: | brown, black |
| Model: | SD800 |
| | |
| --- | --- |
| Packaging Details: | carton |
| Delivery Details: | 60~90 days ,by case |
Ruder Berna Taiwan Made Fixed Gear Natural Leather Bicycle Saddle
The core philosophy & concepts of Eightper are to make quality products that last for infinity. As mentioned before, Winston has always wanted to make bikes that met the stringent standards of boutique manufacturing and he picked 8 core concept designs out of 100 that met such standard and further deriving the brand name Eightper. In the near future, we look forward to produce bikes that will change the traditional view of single speed bikes and hopefully gathering a clan of Eightpers.
We also provide you professional components for the Fixed Gear, Fixie Bike, they are Made In Taiwan with stylish deaign and stable quality.
Remark:1. All of the specific could be changed with your demand
2. The following table of specific is only for reference, you could decide the spec by yourself.
Saddle
Road/Fixed Gear/Fixie bike saddle

fixie bike saddle road bike saddle



Material
Nature Leather/ Micro suede/ PU / PVC

road bike saddle

Rail
Cr-mo

fixed gear saddle fixie bike saddle road bike saddle

Rivet
Stainless

fixed gear saddle fixie bike saddle road bike saddle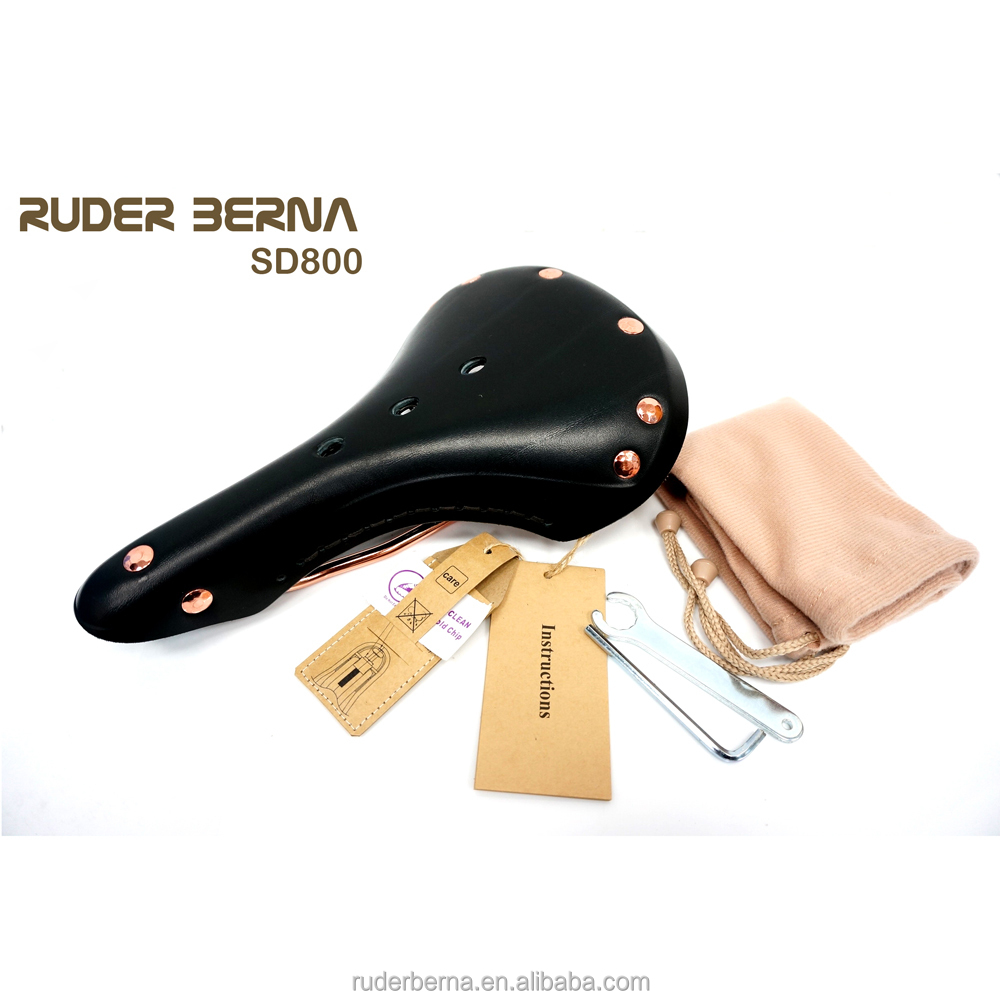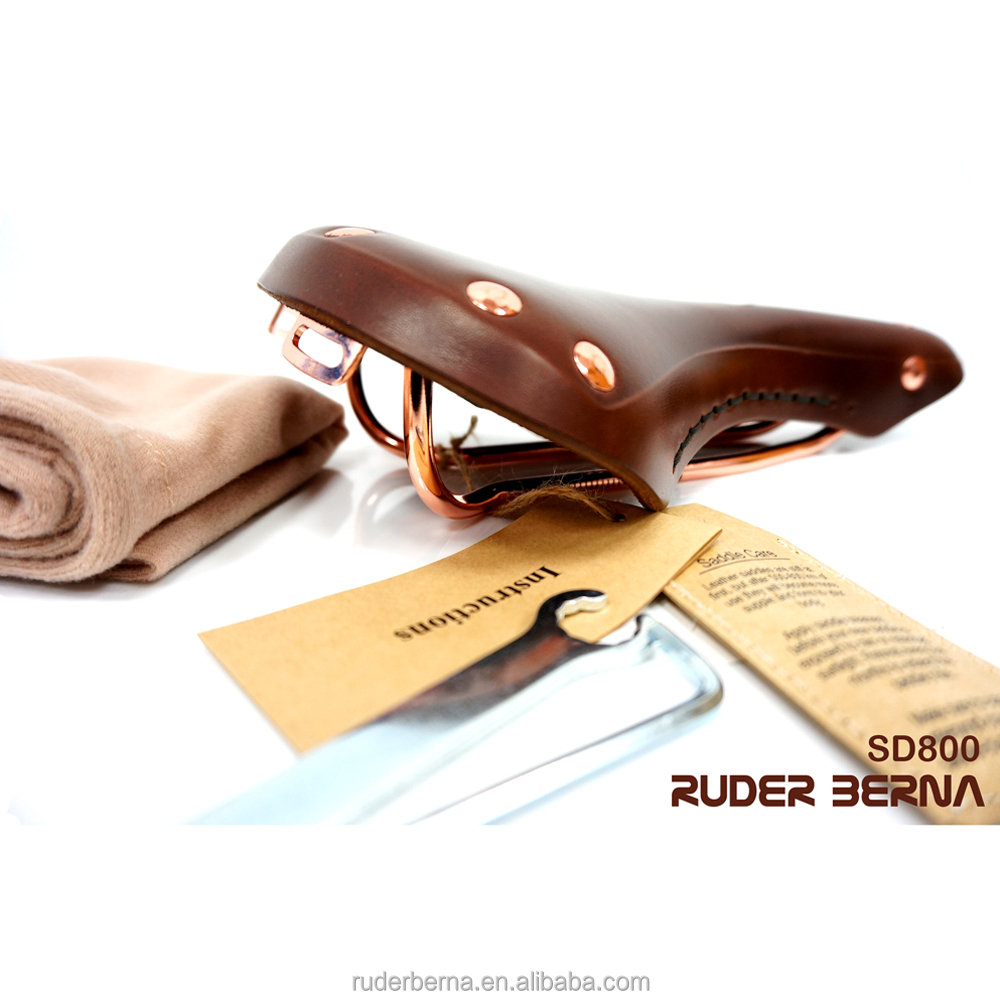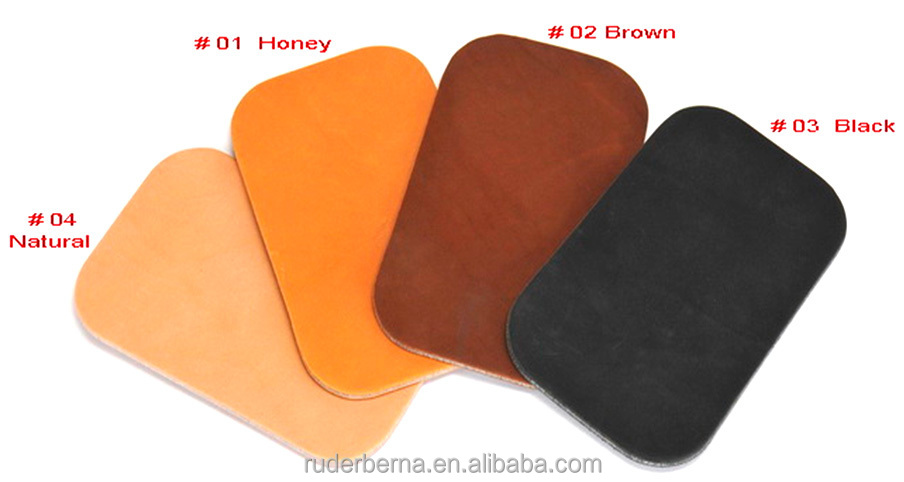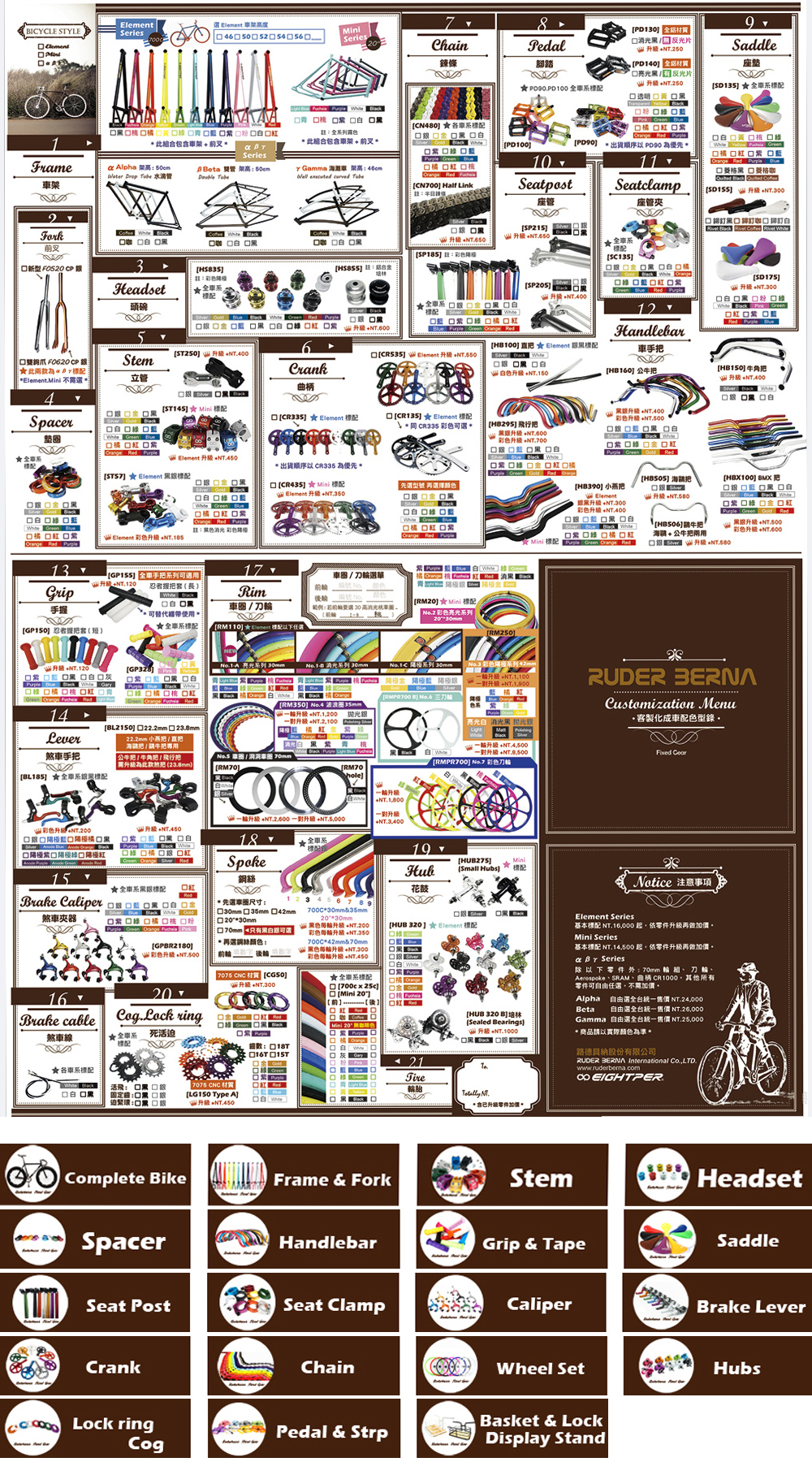 Our Product Ranges (Click the following Link to go to the web )
If you have any demand, please leave a Message
FAQ
Q: Could we get a sample before a formal order?
A: Yes, checking a sample is the best way to understand the detail quality, please contact us to discuss your sample detail.
Q: Could we put our own logo on the bike (OEM/ODM)?
A: Sure, we could provide you to do your brand with only 50 sets MOQ, Please contact us to discuss this wonderful offer!
Q: what is the minimum order quantity (MOQ)
A: There are 2 situations for the MOQ as following
1. Do your own brand: it is only 50 sets to create your brand bike, each color is only 15 sets for the frame set.
2. Selling our brand: there is no MOQ, you could choose all of the components from our safety stock.
To understand more the most Flexible MOQ policy through the world, please contact us.
Q: what is the deliver day
A: normally it is about 45~65 days after deposit, if you need check the shipping fee please contact us.
Q: what is the payment term?
A: 35% deposit, 65% before shipping by T/T, we will take pictures for the producing process, put your stuff in the container to make sure your goods are finished smoothly.
for other questions please contact us.
About The Quality
Welding: if we call a frame as Soul of a bike, this then the welding would be Soul of the frame. Welding is a main factor to decide the quality of the bikes, not just for good looking, it is also related to the Strength of the frame. By the way, we only use high quality material which is made in Taiwan, some frame on the market is made by recycle steel.
Detail parts of the frame: if you see the detail closer you could found our head tube, drop out, top bridge (brake), bottom bridge(stronger, logo) are used designing quality material.
Paint Material: YS paint material is very famous on the bike industry by its high quality. We only use YS material for your bike, the color is flash and passed the EN standard. Lots of frame on the market is used nameless material paint.
Frame regulating: after the frame welding is finished, we will use many molds to regulate the frame to make sure every angle and space is correct. After that, when you put all of the components on the frame, it would be smoothly, the wheels would be straight on
the center of the fork and frame.