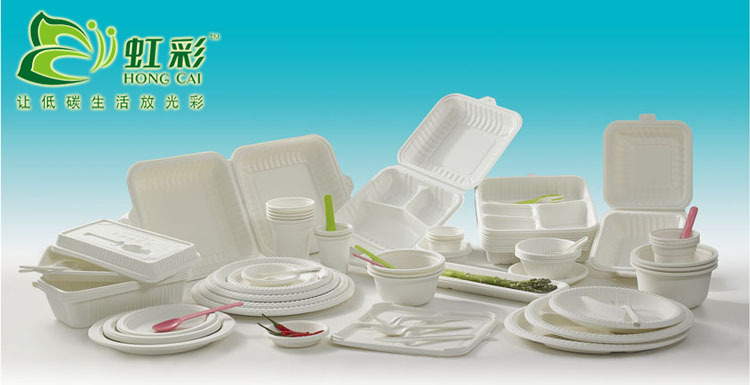 Biobased Plastics
Biobased plastics contain both renewable and fossil-fuelbased carbon.
Made of nature raw materials, primarily corn and yam starch, are car-neutral. This means that the quantity of carbon dioxide released when incinerated is up to 68% less than conventional plastics.
Increase the renewable content of your products by up to 64%, meet the standard ASTMD6866 (BIO MATERIAL CONTENT) reduce your carbon footprint.
Eco Friendly tableware

Non toxic, harmless, heath and hygienic

Waterproof, oil proof and acid-resisting

Very strong and durable

Natural white appearance

Variety of sizes, shapes and colors, according to client's request and design

Microwave and refrigerator safe

Usage: can be used in restaurant, hotel, fast food shop, supermarket and also can be used on airline

Can be recycled and protect the resource, from nature and back to nature
It is a biodegradable plastic is completely mineralized by microorganisms.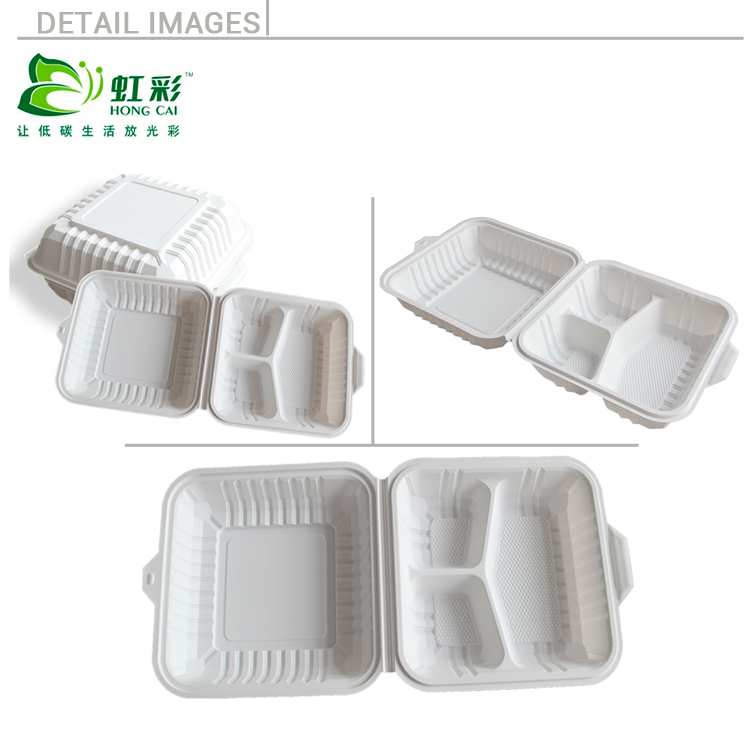 Model

Product description

Weight (gram)
Packing (pcs/carton)

LB350

350 ml lunch box

15

1000

LB450

450 ml lunch box

17

1000

LB800

800 ml lunch box

38

500

LB06

6.5 inch

28

500

LB08

8 inch

50

250

LB08C3

8 inch with 3 compartments

50

250

LB09

9 inch

65

200

LB004

215 * 194 *68 mm

60

300

Remark:

Above product description, is for reference only, the specific kind prevail.
1. We accept L/C,T/T, Western Union, Money Gram and etc.
2. 30% deposit in advance and balance before shipment.
Shenzhen Hongcai New Material Technology Co., Ltd and Jiaxing Cailian Green World Packing Technology Co., Ltd as the professional manufacturer and demonstration based on making biodegradable plastic and finished product, invested in 0ct, 2012 by Shenzhen Rainbow Fine Chemical industry Co., Ltd (Shenzhen stock exchange listing company—Public company, stock code 002256).
Shenzhen Hongcai started production formally in Dec, 2012, yearly production ability on biobase and fully biodegradable plastic material are over 20,000 tons, and the finished products on injection moulding and thermoforming are over 10,000 tons. Jiaxing Cailian started production formally in Nov,2012 ,yearly production ability on biobase and fully biodegradable film/bags are over 10,000 tons.
Currently, our company and products has been got the supermarkets approve and acceptance in United States of America, South Africa, Europe, Singapore, Canada, Australia, Japan and Korea. It has already been formed millions dollar contract orders. Also we can submit the samples for test and certify by Home and abroad well-known laboratory according to requirements of buyers.
As a new member in biodegradable plastic industry, we are looking forward sincerely on the favor and support from university/Lab experts, and meanwhile to achieve a win-win situation through the cooperation on the technology and market development.
Our Factory
Our Cooperative Partner
As a supplier for 14th Macau Food Festival
Exclusive dealing eco-friendly biodegradable dinnerware to 14th Macau Food Festival.
1. What is considered as a truly green material?
A truly green product should be 100% biodegradable and 100% compostable.
2. Can Biohongcai Ware be used in a convection oven or in a steamer?
Biohongcai ware can be used in a convection oven / steamer with temperatures not higher
than 150 degree Celsius.
3. Is it microwaveable? If it is, how many minutes can it be?
Yes it is. The prudent temperature is at 125 degrees Celsius although a high 150 degrees
Celsius is allowed. Maximum microwaving duration can be set for 15 minutes.
4. What happens when Biohongcai ware is exposed to temperatures higher than 150
degrees Celsius?
No leaching will occur. However, the product may become softer than usual.
5. Will the product stain the food that it is in contact with?
No it will not. Staining is not possible as the corn fibres have been technologically assimilatd.
There might be a negligible thin layer of corn starch powder on certain products due to the
nature of the production process for them. This layer is food grade standard in accordance
to US FDA standards and is 100% safe for food contact.
6. At what levels of PH is it acid proof?
Biohongcai ware can take acidity as low as PH 4 which is more than sufficient for the
majority of the acidic foodstuffs commonly used.
7. How long can Biohongcai ware be stored for?
In a dry and cool condition, it can be kept for at least 3 years.After that, they will become
brittle and the coloration will become more yellow. If the cartons are left open, then the
expiry date will be shortened.
Although they are stillsafe for usage, it is not advisable since they break easily upon contact
and is no longer functional.
8. Can Biohongcai ware be recycled?
Technically,starch-based plastics like Biohongcai ware can be recycled. However, the volume
available for recycling is not huge enough due to the fact that usage of such bioplastics is not as
widespread. It is therefore not justifiable to build and maintain such a recycling facility.
9. How do I know that Biohongcai ware is green and safe?
In order to penetrate and convince the international market, we have under our belt a bevy
of international certificates (see accreditations) which fully acclaims us on thefollowing, all
of which are reviewed every term.
Contact Us
If you are interested in our product, please do not hesitate to contact me.
Tel:
+86(755)86922841
Fax:
+86(755)86922860
Office address:
6F,11th Bldg, Shenzhen Software Park Phase
Ⅱ
,
Kejizhong
2nd Rd.,
Nanshan
District, Shenzhen, China
We will give you the most favorable prices once getting your detailed inquiries.