As a factory specilized in this filed, we can offer you our professional advice and best service.
Sincerely hope we'll have a good beginning for future business.
Established in 2001, Forest Printing&packaging Co.,ltd. Is a specialized supplier of self-adhesive labels, security stickers, security tickets, queue tickets, event tickets, scratch off labels, holographic labels, cartoon stickers etc.
As one of the leaders in the area, we can provide professional, prompt and first-class services. We own not only assorted printing equipments, including letterpress printers, flexo printer, gravure printers and heliotype printers, but also advances ancillaries, which ensure that we can meet customers' various needs. Moreover, our company has a professional team to deal with the exporting business.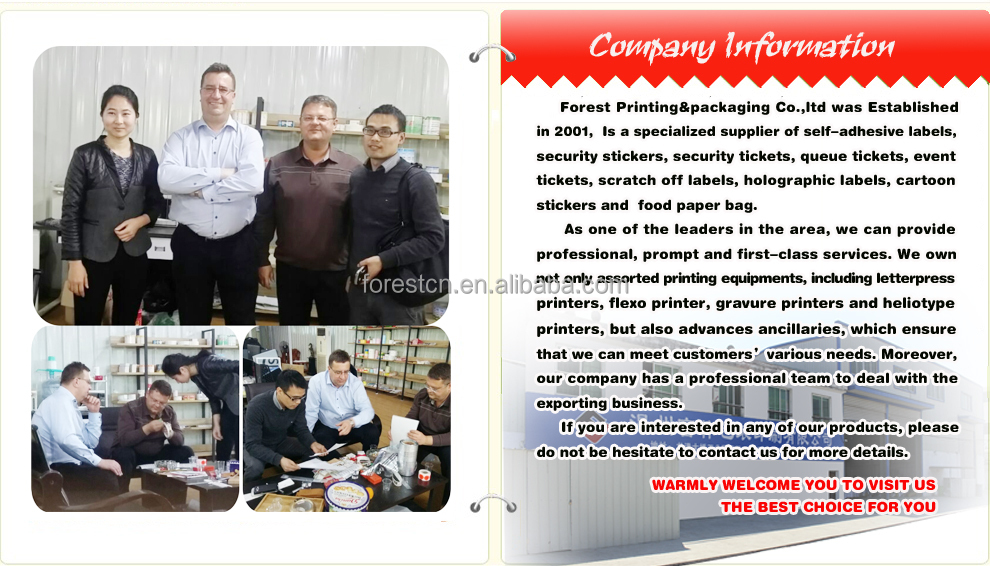 Company info: http://youtu.be/CV5vTbGJzqQ
Printing equipments:
Offset printing machine: http://youtu.be/Tq4J8mbkWjw
Rotary printing machine: http//youtu.be/mB-jeKc7e8E
Flexible printing machine: http://youtu.be/wXokUUbU-qk
Paper bag making equipments:
Popcorn paper bag making machine: http://youtu.be/u5yV55INuTk
Kraft paper bag making machine: http://youtu.be/3yWPZJxSj1s
Greaseproof paper bag making machine: http://youtu.be/EaS0W1JjeUI
Other equipments:
Slitting machine: http://youtu.be/DiPNr3nT3VI
Mode cutting machine: http://youtu.be/np3rYyYM4co
Code machine: http://youtu.be/PxEGNkgckwM