Salon Top best effective 3 IN 1 e-light rf yaglaser with CE
Multifunctional Workstation is a comprehensive and efficient facial care system, which is also a multifunction beauty equipment having a collection of three top core technologies in medical cosmetology, namely, IPL, RF and YAG laser. Combining a variety of powers and giving full play to solar energy, bipolar RF and laser, it has a significant clinical effect and has been proved to safely and effectively apply to different skin types and skin complexion.
Technological Advantages
Large vertical equipment, huge color touch screen, exalted and noble.
Combining three technologies, intense pulsed light, radio frequency and laser, having more complete functions.
Latest plug and play butt joint, separate water and electric design, more secure and easy to install.
Perfect combine of large capacity stainless steel tank and industrial radiator, provide water cycle cooling system which satisfies customers' continuous treatment demand.
Nine operating languages suit to different colleagues in different countries.
Water flow and temperate self- testing system and self correcting system to guarantee safe operation.
Technical Principles
E-light technology -- Aimed at entire dermis and connective tissue, IPL and Bipolar RF technology stimulates and makes the collagen in different depths rearrange and grow so as to achieve the therapeutic effect, while bipolar radio frequency simultaneously releases energy, making diseased tissues in epidermis and dermis produce light pyrolysis through skin selective absorption of light energy. Because of energy it needs far lower than traditional IPL, it makes the pigmented and vascular diseased tissues in epidermis and dermis absorb more energy without skin damage and removes these diseased tissues, by which achieves therapeutic effect.
RF technology -- first ensuring your skin is comfortable and off damage and then taking advantage of RF waves to generate heat conduction, RF accurately reaches to skin deep layer, stimulates the ions and charged colloidal particles in body rapidly move or vibrate. Friction generating heat, skin will naturally come to an immediate contraction when collagenous tissues in skin deep layer reach to 45℃-60℃, then stimulates to secrete new collagen to rearrange and fill the gap of atrophic and lost of collagen, rebuilds the soft stent of skin, and finally achieve skin tightness, wrinkles filling and skin elasticity and gloss regaining.
YAG technology - on the basis of the theory that immediate and high-energy laser emission can efficiently crushes the pigment of diseased tissues, YAG makes irradiated pigment particles absorb power and swell to crack. Part of them splitting into more tiny nips are secreted, and part of them are swallowed by body macrophage and excreted through lymphatic system, by which pigments are eliminated. Because normal tissue does not absorb the laser with fixed wavelength, thus the integrity of the cell framework is maintained without conditions that invoke scars form.
Range of application
Hair removal: permanent hair removal, hairs through whole body(hairs in growing period, including tiny hairs with light color
Freckle removing: removing freckles, chloasma, sunburn, age spots, acne marks and facial blemishes
Skin Rejuvenation: improving large pores, rough skin, tiny wrinkles, and restoring skin elasticity.
Wrinkle Reduction: removing real and false wrinkles. Facial and body anti-aging.
Telangiectasia treatment: redness, facial flush.
Improving dull complexion to whiten and uniform skin
Specifically eliminating red, brown, suntan and other colored tattoos.
Effectively wiping out all kinds of eyebrow, embroider eyebrow, tattoos, eyeliner and lip liner.
Treating pigmented skin lesions and mixed hyperpigmentation such as age spots,birthmarks, ota nevus, moles and so on.
Technical Parameters
Illuminant

IPL

Spectral Range

430/480/530/560/640-1200nm (Standard)

690/750nm-1200nm (optional)

Illuminance Area

8*40mm

IPL Energy

1-50J/cm²

Adjustable pulse width

2-99ms

Pulse Number

1-5

RF Energy

1-30J/cm³

RF Frequency

Bipolar 5Mhz(3 treating probes

Laser Wavelength

1064nm/532nm

Laser Type

Q Switch Nd:YAG

Laser Energy

300-1500J/cm²

Laser Frequency

1-6Hz

Elight shots

60000---100000times

YAG laser shots

100000---150000tims

Display Screen

8.0 inch color touch screen

Cooling system

Water cooling + semiconductor refrigeration, air cooling

Total Power

1500W

Voltage

AC220V / AC110V ( Alternative)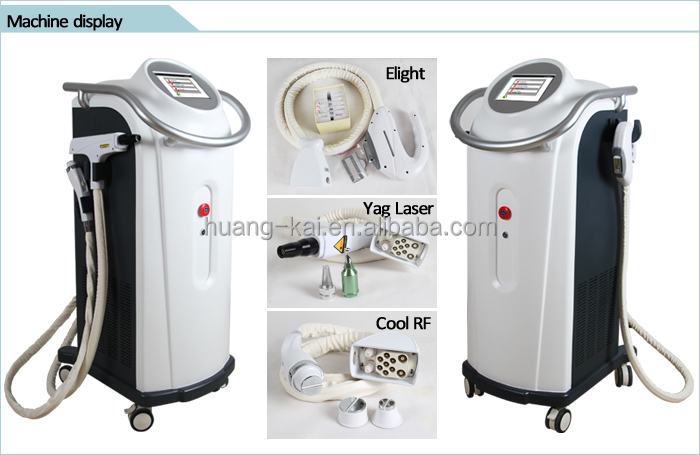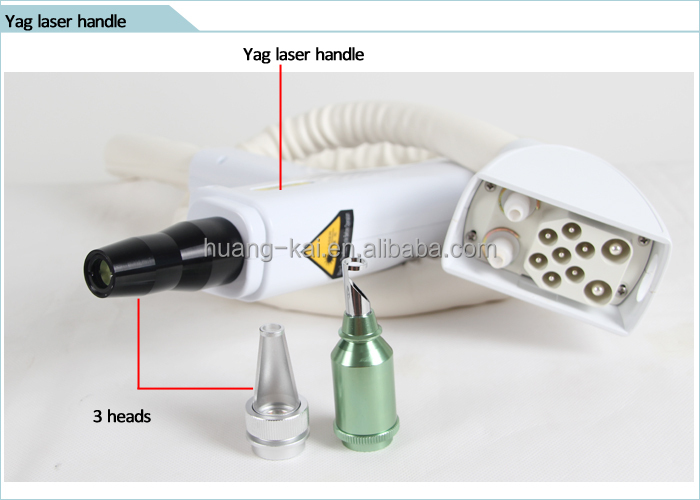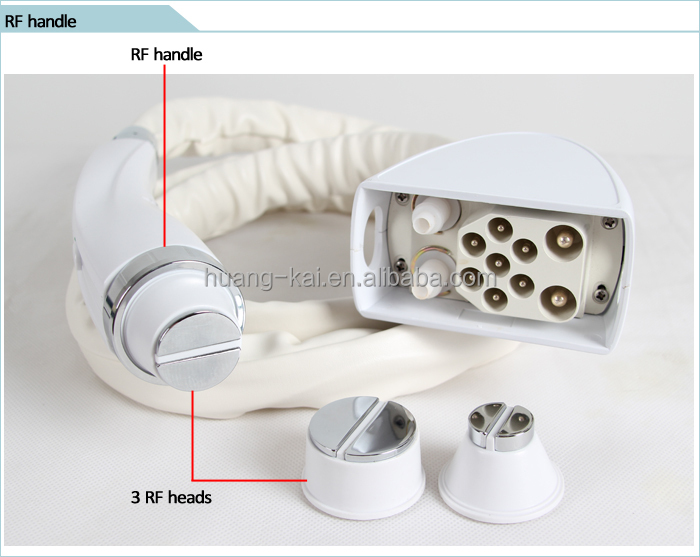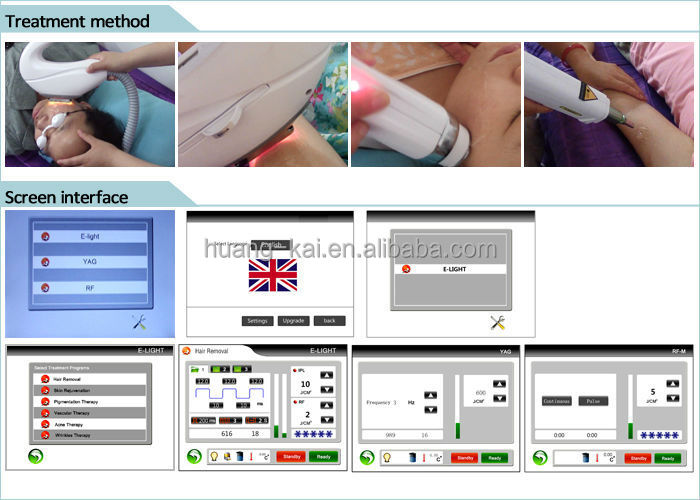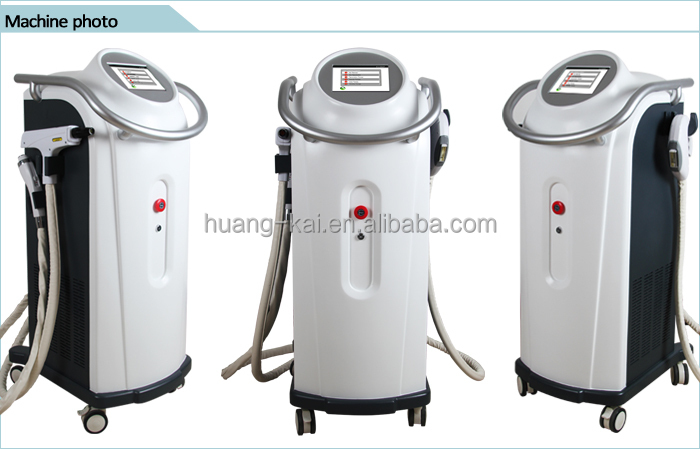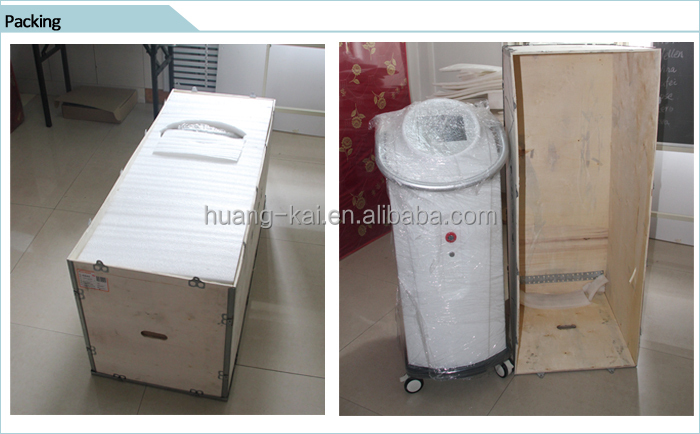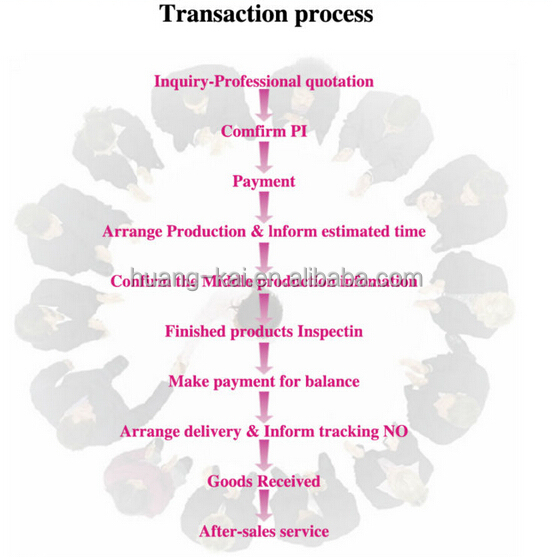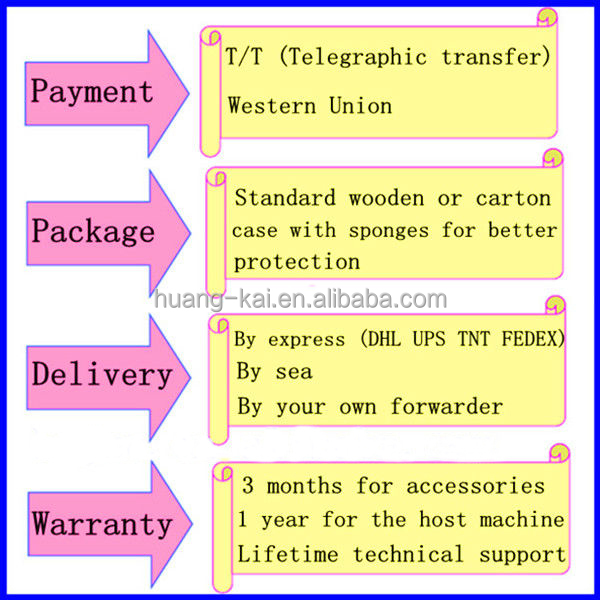 Guangzhou Huang-Kai Technology Co. Ltd. is an OEM and ODM leading beauty equipment researcher and manufacturer in Guangzhou of China.
Our products include Profession in producing Cryotherapy machine, Lipo laser machine, Vacuum Cavitation Equipment ,IPL Hair Removal macihine, Elight machines, RF system,, Multifunction beauty equipment, etc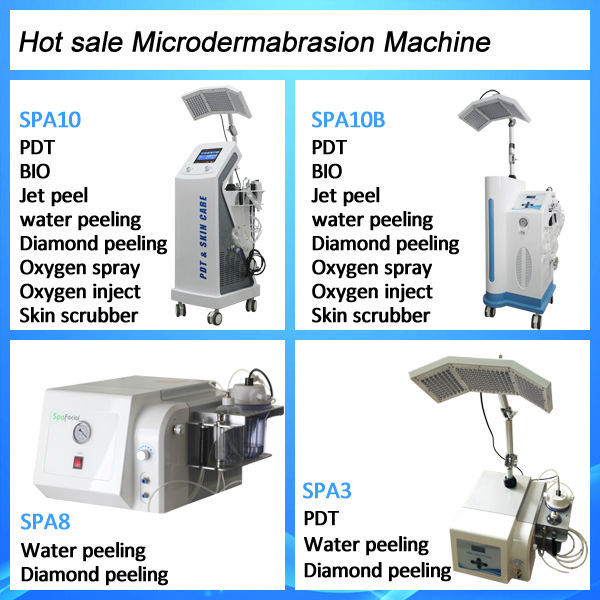 Are you a factory or just a trading company?
We are the real professional beauty machines manufacturer. You create market, we do production for you !
How does your factory do regarding quality control ?
We have a strictly quality inspection department. Our engineers will carefully check and test the machines many times before we delivery them to you. To make sure you can get the high quality machines, only the machines that have passed the strict quality inspection can be delivered to you.
Do you offer OEM and ODM services?
Yes, we can offer you better OEM and ODM services. We have our own R&D department experienced designers and engineers and many production lines , so we have the great capacity to offer you high quality beauty machines according to your needs, ideas and samples.
How's your after-sales service?
We have a professional technical team. If there is any problems occur, you just need to contact us by email, telephone or on-line chat. Then we will help you slove the problems immediately.