Series Thinner Characteristic:
1.High quality thinner
2.Specially developed for primer, basecoat and topcoat
3.Available with fast , standard, slow drying speed to match different products
4.Different application temperature and requirements.
Usage

Reduce the application viscosity, increase the smoothness and

gloss of paint film, Good solubility.

Characteristic

Fast Drying THinner

Fast drying thinner with very fast evaporation speed,

suitable for spot repair or application below 15°C.

Standard drying thinner

Standard drying thinner,with medium evaporation speed,

suitable for spot repair or application at 15-30°C.

Slow drying thinner

Slow drying thinner,with slow evaporation speed,

suitable for spot repair or overall refinish,

application above 30°C.

Note

If the temperature or humidity are too high, 10

-30% Retarder Solvent can be added.

Shelf Life

2 years in original sealed can, cool and dry place at 20℃.

Package

4L×6 or2L×12 or 0.5L×15 or 1L×15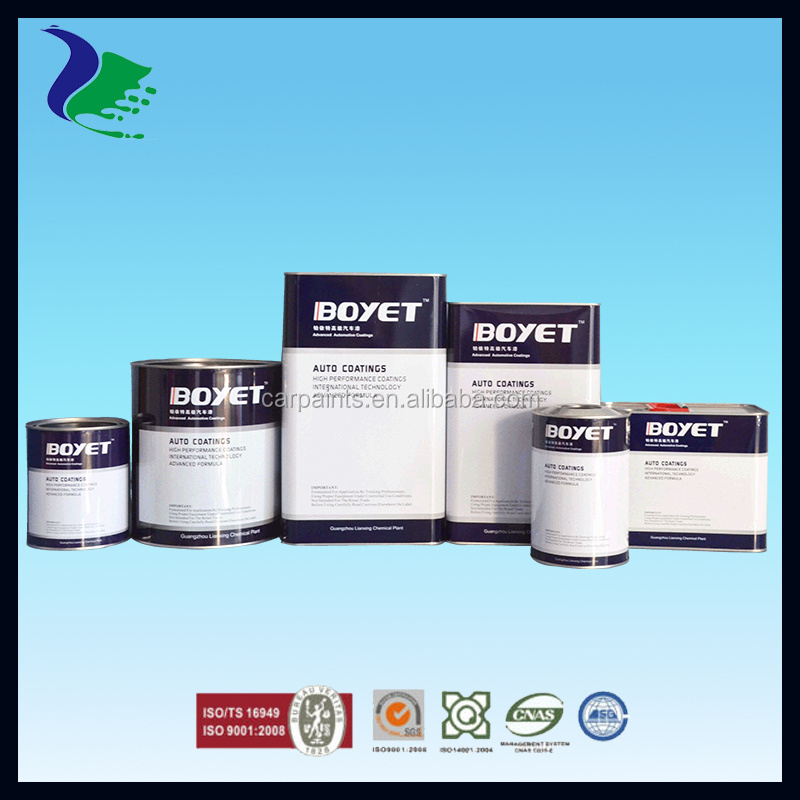 our factory:
we have the complete production line,to be the employee's safety,we demand they must be with gas masks in the workhouse, also we have the QC department to measure the quality of the produce in the dry room,so you can safely use our product,Hope your life will better than before.
1. Good products at reasonable price.
2. Updated color mixing system.
3. We attend exhibition to promote our products all over the world, to help our distributors to promote in their local markets.
4. We visit our distributors and big customers for collecting their news trends in car painting and suggestions for a better development of our products.
5. We arrange all the export procedures for our customers to ensure their container safety packed and safety shipped.
6. Free samples are always available as per your needs.
1. Are you factory?
We are 100% Car Paint manufacturer of Car Paint in South China, located in Guangzhou which takes only 40 mins drive from the Airport.
2. How can we visit your factory?
You can contact us to confirm the arriving time and we will send driver to pick you up at hotal.
3. How to assure product quality and quantity?
Each production process are checked by QC departments, the chemical raw material and products are stored in good warehouse, in case any rains, direction sunshine,etc.
4. What kind of certificate do u have?
ISO9001:2008,ISO14001:2004,ISO/TS1694.
Our company has been certificated GB/T9001-2008,ISO9001:2008 and TST16949.
1.One of the largest exporter & manufacturer of automotive refinish paints in China .
2. High increase annually in overseas market .
3.Huge group of distributors in 50 countries allover the world and domestic market.
4.Modern and innovative brand in Car Paint Industry.
5.Strict quality control and steady product performance .
6.Great brand image, advanced color mixing system and excellent customer service system.