Brilliant art

Excellent customer & consumer cxperience
Easy to be configured, convenient to use
- Prominent controller board and Keypad with LED light buttons, more smart & efficient
Bright showcase
- LED lighting system, arrestive, vivid and energy-saving
- Glass Heater embedded on glass to prevent condensing of moisture;
Vending with drop sensor
- Ensure vending success every time or refund the money
Paying in cash & cashless
- Comply with MDB payment system protocol
Bank note, Coin, Debit and Credit card,
Smart card, NFC, QR code and Bar code, etc.
Variety of merchandise in large capacity
- Diversified packages
Can, Bottle, Box, Bag, Bar, etc.
- Variety of spiral options and adjustable tray height go with merchandise
- Guide rail for cans to facilitate cans delivery
- Max 8 selections per tray
- Max 4 trays
- Max expandable to 32 selections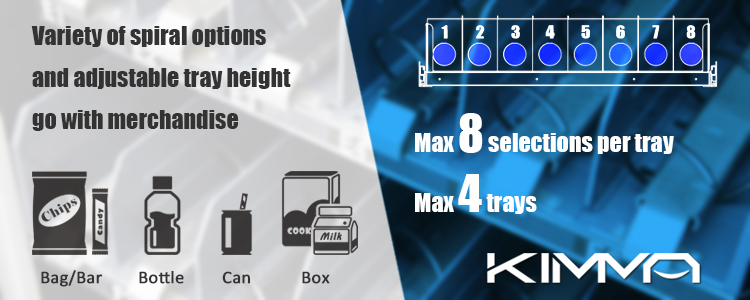 Config of Capacity and Selections
- Snack/Food - Bag/Box
4 selections/tray
(4 dual spirals)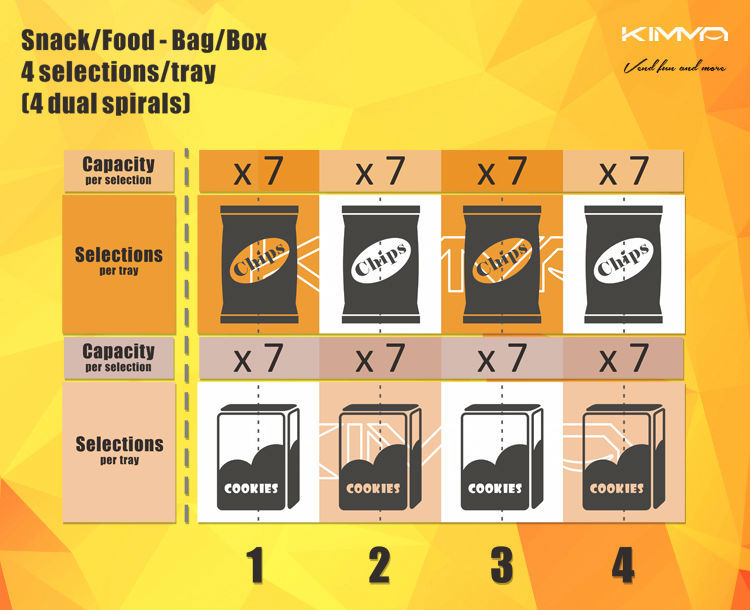 - Beverage/Candy - Bottle/Can/Bar
8 selections/tray
(8 single spirals)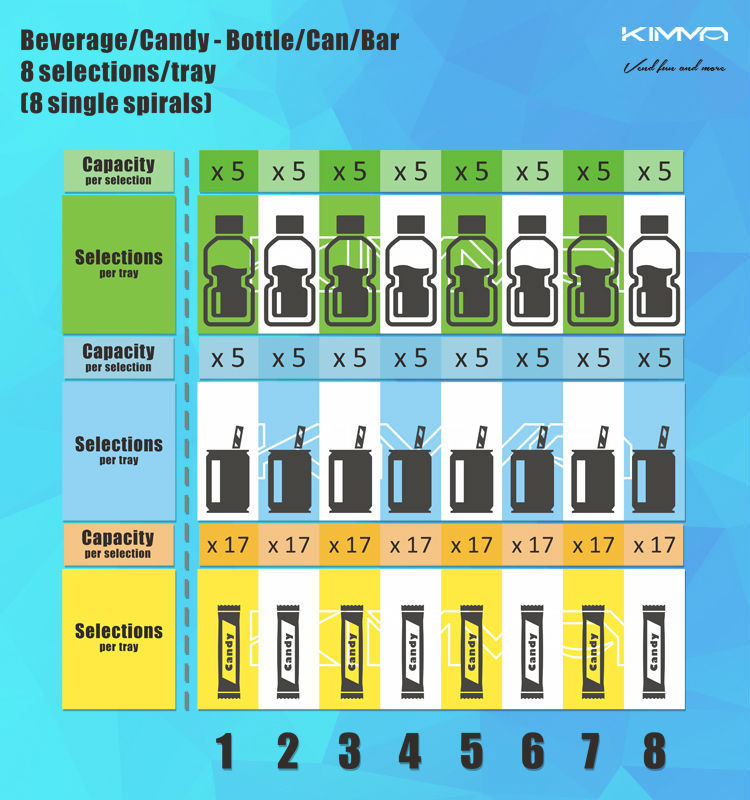 Note: Above Capacity and Selections in the diagrams are for reference only, please contact us for more details
Fresh, healthy & more selections
- Stratified temperature control
Top 2 trays (A/B trays) range between 12°C~18°C
Bottom 2 trays (C/D trays) range between 3°C~14°C
Flexible to vend more selections of merchandise, increase your consumers
Maintain with ease
- Self-Diagnostics to inform in time, keep worriless vending
- Modularized Refrigeration System,easy to maintain, repair and replace
- Optimized merchandise trays, be drawn out at 45/90 degrees for easy loading and maintenance of spiral and driver
Robust & Smart body
- Tempered double-pane glass full of argon gas for accident and thermal insulation
- Pickup box with separator to merchandise case
- Rigid steel body with overall foam, further efficient to keep temperature
- Customize painting or sticker of body, attractive looks that is loved by consumers
Environmentally friendly
- Refrigerator with R-134a instead of CFC
- Low air noise
- Computer-monitored temperature regulation system per surroundings temperature, energy-saving
Telemetry system
- 24/7 wireless monitoring vending machines at office or home with ease
- Record status, sales and inventory
- Analyze merchandise and potentials
- Keep never run out of stock and prevail!
Specification
Item

Parameter

Model

KVM-G432 (Snacks & Beverage Vending Machine)

Dimension

1535*1034*750(mm) (H*W*D)

Weight

180kg

Body Color

OEM

Payment system protocol

MDB

Merchandise

Snacks & food

Beverages & dairy

Grocery

Delivery

Spiral

Max selections of tray

8

Max trays

4

Max selections of showcase

32

Internal temperature

Top 12°C~18°C

Bottom 3°C~14°C

Power

500W, AC 110V-220V, 50/60HZ
Satisfy anywhere
Why KIMMA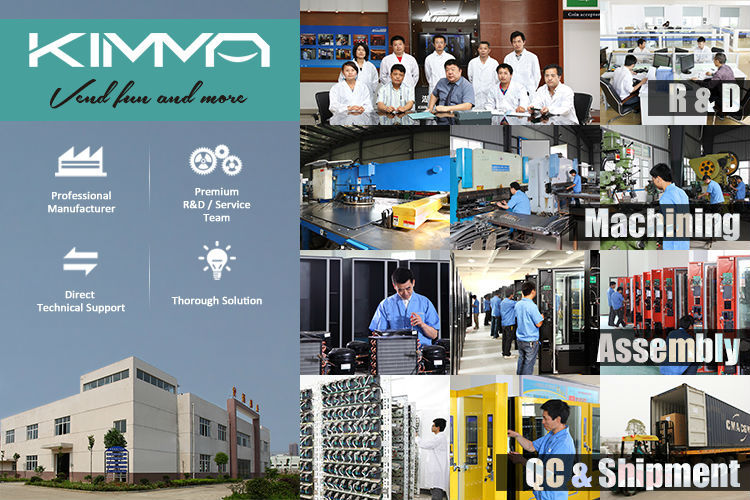 KIMMA is a high-tech company specializing in developing and manufacturing various vending machine, its telemetry system and payment system, established in 1999.
Throughout the years, our advanced technology, strong manufacturing capacity, strict quality control and thorough services ensure KIMMA is one of the best suppliers in the field of service equipment.
Our products with premium quality, excellent performance and competitive price have been selling well in the world covering over 30 countries and regions, widely applied to various merchandise, recognized and welcomed by clients all over the world, winning a trustworthy fame in the industry.
KIMMA are devoted to creating a beautiful future for clients.
FAQs
Q1: What is the life time of KIMMA vending machines?
A: Minimum 10 years, and you can expect more than 20 years.
Q2: What is the life time of cash payment system (Coin changer & Bill acceptor)?
A: We adopt ITL bill acceptors by default, which are made in UK and with the service life up to 5 years by average. For coin changer, we use KIMMA (KCM-D) by default, which is developed and made by ourselves and proved the number of use is up to 80000 times.
Q3: What is warranty and after sales services?
A: One year warranty. Any question, we will directly answer you. If technical problem, our after-sales service professional will reply within 12 hours, lifelong and free technical support.
Q4: What is the brand and life time of the compressor used in KIMMA vending machines of refrigeration series?
A: We use Donper compressor by default, which is the largest and best manufacturer of compressors in China. The performance and efficiency is high, the life time is 8 years by average, energy-saving and environmentally friendly.
Q5: Are the machines difficult to maintain?
A: It's not difficult at all, and you even don't need a technician. Our machines have the intelligent self-diagnosing and self-correcting functions, so you will easily locate and fix the problem when there is a trouble on.
For example, when a tray motor gets jammed, an error prompt will be shown on display screen, then you just need to access machine settings and try to get the motor rotate for a circle by running "motor testing", and if the motor is not broken inside, it will be automatically got back to its initial position and sort the jam out.
Q7: Where is your factory?
A: We are located in Changsha city, Hunan Province, warmly welcome to visit us.