Premium Crystal Glass-Top Stovetop Espresso Moka Pot - 6 cup - Aluminum Coffee Maker with Durable Food-Grade Aluminum Bottom
Feature:
An espresso coffee maker is an Italian steam-based stovetop espresso maker that produces a dark coffee almost as strong as that from a conventional espresso maker.
Luxury Glass : Slow down and savor the moment as you watch your favorite Moka Express coffee brew to perfection through the crystal-clear glass moka pot top and matching lid.
Safety handle: Grip the heat-resistant glass with confidence. Unlike traditional, cheap plastic handles, the glass design is resistant to high temperatures and stays cool.
Faster heating: Premium food-grade aluminum is non-toxic and rust-proof. The retro-shaped bottom heats up faster so that you can enjoy fresh, hot coffee at any time.
Moka coffee is produced using only steam's natural pressure. It's suitable for gas stove,electric and induction cooker.
Composition: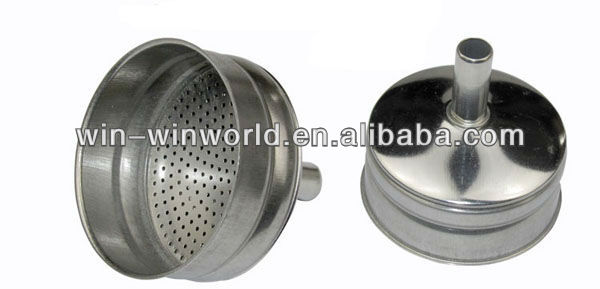 Instruction:
First using: Put some unwanted old used coffee grounds and brew. The first pot of coffee should be thrown away. The intent is just to clean the machine out before using it for the first time and to make sure the pressure relief valve is working ok.
Trouble Shooting:
If the coffee is not brewing properly, check to see if any steam is escaping from the area where the top and bottom parts screw together.
If you see steam escaping, this can be the sign of two things. If the grind of the coffee is too fine or the coffee is too compacted, the steam cannot force its way through the coffee. You need to screw the top and bottom together more tightly.