5d cinema 5d theater 5d movie 5d chair 5d seat price for sale
6 degree of freedom hydraulic system
2*1.75*1.83m(including platform)
packing size 9m³
Special effects: Smog, Rain, Wind, Snow, Lightening, Leg sweep, Bubble, Vibrate on the back of the s1eat, Vibrate on the seat,spray wind
Hydraulic 6seats detail list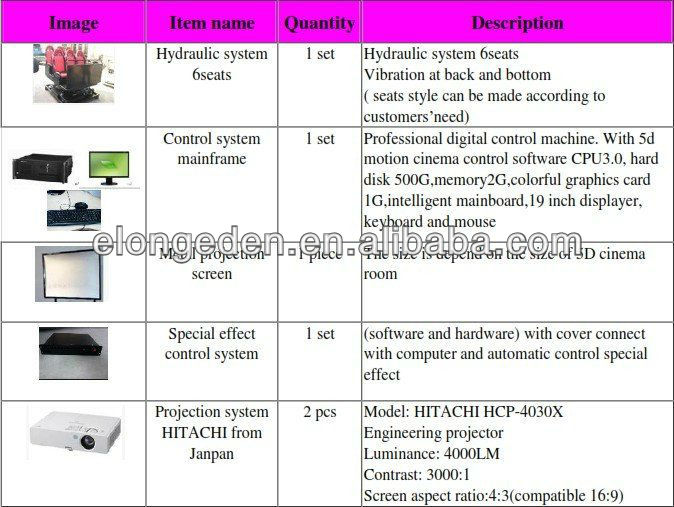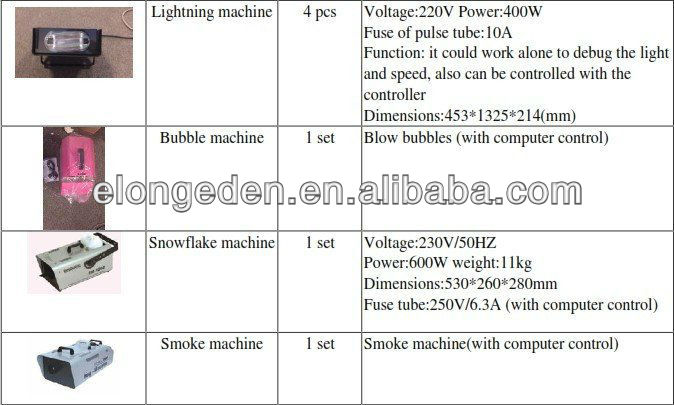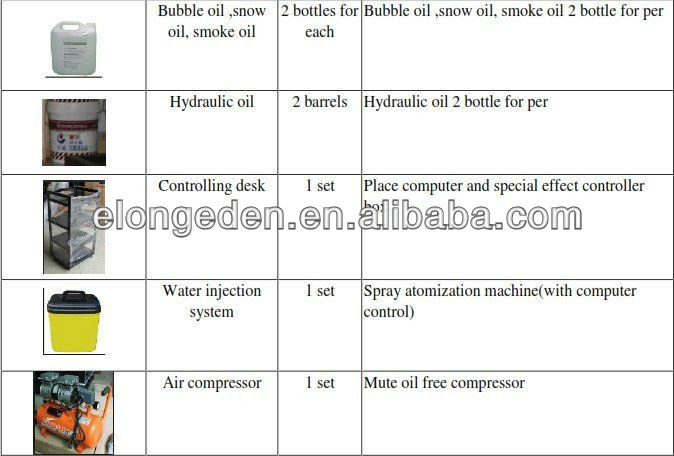 Special Effects:
1. Lightning
While the movie shots, thunder and lightning, cinema hall will issue a dazzling lightning, and accompanied by the roar of lightning, so that audiences feel like being at the thunderstorm days.
2. Raining
While the film for a rainy picture, showing the slightest fear of stirring up the hall Yuhua, which is installed in the hall on top of the spray device consists of computer-controlled to complete, audiences will feel truly about rain fall from the sky, moist his hair and cheeks.
3. Snow
Simulate snow. Snowflake function is efficiently and quickly acting to man-made snow Feifei triumphantly sky drift down the screen from top to bottom with snow. Snow on the screen and indoor snow mixed together, a sudden exposure to the audience, and he will be wrapped in silver makeup Su's world.
4. Smoke
Simulated burning smoke. Imitate a large number of burning smoke, smoke arises accompanied by "flames" as if the sky in the combustion. Simulated mist curls between clouds Piaowu in the audience.
5. Bubble
Generated bubbles fills the air of the reality. Quest in the undersea world and underwater, the divers, aquatic plants and animals due to the role of metabolism, will spit out a number of air bubbles from the bubble machine blowing bubbles in the theater of the drift, alienation between the audience and the theater every corner of the make theater in the lively atmosphere of mystery.
6. Vibration
Simulates an impact. When the movie screen, an object lens and lens impact or landing such scenarios, the instantaneous seat vibration make the audience feel as if being in a virtual reality.
Below equipments surport the 5D cinema run normally, it would provide with 5D cinema.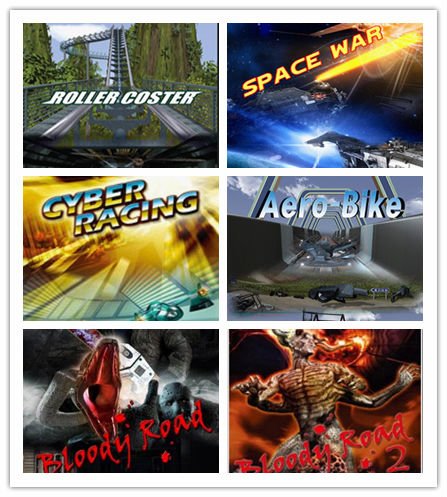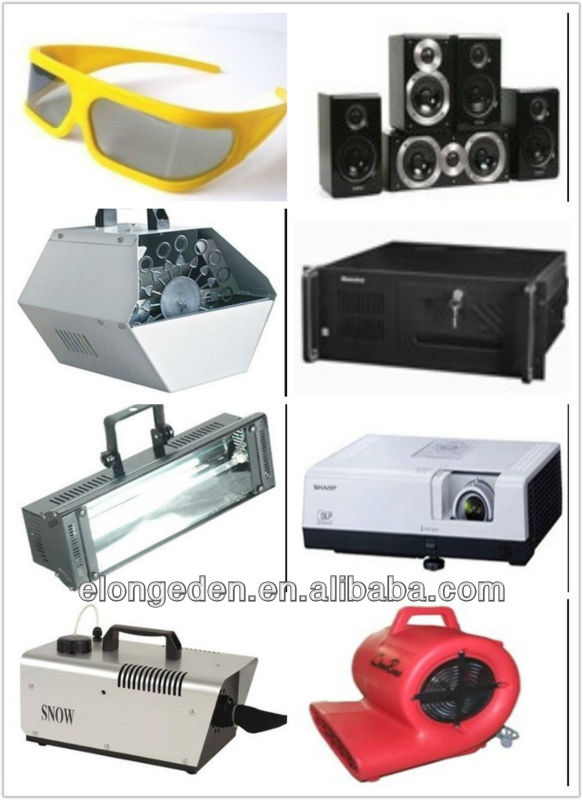 5D cinema introduction
4D dynamic movie is based on 3D movies and adds auto kinetic effect, as 5D adds the environmental effects simulation
equipment composition of the new film andtelevision products. It sets the special effects equipment, all kinds of
environmental technology effect equipments like sound& light& electricity, and the elaborateconception of the stereo
screen production as a whole.When the audiences are watching the stereo film of 4D/5D dynamic movie, along with
the change of the video content,they can feel vibration real time, special effects such as rising, falling, moving forewords
and back wards, dodging, bumping around, the storm, lightning, rain, jet, spray, sprinkling, drilling by mice and insect
and snake. The audiences can simulate the plot for sight, hearing, touch, feel, smell, which make them access to the real
and thrilling world. This is a very popular 4D/5D theater today.
Packaging: Bubble pack + wellpappe + stretch films + wood frame.(wood frame need extra fee)
and suitable for long distance ocean transportation.
Shipping: by sea
Delivery time: 20~30 days, decide on the qualtity and so on.
After sale service: one year warranty (from the date of shipment). We will send some parts to you along with the goods.During the warranty, we will offer parts to you freely (except the mainboard), but the express cost is paid by buyer.We can send technician fix up the cinema for buyer, the travel fee and accommodation are paid by buyer.
Guangzhou Elong Animation Technology Co., Ltd. is specialized in manufacturing and trading together to entertainment equipments with animation games and software development. It is an entity integrating research and development, production, sales and service as a whole. We have a subordinate factory and a showroom in Panyu. With a number of years rich experience of elite backbone, we adhere to the business philosophy "happiness for people and wealth for the customers", adhere to the business purpose with quality, integrity and efficiency. We always focus on innovation, enterprising, development and manufacture in a range of carnival lottery equipments, mimic, gift equipments, children riding swing equipments. Also provide OEM service to many famous enterprises from domestic and abroad. We warmly welcome all guests to provide patterns or design for custom-made products.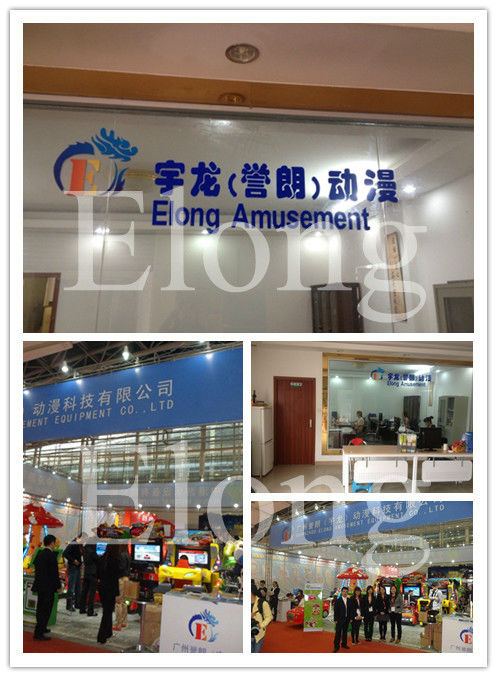 Project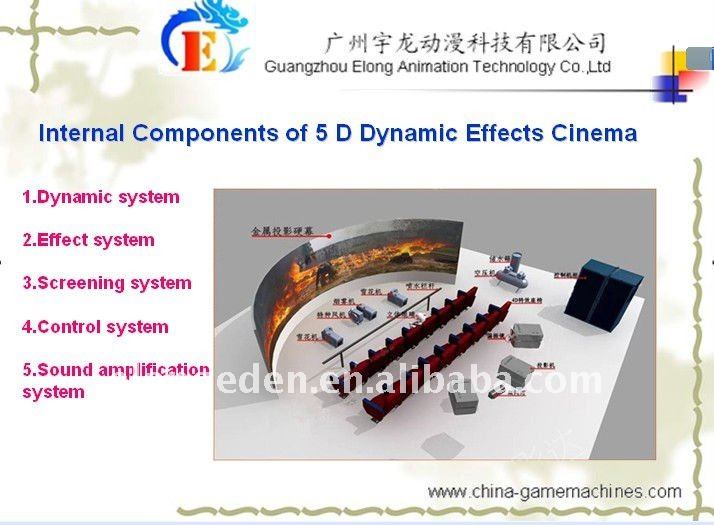 About our factory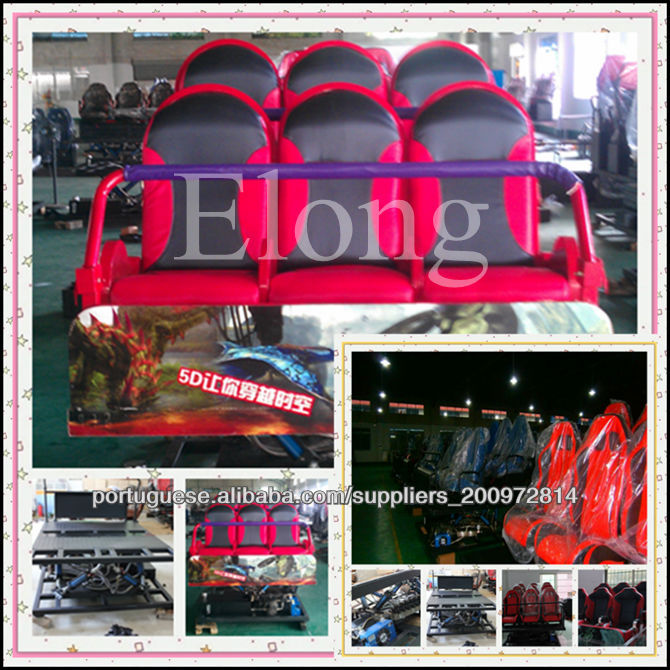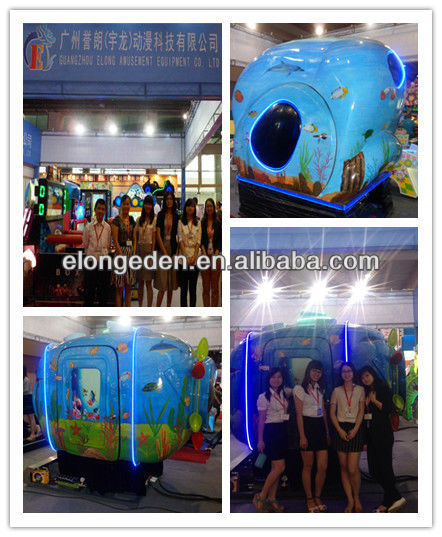 1. What is the warranty of products?
Warranty for machine is one year. But we will maintain for machine whole life, it only need pay the raw cost of material if some parts need to change.
2. How we claim warranty?
During the warranty, if something is broken, pls send us pictures with text, then we will offer machine parts to you free. This will write on sales contract as one important terms protect buyer's Rights and interest.

3. What is the procedure of after sales service?
Elong has good reputation on aftersales service which is one of Elong most important Business philosophy.
Firstly, customers have some question or machine not work normally, email or skype or WhatsApp please sent to tell us.
Secondly, our aftersales service staff will try to solve the normally questions within 1 day.
Thirdly, offer you solutions way within 2 days, such some parts need to change or repair.
Fourth, any special service you may directly inform me, i will handle for you.
4.What is your payment terms?
30% deposit in advance, the balance before shippment; T/T,WesternUnion,Paypal or cash,L/C.
5. How much time it takes after the confirmation of order, in shipment?
It take around 15-20 working days on production after the confirmation of order, then can arrange shipment.