Main features
1. Horizon air intake, upwards outlet, low noise.
2. Industrial heavy duty blower, single-phased, easy to operate.
3. Power consumption components adopt special alloy resistance, high-temperature resisting, high heat dissipation capability, high heat stability, no naked light, safety and reliability. Running temperature is 1/3 of rating.
4. Weather-proof structure, suitable for indoor or outdoor installation.
5. Containerized structure provides ultra protection, protection grade higher than IP55.
6. The body adopt cold-rolled steel plate that processed by galvanizing corrosion protection, powder coated and spray paint.
Control Modes(optional)
1)Manual panel control (standard mode).
2)Manual remote control(remote control box or remote console)
3)Intelligent control: software control load process, user-friendly interface.
Display Meters (optional)
1)Voltmeter and current meter: Voltage, current value can be showed by 0.5 level three-digit voltmeter and current meter.
2)Multi-functional display: AC voltage, current, active power, power factor and frequency can be tested, displayed and recorded by 0.5 level multi-functional display. It can communicate with PC via RS232/485 interface.
3)Special tester for generator set: stable test, harmonic analysis, record wave. Test data can be formed displayed and printed current harmonic/voltage harmonic curve, suddenly applied voltage/current/frequency, suddenly reduced voltage/current/frequency, test reports, capability reports curve and report forms.
Variable resistive AC load bank for marine power generator

Rating Voltage/Frequency

380AC/50Hz, 3 phase 4 wire, 220V each phase

Rated Load Power

Resistive load: 1510kW

Installed Capacity

Resistive load: 1510kW

Load Step

Resistive load: 10 steps, 1kw,2kw,2kw,5kw,10kw,20kw,20kw,50kw,100kw,200kw,200kw,200kw,200kw,500kw min step: 100kW

PF(Power Factor)

1

Load Tolerance (each step)

±5%

Load Tolerance(overall)

±3%

Display Precision

0.5 class

Control Power

3 phase 4 wire 380V/50Hz

Wire Connection

Load power supply input——Copper bar (star coupling)

Control power supply input——Connector-bar

Insulation

F

Max Protection Grade

IP55

Way of Working

Continuous Working

Cooling

Forced air cooling,Horizontal inlet air,Vertical cooling

Aeration

About 160,000 cubic meters per hour

Casing Structure

Container, with a ladder, air inlet and outlet with mesh enclosure and protection door

Transportation

Hoisting, there are lifting lug in top of casing

Casing Color

Grey(RAL7035)or as per customer's requirement

Dimension

About 6058 mm×2438mm×2591mm(length*width*height)

Type

Permanent

Operating Environment Parameter

Workplace

Outdoor

Ambient Temperature

-10℃~+50℃

Relative Humidity

≤95%

Altitude

≤2500 meter

Atmospheric Pressure

86~106kPa

Space Required

About 14.77 square meter

Ground load-bearing requirements

About 406kg/square meter

Aeration Distance

3-5meters no obstacle from air inlet, more than 3meters no obstacle from air outlet

Safe Working Distance

There must be isolation lairage 1 meter from load bank, and when load bank is working, no person allowed in 3-5 meter from load bank
Application Case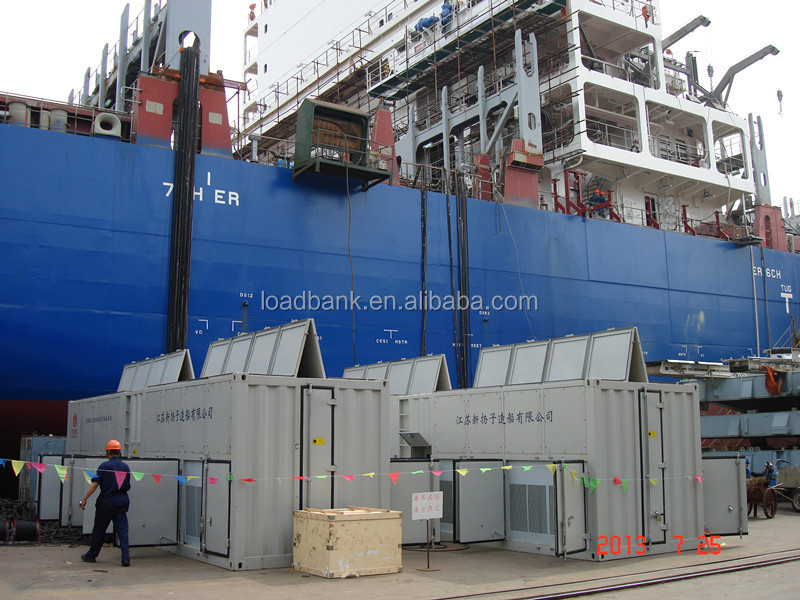 Workshop