1. Pictures of new style bluetooth speaker portable wireless car subwoofer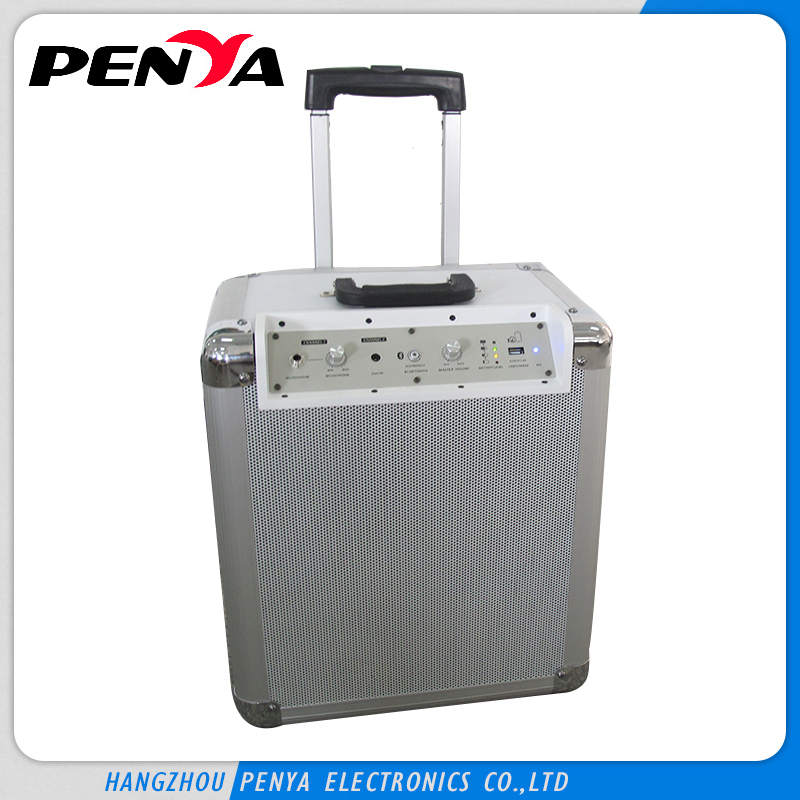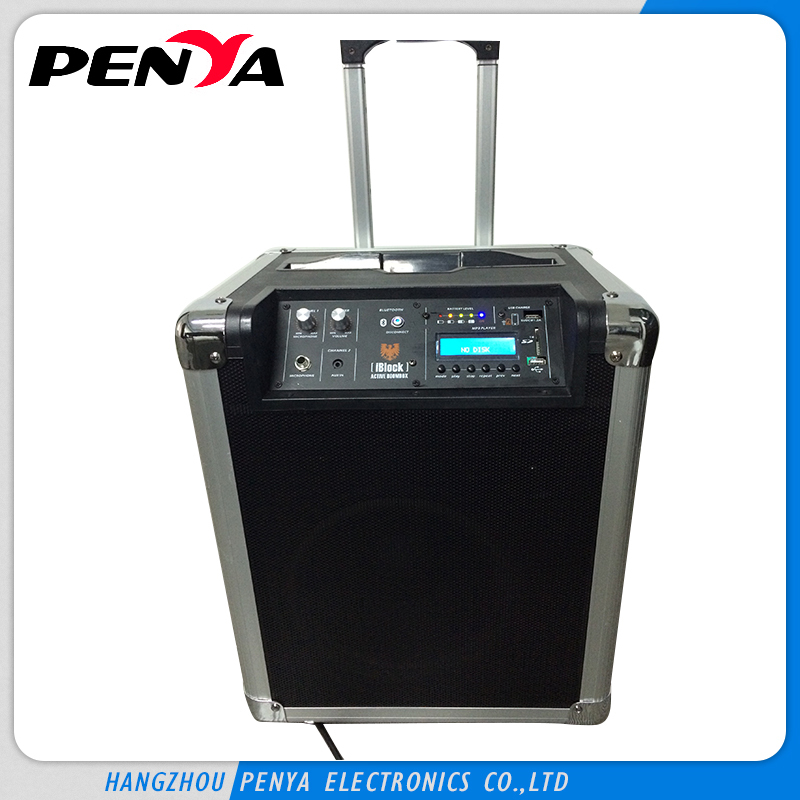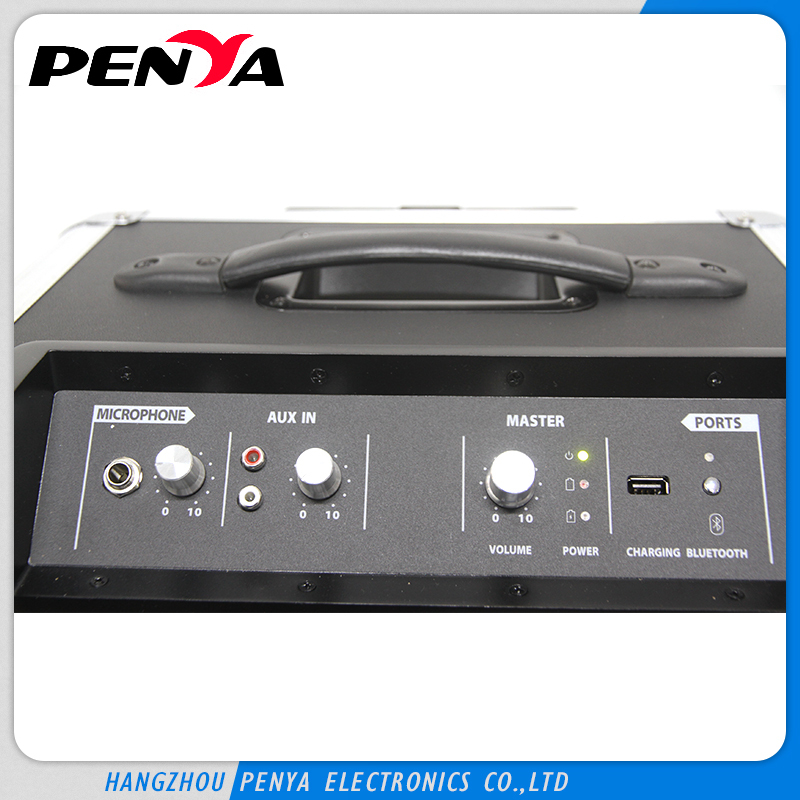 2. Description of new style wireless speaker with suction cup
| | | | | |
| --- | --- | --- | --- | --- |
| Product code | Description | Output Power | Battery | Product Size |
| C002 | 10" speaker | 30WRMS/60WMAX | 12V 5Ah | 380X470X290 |
| C002-10P | 10" spearker with MP3 display | 30WRMS/60WMAX | 12V 5Ah | 380X470X290 |
| C002-8 | 8" speaker | 30WRMS/60WMAX | 12V 5Ah | 370X410X250 |
| C002-8P | 8" speaker with MP3 display | 30WRMS/60WMAX | 12V 4.5Ah | 370X410X250 |
| C002-8D | 8" speaker with disco ball light | 30WRMS/60WMAX | 12V 4.5Ah | 370X410X250 |
| C002-8C | 8" speaker | 18WRMS/36WMAX | 12V 4.5Ah | 370X410X250 |
(1) Operation via mains connection or built-in lead gel battery 12 V/7.0 Ah (operating time: up to 6 hours),
integrated automatic battery charging
(2) For mobile applications, e.g. at sales events, lectures
(3) Bluetooth receiver for the wireless connection of portable audio players
(4) Professional Mp3 player inside
(5) USB interface & SD card reader
(6) Big Liquid-crystal screen ( LCD )
(7) convenient MP3 player control
(8) MP3 files name is displayed in realtime ( only English )
(9) 2-way speaker system
(10) 1 adjustable microphone input via 6.3 mm mono jack, 1 adjustable CD/Tape input via 3.5mm stereo jack
(11) Adjustable master output
(12) Cabinet in flight case design, with folding handles
(13) Stand sleeve
(14) Pad holder ( on top of Cabinet )
3. Certifications of Product
4. Application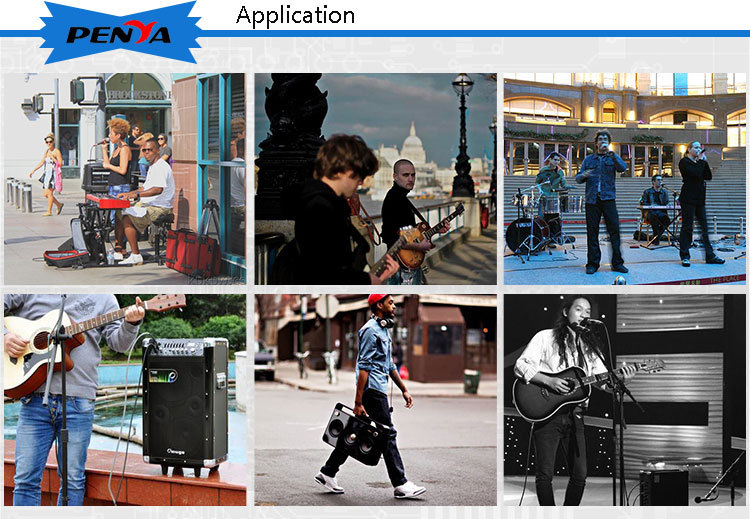 5. Similar Products for You to Choose
6.More Products for You to Choose

7.Our Advantages
1)we produce the speaker by our own and we can assure of the best sound .
2)We own LMS machine and we can complement the sound curve acccording to your request.
3)10Kpcs per month production capacity.
1. Introduction of Company
Hangzhou Penya Electronics Co.,ltd is a 10 years professional supplier of various consumer and industrial electronic products. Based on the rich experiences of OEM/ODM manufacturing for big customers, we began to put more efforts on self innovation these years. We focused on most rapidly developing mobile electronics industry, and developed different products, such as Bluetooth or Wi-Fi speakers or smart phone/pad accessories.
Penya have been researching and developing wireless products with fashion and innovative design for quite a few years. We are the 1st manufacture in China who successfully launched MIMU series of anti-lost products based on Bluetooth 4.0 (Bluetooth smart) technology. We create the conception to separate the function of Bluetooth or Wi-fi with regular speakers by introducing a Music receiver/dongle. So people can enjoy music wirelessly even with decent regular speaker or precious home theater they already have.
We dedicate to developing more wireless products to make your life or work more convenient or comfortable. For example, powerline wireless network extender can allow you to connect with Internet even without lan cable installation. It keep data transferring fast and safe. A salesman can easily use HDMI adapter/dongle to demonstrate his PPT with only his mobile phone. The whole family could also enjoy together in a big screen when they want to share the photos or video which they took by their mobile phone.
Penya will always make the most efforts to meet your requirements with our specialization and professional techniques. We are looking forward the co-operation with you soon in the future.
The company's core advantage:
(1)WIRELESS technology based on Bluetooth or Wi-Fi
(2)Innovative products with competitive price.
(3)Qualified team is ready to serve you at any time.
(4)OEM &ODM Service is available.
(5)short delivery time for samples and mass production.
(6)Most of the products pass CE,FCC,ROHS etc.compliance.
2. Our Company View
3. Welcome to Contact Us