English display portable/handheld ultrasonic flow meter
Product Introdcution
The handheld ultrasonic flow meteris designed to work with clamp-on transducers to enable
the flow of a liquid within a closed pipe to be measured accurately without needing to insert any
mechanical parts through the pipe wall or protrude into the flow system.
Using ultrasonic transit time techniques, the PHILEMON-H is controlled by a micro processor
system which contains a wide range of data that enables it to be used with pipes with an outside
diameter ranging from 15mm up to 6000mm (depending on model) and constructed of almost any
material. The instrument will also operate over a wide range of fluid temperatures.
Feature
High Accuracy : Accuracy better than 1%.
Wide Measurement Range : Measurement range from DN15~DN6000mm

Rechargeable Power Supply: Built-in high-capacity NiMH rechargeable batteries can
work 20 hours(Fully charged).
Non invasion measurement: Can achieve measurement with clamp on sensors
Data Storage: 32K BIT built-in data storage,can store two thousand rows of data
LCD display: LCD dispaly can display the instant flow,totoal flow,flow velocity and
working condition
Application
Water, including hot water, chilled water, city water, sea water and more.

Sewage and drainage water with small particle quantity

Oil, including crude oil, lubricating oil, diesel oil, fuel oil, etc.

Chemicals, including alcohol, acids and more.

Solvents

Beverage and food processors

HVAC hot and cool water, water/glycol solutions

Water and waste treatment

Power plants (nuclear, thermal & hydropower) heat energy boiler feed water

Energy consumption supervision and water conservation management

Metallurgy and mining applications (e.g., acid recovery)




Specifications
Linearity

0.5%

Repeatability

0.2%

Accuracy

±1% of reading at rates>0.2 mps

Response Time

0-999 seconds, user-configurable

Velocity

±32 m/s

Pipe Size

15mm-6000mm

Totalizer

7-digit totals for net, positive and negative flow

respectively

Liquid Types

Virtually all liquids

Security

Setup values Modification Lockout. Access code needs

unlocking

Display

4x8 Chinese characters or 4x16 English letters

Communication

Interface

RS-232, baud-rate: from 75 to 57600. Protocol made by

the manufacturer and compatible with that of the FUJI

ultrasonic flow meter. User protocols can be made on

enquiry.

Transducer Cord

Length

Standard 5m x 2, optional 10m x 2

Power Supply

3 AAA built-in Ni-H batteries. When fully recharged it will

last over 12 hours of operation.

100V-240VAC for the charger

Data Logger

Built-in data logger can store over 2000 lines of data

Manual Totalizer

7-digit press-key-to-go totalizer for calibration

Housing Material

ABS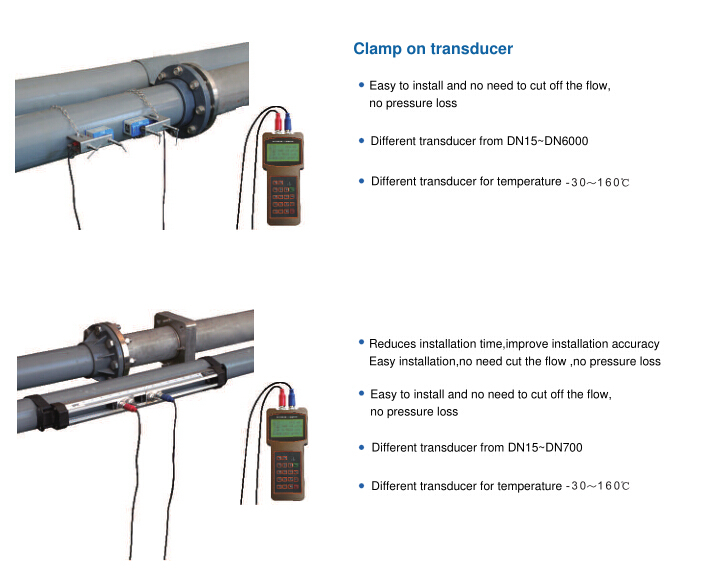 Optional transducer
Installation method
1.V-method Installation(Clamp type)
V-method installation is the most widely mode for daily measurement with pipe inner diametersranging from 15 mm to 400 mm. It is also called reflective mode.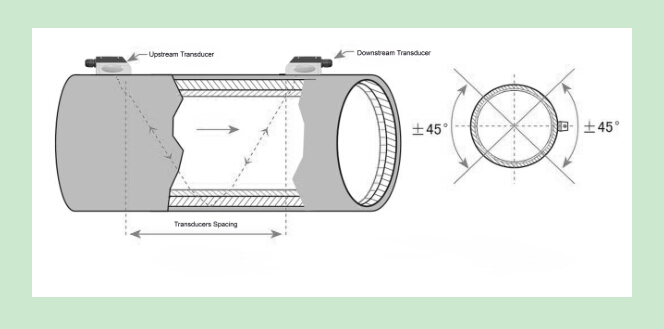 2. V-method Installation (Clamp type)
Z-method is commonly used when the pipe diameter is above 200mm.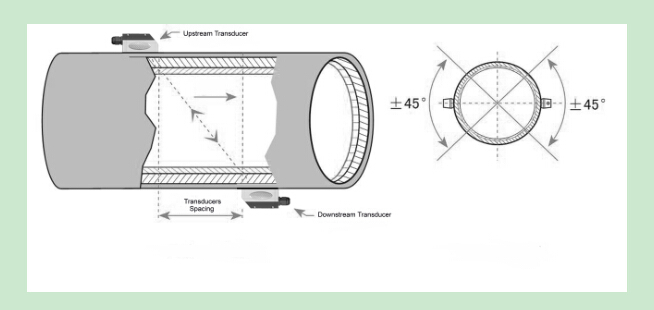 3.(bracket type )Installation
A. Bracket comes with powerful magnets fixed probe: for carbon steel pipe, cast iron pipe, you can use built-in force sensor magnet bracket to fix, just stand in the pipe wall adsorption probe
B. Magic tape fixing: method is very simple, for the fluid temperature below 100 ℃ can use this method of fixing
C. Strip fixed: for the fluid temperature of the fluid ≥100 ℃ can use this method of fixing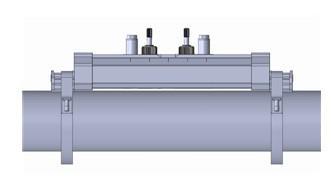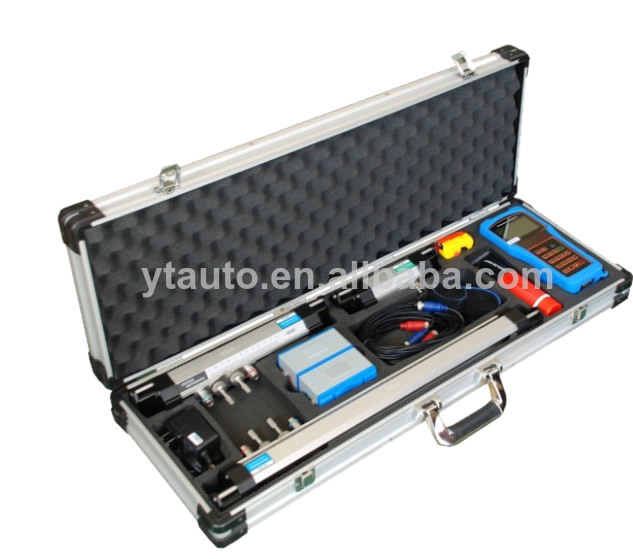 Contact