Professional 6-dof dynamic home theater 4d 5d cinema in guangzhou
Here is a conservative estimation of turnover for a 6 seats 5d cinema.
In China the ticket price is 3$—4$ per person, movies about 5-25min
Ticket price/ ticket

Working time/ day

Conversion mode

Income

Every day

$3

8 hours

$6*3*8*60/15

$576

Every month

$3

8 hours

$576*30

$17280

Every year

$3

8 hours

$17280*12

$207360

Note: the ticket price and working time can be made out by yourself or your local market.
5d cinema is a perfect combination of 3D images and effects producedby
the special equipment upon the human perceptive organs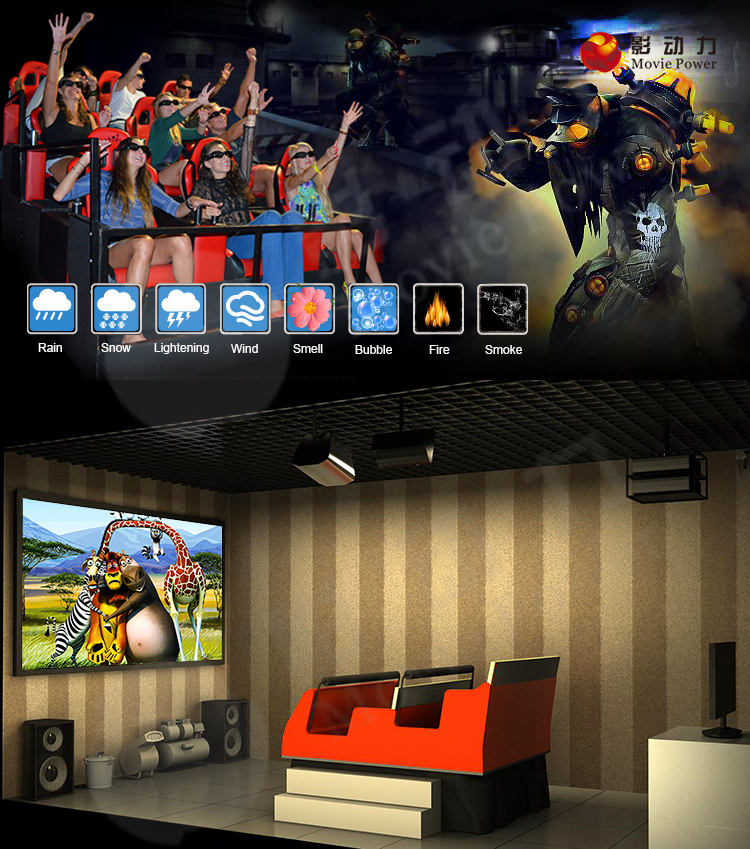 Details of home theater 4d 5d
www.movie-power.com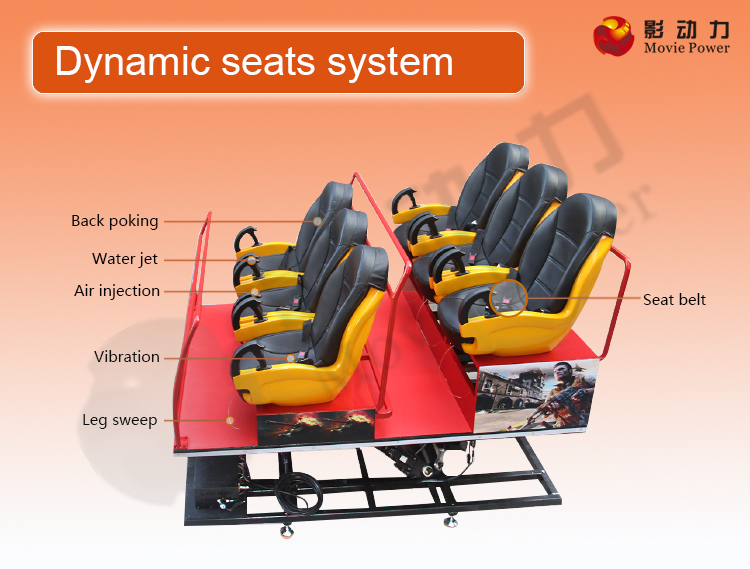 Our dynamic seat system is based on ergonomically designed
to guarantee the best comfort and complete safety to the audience
while the simulator is on motion.It is developed with 6DOF design,
it can provide a dynamic effect with 12 directions,36 combination
and 72 motions.
Specifications of dynamic seat system

Power

2.25KW

Voltage

220V

Power mode

Electric system

Movement

6 DOF

Seat quantity

6/8/9/12 seater is available

Chair effects

Back poking,Air injection,Leg sweep, blow air to face, blow water to face, vibration

Cinema size

6 seats L5m*W3.2m*H3m,9 seats L6m*W3.2m*H3.3m

5d movie

100pcs HD 5d movies, updating 16 pcs every years

Special effects

Rain, snow, bubble, lighting, wind,fog,smell,fire

Warranty

12months for hardware,Life time service for software

MOQ

1 set

Delivery

7 days after receiving deposit

Package

Bubble Pack+stretch films carton+wood frame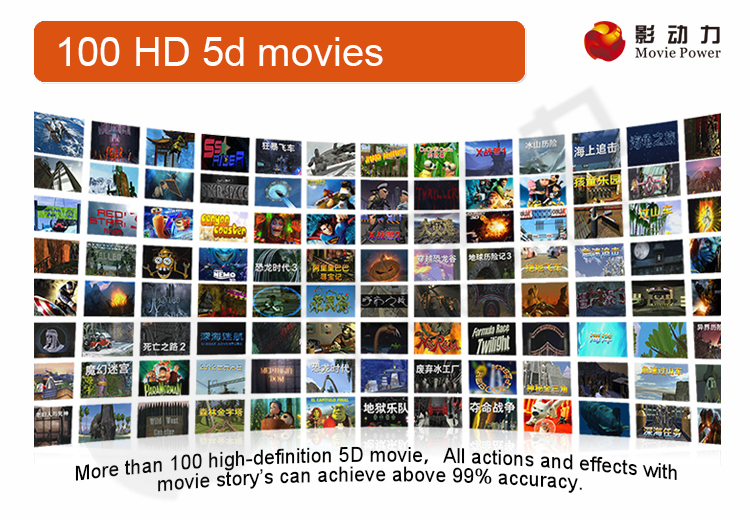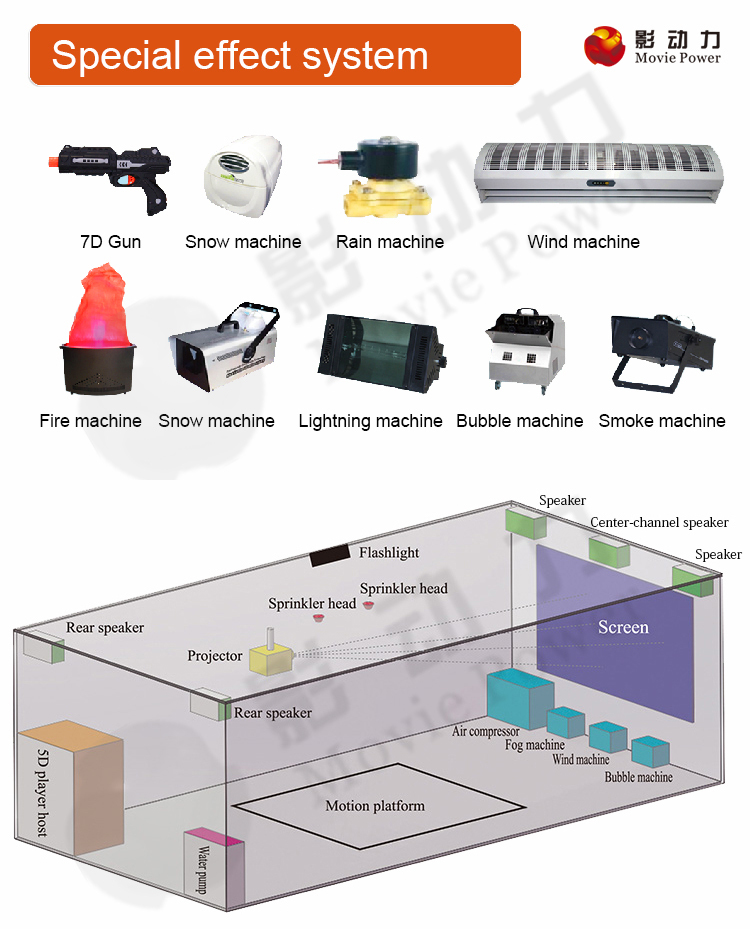 Including lighting simulation, rain simulation, snow simulation, smoke simulation, bubble simulation, hot drop dropping, vibration, air blast, mist spray, leg sticker, ear wind, ear sound and etc.
7D Cinema 5D Cinema Truck Cinema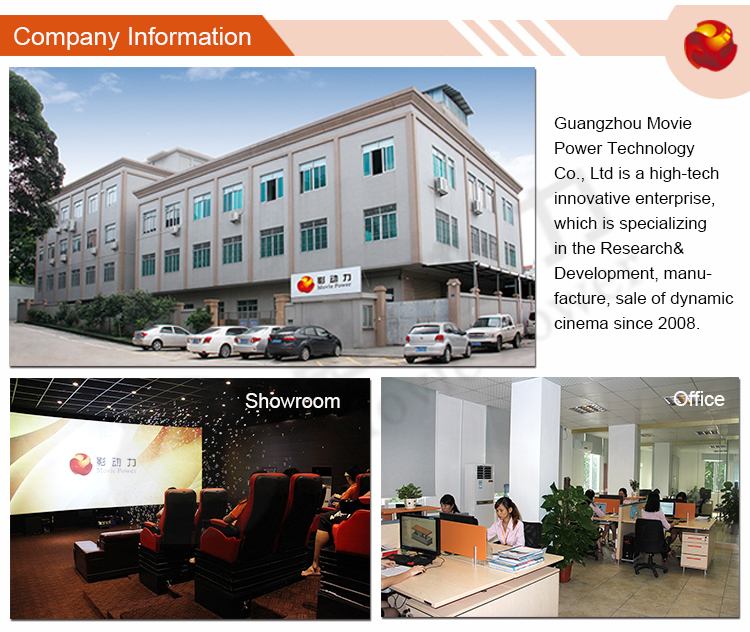 More details please visit our website: http://www.movie-power.com/