Chemical Structure of Fluorescent Brightener BHT - Liquid (C.I. 152/113):

Property & Application of Fluorescent Brightener BHT - Liquid (C.I. 152/113):
The product is applicable for food plastic, polymer material for packing food, grease
product of animal and plant, product contain the grease of animal and plant, and other
various food, grain and oil product, cosmetic, composition material for packing food
and sporting goods. It can be instead of the industry grade antioxidant (T501), widely
used in white or pale color products of chemical manufacturing industry, other industrial
consumer products, polyamine resin materials , chemical synthetic product, industrial oil
product, etc. It is the antioxidant stabilizer of good effect, low cost, good quality and
non-polluted.
Specification of Fluorescent Brightener BHT - Liquid (C.I. 152/113):
| | |
| --- | --- |
| Index | Spec |
| First Melting Point, °C | 69.0~70.0 |
| Water Content, %(M/M) | ≤0.1 |
| Arsenic (As)% | ≤0.0001 |
| Sulfate (S04) % | ≤0.002 |
| Heavy Metal(Pb) % | ≤0.0004 |
| Cauterized Residue% | ≤0.01 |
| Free Cresol(P-Cresol)% | ≤0.02 |
Usage of of Fluorescent Brightener BHT - Liquid (C.I. 152/113):
Antioxidant 264 is a general phenolic antioxidants, which is usually being used as
food antioxidants, stabilizers to delay food spoilage in food grade plastic and food
package.
It can also be used as antioxidant in various lubricants, gasoline, paraffin, and various
crude oil to prevent the increasing of acid rate and viscosity.
The recommended amount will be 0.1%-1.0%
Package & Storage of of Fluorescent Brightener BHT - Liquid (C.I. 152/113):
Normally, it is packed with food plastic film bag lined with polyethylene inner, multi-
layer cowhide-paper plastic composite bag and plastic film bag (waterproof) outer.
The net weight for per bag is 25 kilograms.
It should be stored in the special interior storehouse which is dry,avoiding light, and
must lay the mat to protect from wet.
When transporting and loading, must avoid rain and sunshine beat; ensure the dry
and the package bags will not be damaged and polluted by other products.

The product can't be mixed with poisonous and injurious products while storing and
transporting. Its storage period is three months.
Safety Protection & Factory of Fluorescent Brightener BHT - Liquid (C.I. 152/113):
Please avoid contact with eye and skin. Once contacted, flush with plenty of water
immediately, if necessary, go to hospital for medical help.
Our factory has a rigorous quality-control in the whole manufacturing process and a
discreet quality-inspection after production so as to ensure a good and satisfactory
quality of products before they flow into the market.
Some photos of our factory and labs will be showed as follows:
Our Service for Fluorescent Brightener BHT - Liquid (C.I. 152/113):
We can deliver the goods by courier if the quantity is relatively small, below are
the express we can deliver: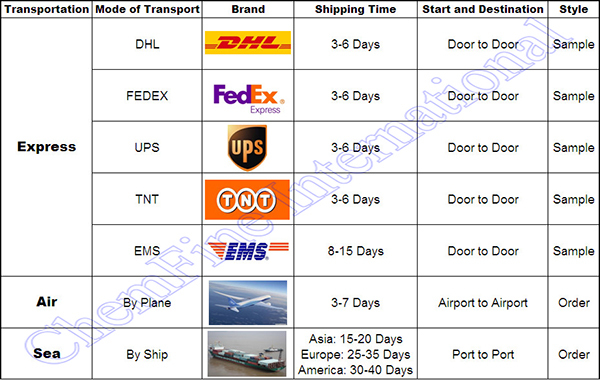 Why Choose ChemFine:
1. Over ten years of manufacturing and trading experiences, over nine years of Alibaba.
2. Sales to more than 20 countries, especially professional in Japan and South Korea.
3. 500 products with competitive price.
4. FCL, LCL, long contract, year contract available.
5. ISO 9001 certified.
6. High quality products, complying with BP/USP/EU Standard.
Frequently Asked Questions:
1.What's your payment terms?
T/T or L/C.
2. What's your delivery time?
Usually we will arrange the shipment in 7 -15 days.
3. How about the packing?
Usually we provide the packing as 25 kg fiber drum, bag or carton for solid or powder products; 175KG, 180KG,190KG,200KG steel drum and plastic drum for liquid products. Of course, we can arrange according to your special requirements on them.
4. How about the validity of the products?
Different products have different shelf life.
5. What documents you provide?
Usually, we provide commercial Invoice, Packing List, Bill of loading, COA. If your markets have any special requirements, let us know.
6. What is loading port?
Usually is Shanghai,Qingdao or Tianjin,Taicang.
ChemFine aims to offer quality products and services needed by the public and health
care professionals. It is looking forward to your inquiry for business cooperation.
For More Details, please feel free to contact us