Large Head Cleaning Foam Swab - CM-FS707/TX707A
Company Description
Shenzhen Cleanmo Technology Co., Ltd. has been actively engaged in the manufacture of Anti-static Cleanroom Swabs , our Anti-static cleanroom swabs are very good substitute for ITW Texwipe swabs .All the test parameters and technical indicators are in line with the requirement of the Hard Disk industry ,free from silicone, amides or DOP, low in both particles and ion content ,it also can be used with 99.9% industry IPA .
Description of CM-FS707 Cleanroom Foam Swab
CM-FS707 are constructed from compressed ,100 ppi(Z) open-cell polyurethane foam that is free from organic contaminants such as silicone ,amide or DOP . The pointed ,non-abrasive foam head is designed for cleaning small ,slotted areas . Our handle material is ESD-safe polypropylene , it has excellent ESD performance . And the excellent cleaning is controlled and supported flexible paddle . Laundered and packed under an ISO Class 4 Cleanroom, The foam exhibits low particulate and ionic content. It has excellent compatibility with most solvents including acetone as well as excellent absorbency and solvent-holding capacity .
The Large Rectangular Head Swab is a large, general-purpose swab for cleaning surfaces . Its closed-cell polyurethane foam head possesses excellent durability and cushioning. A rigid internal paddle provides firm support. The large polypropylene handle enables good control and ease of use.

The swab handle is ESD-safe and is made from polypropylene. The handle is compact and will not contribute to particulate or organic contamination. Designed for general purpose cleaning, Cleanmo CM-FS707 Anti-static Cleanroom Swabs are the ideal swabs to use in
cleaning static sensitive components or parts.
Specification

Features :
-Free from silicone, amide and DOP
-Low non-volatile residue
-Low in both particles and ion content
-Excellent solvent-holding capacity
-Compatible with most common solvents
-No contaminating adhesives or coatings.
Advantage:
1.The 100ppi open-cell sponge or polyester head have excellent absorbency and cleaning affect.
2.The polypropylene handle has excellent ESD performance ,it can protect the sensitive components or parts .And the handle won't produce any particle when it is using.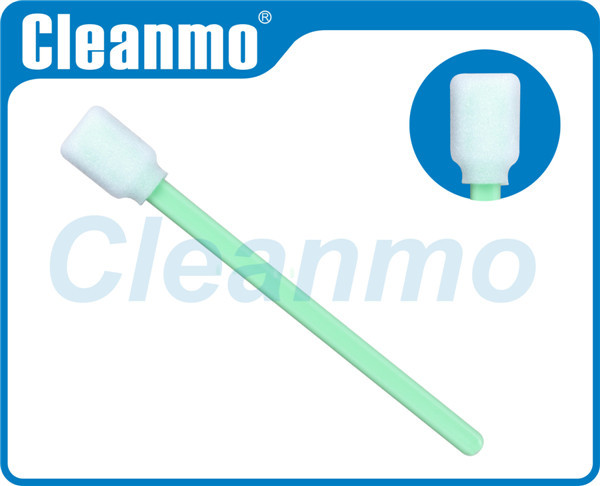 Packing:
50pcs/bags, 50bags/carton
Applications
- Micro-mechanical cleaning
- Remove contamination from disk drives
- Effectively clean small, hard to reach areas with solvents such as IPA
- Remove flux residue and excess materials
- For general purpose cleaning
Other cleanroom swabs
CM-FS750,CM-FS751,CM-FS757
CM-FS742,CM-FS741,CM-FS740,CM-FS746
CM-FS712,CM-FS718,CM-FS719
CM-FS706,CM-FS708
CM-FS610,CM-FS920,
CM-PS743(Double-layer polyester)
CM-PS758L(Single-layer polyester)
CM-PS758B(Double-layer polyester)
CM-PS714(Double-layer polyester)
CM-PS715(Microfiber)
CM-PS761(Double-layer polyester)
CM-PS765(Polyester)
CM-PS542(Microfiber)
CM-FS913(Nylon Fibers)
For catalogue of all types & free samples, feel free to contact me