Power Pink semi permanent hair colour cruelty free hair color
No ammonia, no peroxide, no PPD, no resorcinol;
Leaving hair feeling silky soft;
Fabulous conditioning hair colour;
Last 5--30 washes;
Direction hair colour;
Vibrant hair colour;
Coloration Vibrante Pour Cheveux;
Vegan ethical hair colour, cruelty free:
Bored with the way hair looks ? In the mood to make your own personal fashion statement ? It's time to release your inner stylista with this vibrant hair color.
How to use ?
1. shampoo your hair with clarifying shampoo, then dry hair completely.
2. To prevent color stains, protect your hands with gloves and protect your hairlines and ears with baby oil or petroleum jelly.
3. Place desired quantity of this vibrant hair color into a bowl.
4. Distribute color through your hair.
5. Allow color to set. After 30 minutes, rinse hair in cool water until water runs clear. Color will wash out over the course of approximately 20 washes.
Attention:
Best results are achieved on lightened ( bleached ) hair---follow the directions of your ligtening kit before applying this vibrant hair color.
Caution:
Keep this product out of the reach of children. This product contains ingredients that may causes skin irritation on certain individuals; a preliminary strand test should first be made. This product must not be used for dying the eyelashes or eyebrows, which may cuase blindness. If product gets into eyes, flush eyes with water and contact your physician.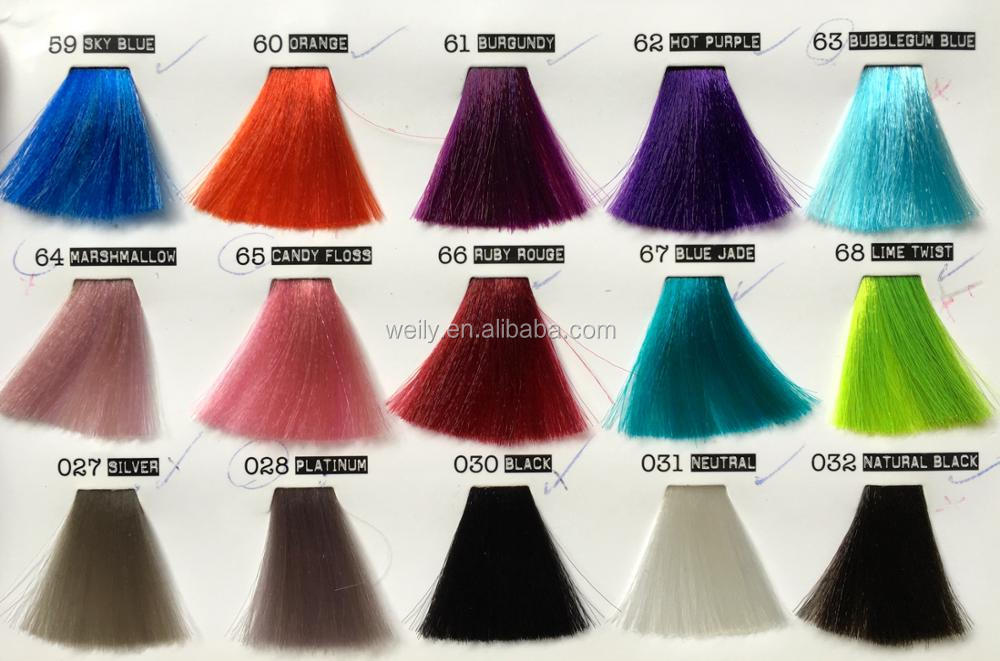 MIX WITH HAIR CONDITIONER TO MAKE ME PASTEL !
Color List we manufacture:
Dark Tulip, Tulip, Rose Red, Plum, Atlantic Blue, Lagoon Blue, Midnight Blue, Neon Blue, Turquoise, Pillarbox Red, Poppy Red, Mandarin, Fire, Violet, Lilac, Lavender, Carnation Pink, Alpine, Apple Green, Spring Green, Bright Daffodil, Coral Red, Vermillion Red, Rubine, Ebony, Flamingo Pink, Cerise, White toner, Silver, Pastel Pink, Apricot, Tangerine, Flame;
Total Esclipe ( Black ), Purple Rain, Power Pink, Sky's the Limit, Amazon Green, Electric Cherry ( Red );
Vermillion Red, Cyclamen, Pinkissimo, Violette, Capri Blue, Peacock Blue, Pine Green, Canary Yellow, Aubergine, Bordeaux, Emerald Green, Lavender, Lilac, Fire, Coral Red, Sky Blue, Orange, Burgundy, Hot Purple, Bubblegum Blue, Marshmallow, Candy Floss, Ruby Rouge, Blue Jade, Lime Twist, Silver, Platinum, Black, Neutral, Natural Black
Cosmetic Good Manufacturing Practice, in compliance with GMPC USA FDA and ISO22716 E.U. :