1. New crops, We are a manufactures ,not trading company
2. Grade:2ND grade
3. Moisture: Below 14%
4. Style&Pungency:Organic American red hot dried red red chili whole,around 8,000-12,000SHU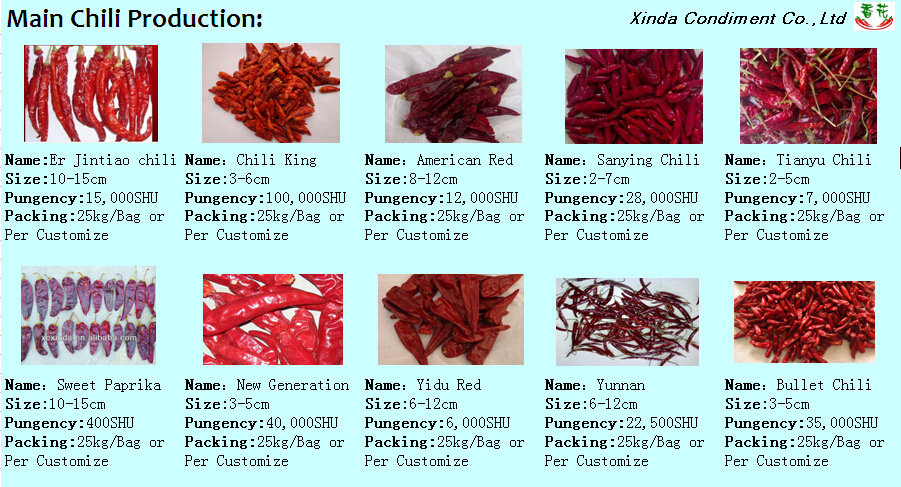 Our Main Chili production are :Sweet Paprika,Tianjin chili,Tianyu Chili,American Red chili,Bullet pepper,Yidu pepper,Beijing Red Chili,New generation chili and Chili king pepper.
About Xinda
Xichuan Xinda Condiment Co.,Ltd. is located in Xianghua town, which has a beautiful landscape and is a very fertile place. There is a chili trading market, named Xianghua Chili city, which is the largest chili city in the whole country. And Asia's largest artificial freshwater lake Danjiangkou Reservoir is also located here. The grand source of the middle route of the South to North Water Diversion Project, praised as the first canal head, is still sited here. As a wetland nature reserve in the middle route project of South-to-North Water Diversion, the environment here is pure and fresh. The water is pure and the soil is uncontaminated, which is the best origin place of green environmental protection crops.
Depending on the advantage of Xichuan chili research institution, Xinda company is an import and export leading enterprise, which specializing in the deep processing agricultural and sideline products, including the products of chili, garlic, mushrooms, fungus , edible fungus, dehydrated vegetables and so on.Xinda company have produced and sold chili products and dehydrated vegetables since 2004. Now Xinda are one of the main manufacturers and suppliers of chili products in China and the world. Our products are not only Chinese Ministry of Agriculture, pollution-free certified products but also Chinese national geographical indications of agricultural products certified products.
Xinda Condiment Co.,Ltd is a main chili production manufacturers not a trading company,so our price is very conpetive!Our Xinda people are willing to do win-win business with our partner from all over the world!