New Design Wireless Smart Home Kit Zwave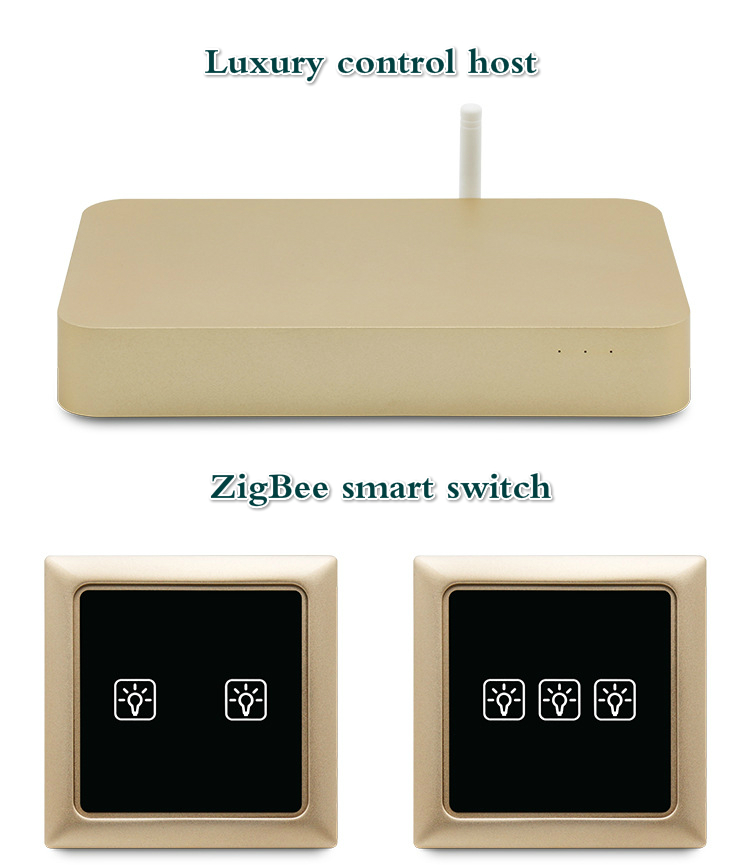 New Design Wireless Smart Home Kit Zwave
New Design Wireless Smart Home Kit Zwave
New Design Wireless Smart Home Kit Zwave
New Design Wireless Smart Home Kit Zwave
New Design Wireless Smart Home Kit Zwave

NAME

DESCRIPTION

FUNCTION
SMART HOME HOST

NET WORK SERVICE CONTROLLER INCLUDING FREE IOS & ANDROID APPS

GATEWAY
CENTRALIZED CONTROLLER

TOUCH SCREEN WALL MOUNT CENTRALIZED CONTROLLER

CENTRAL
2-WAY SCENE SWITCH

TOUCH SCREEN 2-WAY SCENE SWITCH

SCENE CONTROLLER

LIGHTING CONTROL-RECEIVERS, RECEIVE COMMANDS

TOUCH SCREEN DIMMER SWITCH
TOUCH SCREEN DIMMER SWITCH
TOUCH SWITCH FOR DIMMER CONTROL
DIMMING MODULE
DIMMING MODULE
FOR DIMMING CONTROL
LAMP/APPLIANCE SWITCH

TOUCH SCREEN LAMP & APPLIANCE SWITCH(1500W)

SWITCH FOR LIGHTING CONTROL
LAMP/APPLIANCE SWITCH

TOUCH SCREEN 2WAY LAMP & APPLIANCE SWITCH(300W)

SWITCH FOR LIGHTING
LAMP/APPLIANCE SWITCH

TOUCH SCREEN 3WAY LAMP & APPLIANCE SWITCH

SWITCH FOR LIGHTING

AC/AVTV CONTROL- RECEIVER, RECEIVE COMMANDS

INFRARED TRANSCEIVER

AC/ FANS TRANSCEIVER
360 ANGLE INFRARED DEVICES RECEIVERS FOR AC/FANS

CONTROL MODULE FOR AV&TV

AV/TV CONTROL MODULE
CONTROL MODULE FOR TV

DOOR LOCK CONTROL-RECEIVERS, RECEIVE COMMANDS

DOOR LOCK SWITCH

TOUCH SCREEN DOOR LOCK SWITCH

DOOR LOCK SIGAL RECEIVER
DOOR LOCK
FANGERPRINT DOOR LOCK
INDOOR LOCK

IP CAMERA CONTROL

IP CAMERA
NET WORK CAMERA
INDOOR CAMERA
New Design Wireless Smart Home Kit Zwave modules allowing the ultimate flexibility in design, and can tailor our smart home solutions to your exact requirements.
THE SPECIFICATION OF PHONE OR PAD CONTROL SMART HOME SOLUTION 2015New Design Wireless Smart Home Kit Zwave
Smart Home Wireless Zwave Security System
| | |
| --- | --- |
| New Design Wireless Smart Home Kit Zwave | ZWAVE / INTERNET / WIFI |
| SMART HOME SYSTEM | 2015New Design Wireless Smart Home Kit Zwave |
| WIRED OR WIRELESS | WIRELESS |
| BRAND | AURORA, HAIER |
| NETWORKING PROTOCOL | AC 95-240, 50-60HZ |
| SOFTWARE SYSTEM | IOS/ ANDROID |
| OPERATION SYSTEM | LINUX |
| WORKING TEMPERATURE | -15 TO 50 DEGREE |
| SWITCHES | TOUCH SCREEN ELECTRIC RESISTANCE SCREEN |
| CERTIFICATE | CE ISO9001 |
| OEM | CAN BE CUSTOMIZED |
New Design Wireless Smart Home Kit Zwave , compatible with third party products, whenyou use IP technlogy and protocol enjoy the intercom various options for connection to telephone systems, truly experience the perfect life of intelligent community and smart home.
Adopt standard protocol
Transfer call to indoor monitor, mobile phone, and telephone.
Smartphone App function
Unlock remotely anywhere
New Design Wireless Smart Home Kit Zwave showroom profile
New Design Wireless Smart Home Kit Zwave
2016New Design Wireless Smart Home Kit Zwave

New Design Wireless Smart Home Kit Zwave
Why Choose Us
We guarantee our products, and treat each of our clients as an equal partner. In this manner we are able to listen and work with our clients, enabling them to achieve their objectives.
This commitment extends not only to you our customer, but also to architects, designers, distribution partners, employees, suppliers, and the communities in which we live and work. We are ready to assist you with the items as below:
Customised solutions
Extensive product range
Years of expertise
Professional installation trainning
compatible with your demand
Our primary aim is to provide customers with the very best level of service. Our goal is your complete satisfaction, to achieve this we are committed to our Customer Care Policy. We want you to feel happy with every aspect of our service.
If you have any questions or concerns, or if there is anything we can do to help you, please contact our friendly Customer Service team.
We strive to always:
Deal with customers honestly, fairly, and politely.
Develop our teams' expertise and skills.
Be efficient and effective.
Listen to feedback, respond, and then act.
High quality products lie at the very core of our company, from our humble origins over 35 years ago we have always provided the very best products possible. Our Ensured Quality Policy is integral in ensuring that the needs of customers our not only met but exceeded.
The four key elements that make our Ensured Quality Policy are:
Product improvement process.
Accountability and responsibility.
Courteous and timely customer service.
Strict quality control and audit process.
Our company understands that economic and environmental balance is essential. It is because of this that all our smart systems and products are geared towards sustainable growth, and sustainable savings.
We understand our environmental responsibilities, and are committed to sustainability and corporate accountability.
To reduce adverse environmental effects we:
Continually seek to minimise wastage.
Work with component suppliers to improve environmental protection.
Design products which can be 100% recycled.
Identify ways to increase energy efficiency.
New Design Wireless Smart Home Kit Zwave
New Design Wireless Smart Home Kit Zwave
certificate
Contact
Jessica Shih
Mobile: 0086 18868497808
Email: aurorasmart at 163.com
Skype: sherrishi2012