1. Poor contact
Remove the memory, wipe the golden finger with eraser. then put into the motherboard to further check. If still does not work after memory been wiped for times and memory slop replaced. the momory should be deffective in this case then. You can take another memory stick to try again, or put the memory into another motherboard to further test.
2. Boot up failure
Turn off the computer, check the memory carefully to see if any defect on surface like golden finger, chips and boards, If no damage found. then should be install issue. So take out the momory. wipe the golden finger with eraser or alcohol carefully. after the alcohol evaporate, put the memory into the slot correctly. Also the defected memory slot will aslo lead to boot up failure.
3. Windows often switched to safe mode automatically
Mainly because the motherboards and memory are not compatible, high frequency of the memory does not support on the motherboards, should try to slow down the written speed in the CMOS. if still does not work. then plese replace the memory.
4. Computer random crash
Mainly as a result of the adoption of different chips of memory, the speed of memory differences a time lead to the crash, this can be solved in the CMOS setup by reducing the memory speed, otherwise, can only use the same memory. Another possibility is memory do not compatible with the mainboard,this rarely happens. poor contact also might lead to random crash.
5. High temperature on the memory
Under this condition. you can add a fan in it to improve the air flowing. Or you can add aluminium or cooper heatsink on the memory for better heat dissipation.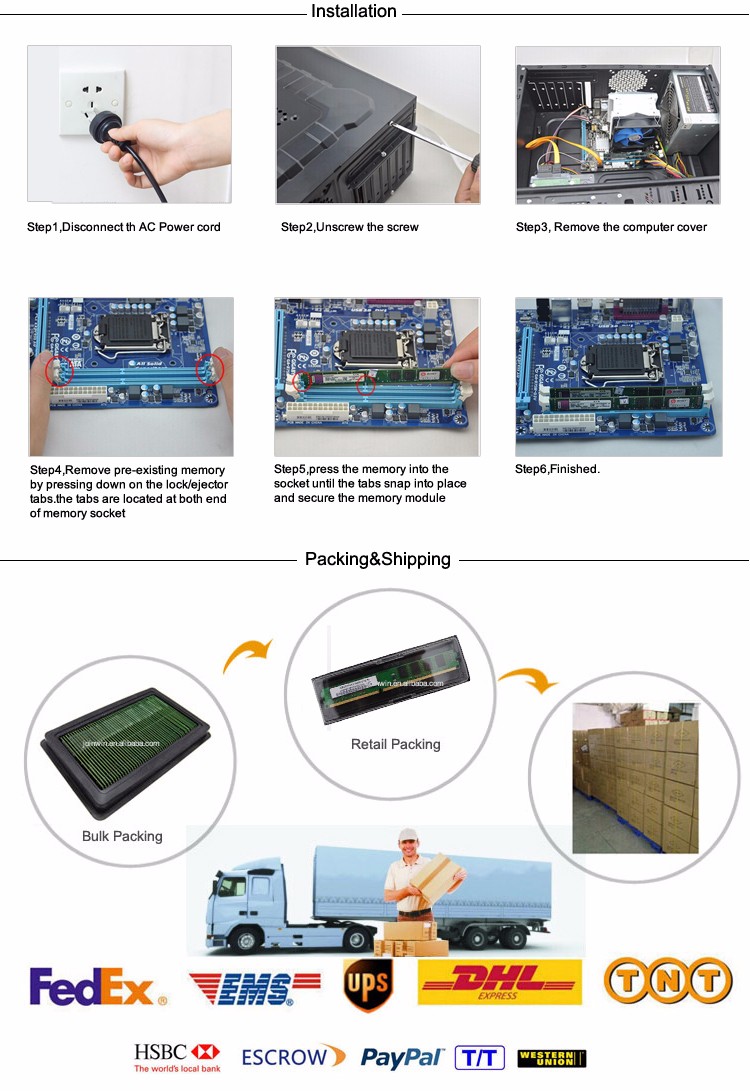 DDR SDRAM LONGDIMM

333MHZ(PC2700)/400MHZ(PC3200) 184PIN

Capacity
Specification
Compatible

512MB

1GB

1GB

32MB*8/16C

64MB*8/16C

128MB*4/16C

Work with all motherboards

work with all motherboards

work with AMD motherboards
DDR2 SDRAM LONGDIMM

667MHZ(PC2-5300)/800MHZ(PC2-6400) 240PIN

Capacity
Specification
Compatible

512MB

1GB

1GB

2GB

2GB

2GB

2GB

4GB

4GB

32MB*8/16C

64MB*8/16C

128MB*4/16C

128MB*8/16C

256MB*4/16C

256MB*4/32C

128MB*4/32C

256MB*8/16C

256MB*4/32C

Work with all motherboards

work with all motherboards

work with AMD motherboards

work with all motherboards

work with AMD motherboards

work with all motherboards

work with AMD motherboards

work with all motherboards

work with AMD motherboards
DDR3 SDRAM LONGDIMM

1333MHZ(PC3-10600)/1600MHZ(PC3-12800) 240PIN

Capacity
Specification
Compatible

1GB

2GB

2GB

2GB

4GB

4GB

4GB

8GB

8GB

8GB

64MB*8/16C

256MB*8/8C

128MB*8/16C

256MB*4/16C

256MB*8/16C

512MB*8/8C

512MB*4/16C

512MB*8/16C

1024MB*8/8C

1024MB*4/16C

work with all motherboards

work with all motherboards

work with all motherboards

work with AMD motherboards

work with all motherboards

work with all motherboards(No G41)

work with AMD motherboards

work with all motherboards

work with all motherboards

work with AMD motherboards
DDR4 SDRAM LONGDIMM

2133MHZ(PC17000)/2400MHZ(PC19200) 288PIN

Capacity
Specification
Compatible

4GB

8GB

16GB

256MB*8/16C

512MB*8/16C

1024MB*8/16C

Work with all motherboards

work with all motherboards

work with all motherboards