Zhuhai AB Cosmetics Co.,Ltd. production serial:

AB Gel Color UV Gel Polish, KA Series
Descriptions:
A, vivid color, easy to paint, easy to soak off
B, no stimulation to your nose or nails
C, good self-leveling and adhesion ensure perfect repeatable paint
D, various colors to choose, specialized orders acceptable
Growth Strategy
1. Better Team Building
2. Customer First
3. Market Orientation
4. Technology Innovation
5. Quality Insurance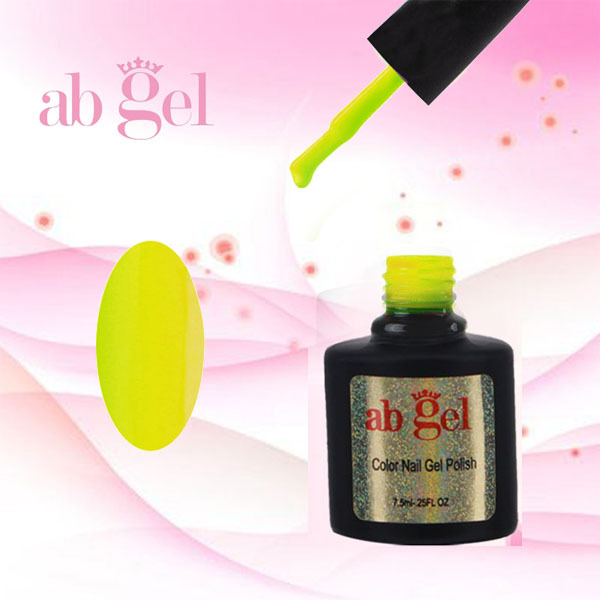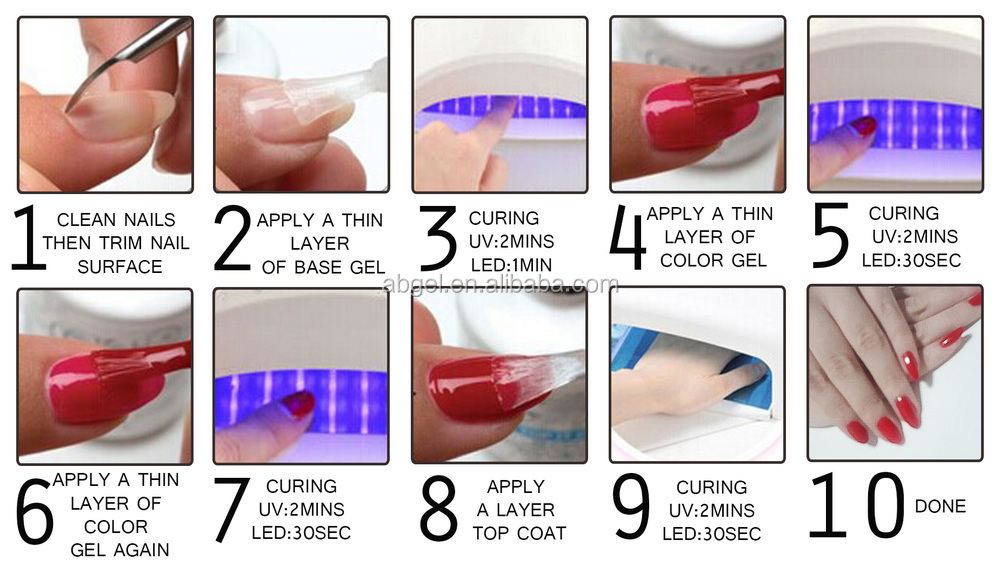 How to soak off the nail gel? easy in 5 minutes !
AB Cosmetics Co., Ltd.
Located in Zhuhai Special Economic District, Guangdong, China, AB Cosmetics Co., Ltd. was established in
2004, as a professional gel manufacturer. Because of our strong R&D support, as well as our quality
advantages, we became top and famous supplier in domestic market as a UV gel material
manufacturing center. Many thanks for years of sincere cooperation from Sartomer, Allnex,BYK,
Teggo,Penn…
Our UV gel series products such as elastic soak- off coating gel, 3-in-1 removable nail gel, elastic
soak- off gel, removable base gel without odor, removable color gel without odor, comfortable
builder gel, have solved many defects which generally exit in some other brands' products. Our
gel products have lots of advantages in many aspects such as brightness, endurance , health ,
environment- friendly features, and have passed the international authority certification as SGS
or CE. Our UV nail gel materials are sold by many top brands worldwide for many years. We can
easily find our material in U.S, Europe , Japan, Russia, Brazil, Middle-east Asia,
Northeast Asia, etc. We also are certificated by ALIBABA as the No. 1 supplier in "nail gel" or "UV nail gel "
market.
The year of 2015 is our first year to push our own brand, AB Gel,in the consuming market. We welcome
top-quality-only clients' cooperation, as our brand agent or OEM/ODM business.
With grateful thanks from AB Gel Family!
Service Goal: Professional, quick response both in pre and post sales services.
We can be better next time, trust us!
Tel: 86-756-5518168
Fax: 86-756-5518198
1. Keep products away from open flame ,direct heat and Prevention of ultraviolet radiation and kids.
2. Do not apply to nails that damaged or infected.
3. Keep it at 18-25 centigrade.
4. Go to doctor if in eyes or mouth.

1, We are professional manufacture which has been in this line for many years.
2, Our products are high quality and competitive price with superior before&after sevices.
3, The MOQ is only 10 bottles
4, Wholesalers or retail is OK
5, Delivery is very fast in 10 days affter order
6, OEM&ODM
7, Good quality and competitive price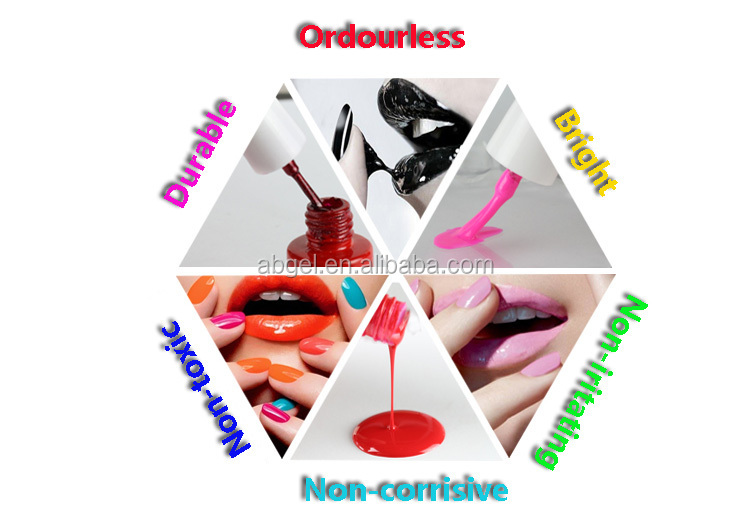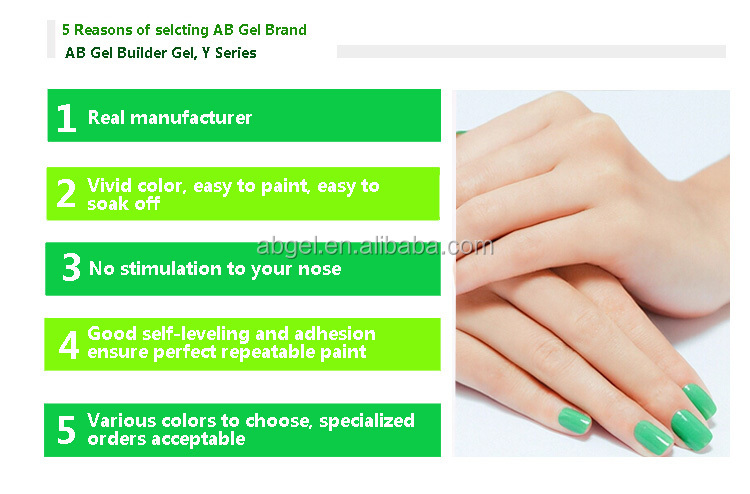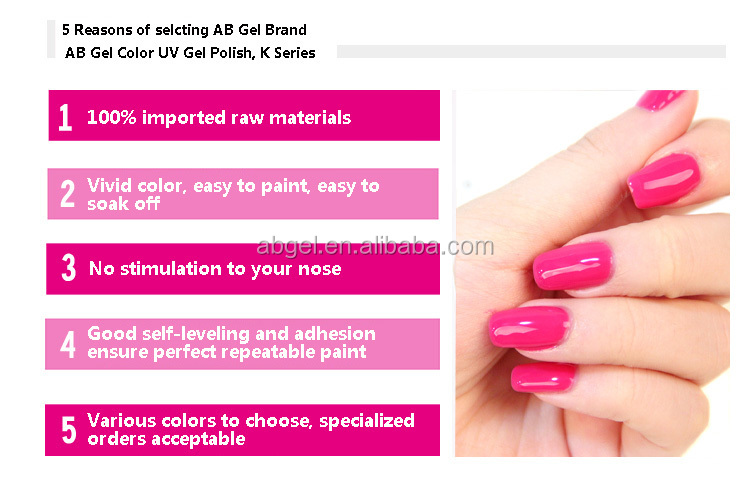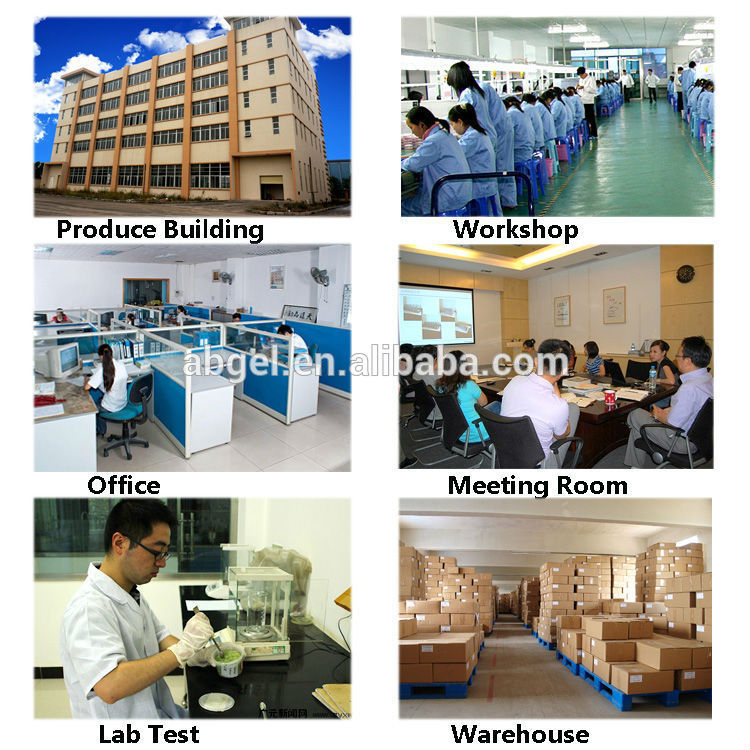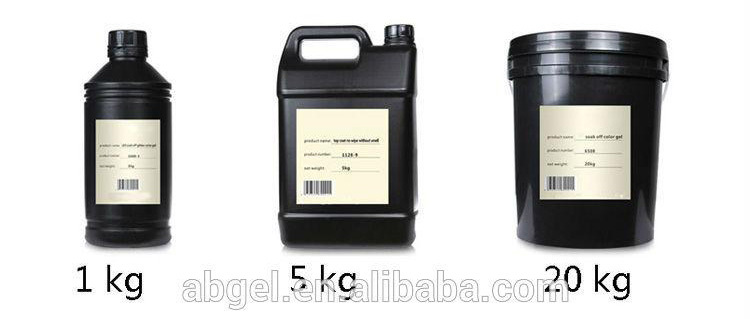 Are you the real factory ?
Yes , we are,we are factory in Zhuhai China !!!
How many years do you make the nail gel polish ?
AB Cosmetics Co., Ltd.was established in 2004, as a professional gel manufacturer.
Are you the most beautiful factory in China ?
No , to be honest,our factory hasn't the most good-look decoration , because we have been 11years old . but our new factory is decorating .
How do you control the goods quality ?
We have the QC department .
We check every half- finish products from viscosity to curing time and so on .
We check every finish products from color to packing.
Can we do our own brand ?
Yes ,we can help you to do whatever you want as long as we can do and the law allows .
How do you ship your goods ?
DHL express , EMS ,HKEMS , TNT, by Sea , by air
Why your price is higher than other china suppliers ? Can u give me better price ?
You get what you pay for .
we can give you the best quality goods so you can get the High performance goods
How many bottles can you fill per day ?
It is no exaggeration to say 30,000pcs is no problem .
what's the shelf time of your products ?
At least 12months .
what's the best conditions for keeping the products ?
8-20 centigrade .
How long can you finish the goods if I want my own logo ?
As experience if anything such logo &packing &artwork is already ok it will about 1week if the quantity is less than 10,00pcs , it will take about 2weeks if the quantity is about 20,000-50,000pcs ,it will take about 1month is more than 100,000pcs .
Can u supply the raw base material if I want to make my own colors ?
yes , we can supply the raw materials which depends on your requirments .we have several grade quality . Please refer to the details of charpter IIIV RAW MATERIALS.
What can u promise ?
We can promise whatever we said is true !!!
We can promise we will try our best to give you the 7-star before-sell &after -sell service .
WE can promise we are 100% honest to you !!!!
Is our products only can keep 15days?
Most of products are durable time for one month. nail growth cycle about 15days.You have to change the nail gel when the nail become long. So it's no necessary to keeping long time. But our products can also good adhesion for one month.
There is no color I want in your color code. Can I take my color code for you?
As long as you need ,any color available.
will I feeling the sting of put my finger in the LED and UV light?
No ,you won't. our products' advantage is no hot-feeling and comfortable toughness.