Formulating raw materials and colorants

Specific applications for each project and customer

We use a wide range of products on the market
We have an extensive background in formulating the different types of PVC used in all the production processes we carry out. Our laboratory formulates the raw materials and colorants and introduces modifications and improvements to the technical plastics available on the market that are used in several projects.
Our know-how in adapting raw materials to the specific needs of each sector ensures our customers flexibility and competitiveness. A specialized division quickly prepares raw materials using grinding, dosage and weighing equipment, and our fully-equipped laboratory can precisely adjust formulations with all kinds of materials testing and trial runs.
The same processes are applied in the colouring of plastics. For our customers, the combination of developing and adapting raw materials and colorants greatly enhances the scope for introducing specific solutions. Our offer of products and services greatly exceeds that of many companies in the sector.
We always match the most suitable materials when catering to the needs of the different sectors we do business in. Among other materials, we work with rigid and flexible PVC, ABS, Polyolefins (PE, PP, EVA, etc.), PC, PMMA, PA6, PA12, PVDF, SBS, SEBS and PS.
Lighting
Diffusers, Tubes, LEDs and Custom-made products

Variety of materials (PC, PMMA, ABS, PS,...)

Different finish treatments (Transparent, Opal, Frosted,...)



In the lighting sector, our activity focusses on Diffusers, Tubes, LEDs and all kinds of custom designed plastic products according to customer specifications for the required lighting project, with original designs and the best technical performance.
We develop all kinds of geometries and materials according to current market trends that require resistance to aging, high transparency, high quality finishes, etc., which give added value to the final product they complement.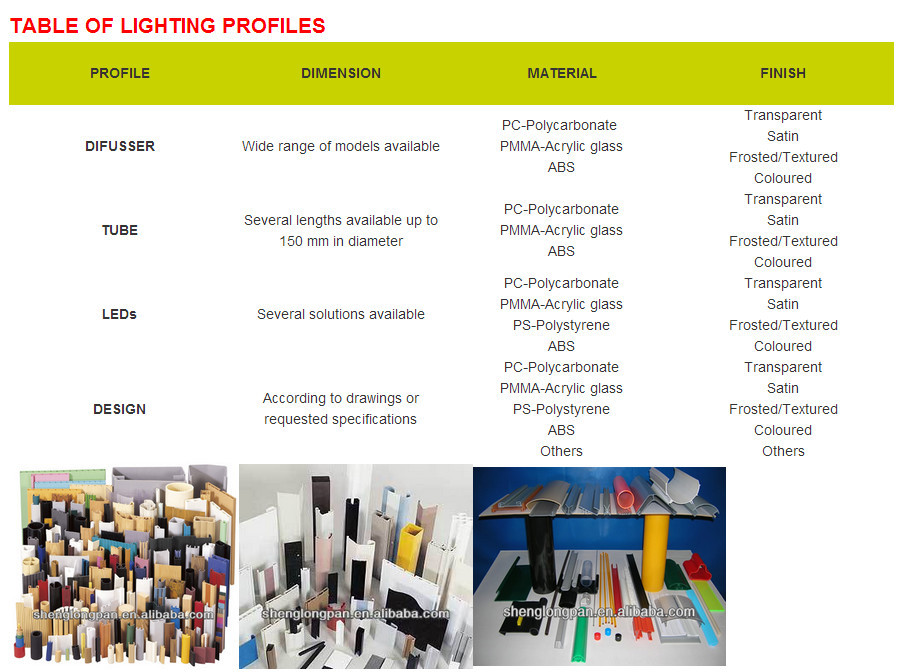 Glass partitions
Profiles for all kinds of dividers and glass enclosures or partitions

Functionality, transparency and UV resistance

Profiles with specific solutions and special finishes
We provide plastic profiles to all sectors that work with glass partitions, shower enclosures, and dividers.
We have an extensive background in this industry, which has specific demands regarding functionality, efficiency and material resistance, and apply solutions from our catalogue and our technical and production capacities to customer projects to produce profiles that meet their exacting standards of transparency and finishes.
This sector is in constant evolution, so our offer includes new models of profiles for market demands, including rigid, flexible and co-extruded products, U and H shaped profiles, joints and other profiles suitable for use in all kinds of applications.
We use the best material for each project, including thermoplastic products such as PVC, PC, ABS, PE, PP, etc., with transparent, opaque, weather and UV resistant, textured, smooth or adhesive-free finishes. Some of our exclusive standards include "Decoform" and "Novocrom".
Three factors define the quality grade of our products – functionality, transparency (on glass partitions) and UV resistance (on outdoor applications). Our capacity to formulate and combine the most suitable raw materials enables us to provide our customers with profiles that satisfy these basic characteristics and at the same time are also flexible and resistant to impact and pressure.
Our involvement in this kind of solutions goes beyond plastic profile development. We provide finishes that increase the functionality of many sophisticated projects, from gliding surfaces and decorative elements to magnetic applications.
We also provide the bath sector with special colours, custom surface treatments, glossy enamels, chrome and mat aluminium, as well as applications using WPC profiles.
We apply specific solutions to the sector by combining the products in our catalogue with other materials found in different industrial applications with proven effectiveness. For special needs, we develop new solutions in our tooling and materials divisions.