SPECIFICATIO
Item

Z2800

INJECTION UNIT

A

B

C

Screw Diameter

mm

170

200

215

Shot Volume(theoretical)

cm3

19293

35154

43530

Injection Weight(ps)

g

17557

31990

39612

Injection Rate

g/s

1799

2095

2121

Injection Pressure

MPa

161

137

135

Screw Speed

rpm

60

50

45

CLAMPING UNIT

Clamping Force

kN

28000

Open Stroke

mm

2000

Space Between Tie Bars(WxH)

mm

1900x1750

Max.Mould Height

mm

1900

Min.Mould Height

mm

1000

Ejector Stroke

mm

450

Ejector Force

kN

430

OTHERS

Max.Pump Pressure

MPa

16

Pump Motor Power

kW

55+55+55+55

Heating Power

kW

171.7

171.7

187.9

Machine Dimension(LxWxH)

m

18.9x3.92x5.2

18.9x3.92x5.2

19.3x3.92x5.2

Oitank Cubage

L

4420

Machine Weight

t

190

195

207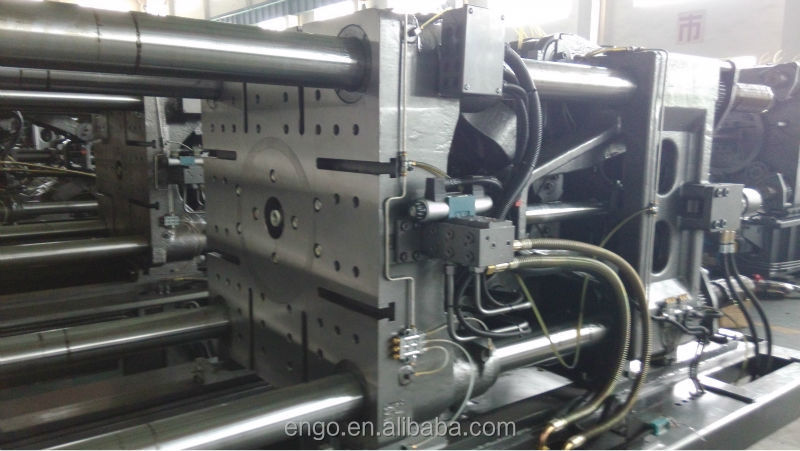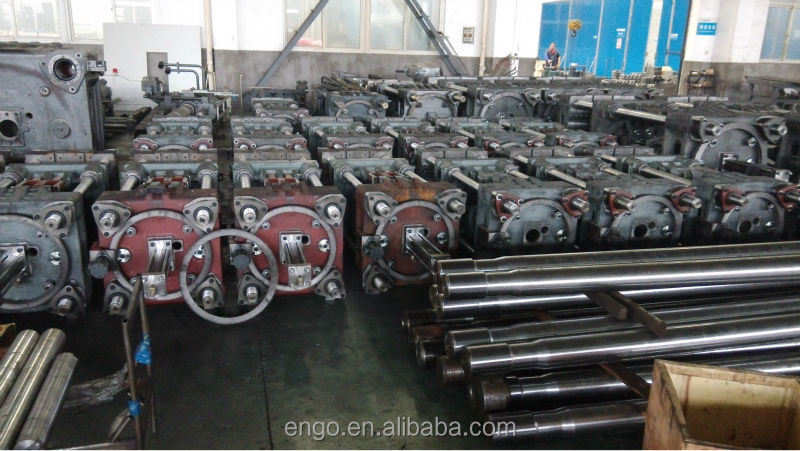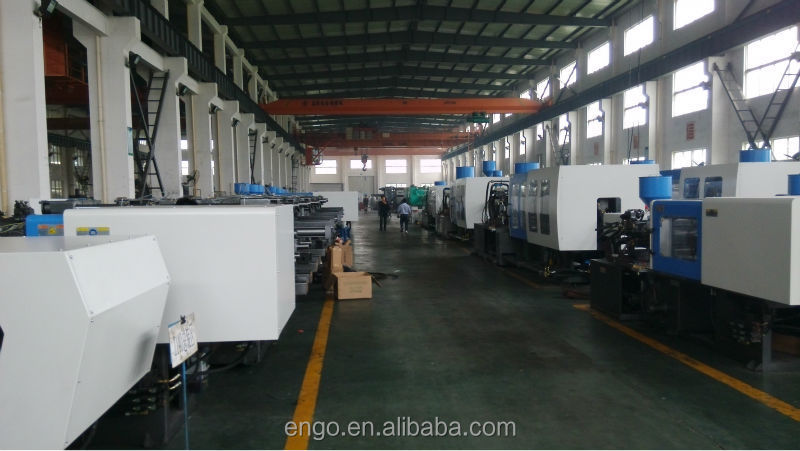 Ningbo Ongo Precision Machinery Co.,Ltd was established in 1992.After more than 20 years
running,we have formed a professional team with more than 10 years developing and
manufacturing experience in high-grade plastic injection molding machine from 700KN to
30000KN clamping force.
The company is situated in Ningbo Industrial Electro-mechanical Park,covers an area of more than 60000 square meters with an annual output of some 3000sets."The profession guarantees quality,the technology creates future".Depending on up-to-date technology,strong productivity,scientific management and customer-oriented concept ,the company has been one of the most active enterprises in plastic machine industry in China!
CUSTOMER SERVICE
Serve For Customers Facilitate Customers
Customer is foremost,integrity comes first.Our professional team can offer worriless full range service and customer-oriented service according to customers individual requirements.
BEFORE SERVICE PURPOSE
Considering reasonable,standard andsaving cost scheme for customers,we offer all -around service and technical support to help them choose correct machine.
SALES SERVICE
We will provide customer instructions on water and electricity connection of the machine,free new machine commissioning,technical training and machine operation training.
AFTER-SALES SERVICE
Technical support and product maintenance we offer subsequent training and technical consultation ,can even send service engineer to solve the problem at the customer's factory.After upgrading our product,we will give priority to update the sold machines according to customer's requirement.
RELATED INDUSTRIES FIELD
We can solve the probiem for you at different injection molding industry:
Automotive Industry
Household appliances Industry
Stationery/Toy Industry
Electric&Electronic Industry
Construction Industry
Packaging Industry
Household Goods
Medical Industry
.........etc.........
Why choose us:
1.Quality Is When the Customer Comes Back-Not the Product.
2.Leading Science and Technology.
3.PRECISE AND ENERGY-SAVING SERVO MACHINE JD SERIES.
4.THE ENERGY SAVING ELECTROMAGNTIC HEATING SYSTEM.
5.High-grade Plastic Injection Molding Machine.
6.Linking connecting rod.
7.Platen center is thick enough,use new utility.
8.Enhanced stationary platen,use new utility.
9.Special customized and optimized control system.
10.Injection preplastication seat with oil copper sleeve.
11.Closed base structure.
12.Automatic Mould adjustment.
13.Sealed structure with cone surface.
14.Spray plastic in oil tank,use new utility.
15.Double movable hydraulic cylinders tightening structure
16.Copper bush with high quality
17.Number conversion linkage structure
18.The device to transit thin lubrication oil in volume style
19.Screw rotational speed detection
.........etc..........
After more than twenty years development and accumulation,Ongo has gathered a technology group mastering this professional field and pursuing outstanding.We devote ourselves to the product research and technology development with pioneering and innovative spirit,and have several patents already. Introducing Italy advanced technology,in the mean time,we digest and absorb it continuously,as well as combine with our own innovation ability to realize second development in order to meet the changing market needs.In the survival of the fittest competition,we are forward developed by plowing various difficulties.