EGO Connecting Rod Kit for YAMAHA Motorcycle spare parts
| | |
| --- | --- |
| Port: | Taiwan Port |
| Supply Ability: | 60000 Piece/Pieces per Month |
| Payment Terms: | T/T |
| Packaging Details: | Each set is well packed in box to prevent from rust. All boxes are fixed in strong carton for shipment. Besides, we have customization service for packing. |
| Delivery Details: | 1.5 Months |
View All
CHORNG KO CO., LTD.
Taiwan | Manufacturer, Trading Company
Response Time

>72h
Response Rate

25%
Transactions

--
Supplier's local time is 23:36
Product Name:
EGO Connecting Rod Kit for YAMAHA Motorcycle spare parts
| | |
| --- | --- |
| Port: | Taiwan Port |
| Supply Ability: | 60000 Piece/Pieces per Month |
| Payment Terms: | T/T |
| | |
| --- | --- |
| Packaging Details: | Each set is well packed in box to prevent from rust. All boxes are fixed in strong carton for shipment. Besides, we have customization service for packing. |
| Delivery Details: | 1.5 Months |
EGO Connecting Rod Kit for YAMAHA Motorcycle spare parts
(More information : www.con-rods.com)
Technical Specifications
Big-end Width (mm): 14
Small-end Width (mm): 14
Big-end Bore (mm): 35
Small-end Bore (mm): 15
Center-to-center (mm): 93.5
Pin Diameter (mm): 28
Pin Length (mm): 39.5
Big-end Bearing (mm): 28*35*14
Small-end Bearing (mm): N/A
Washer Thickness (mm): N/A
Characteristics
+High Strength Material
+High Compatibility of Rod Kit
+Long-lasting Life
+ISO/TS 16949 Quality System
+Famous OEM Factory Product
+Competitive Price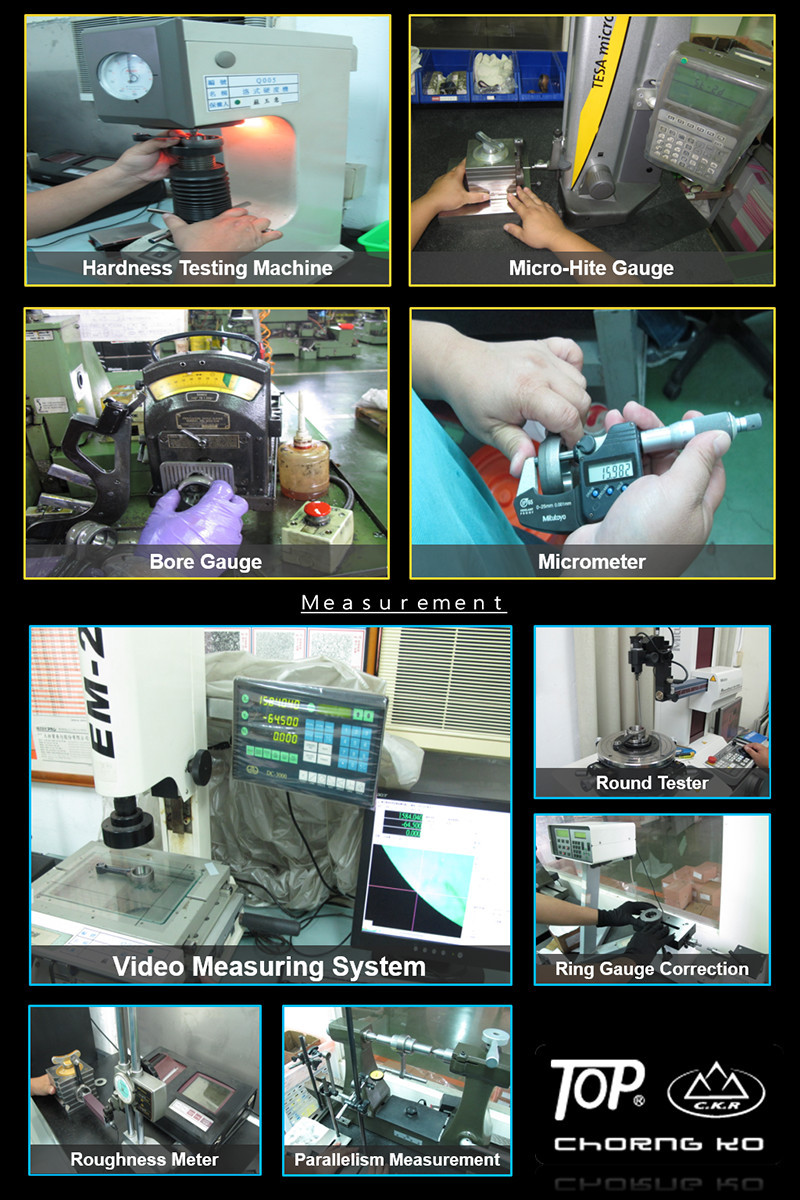 Measurement

Scope Tolerance

Instrument

Capability

Bore Diameter

±0.005mm

Bore Gauge (Sunnen)

0.001mm

Bore to Bore Distance

±0.05mm

Micro-Hite Gauge (TESA)

0.001mm

Rod Thickness

±0.05mm

Micrometer (Mitutoyo)

0.001mm

Hardness

HRC 25~45
HRC 59~63

Hardness Testing Machine (Mitutoyo)

1 HRC

Roundness / Cylindricity

0.003mm

Round Tester (Mitutoyo)

0.01µm

Roughness

Under Ra 0.2µm

Roughness Meter (Mitutoyo)

0.01µm

Parallelism

0.05/100

Indicator (Mitutoyo)

0.01mm

Ring Gauge Correction

±1µm

Universal Length Measuring Instrument (Helios)

0.1µm

Rod Profile

±0.30mm

Video Measuring System (ARCS)

0.5µm
ISO/TS 16949 Certification
Process Control
We believe that the best products are produced only when the process control system is well established. With more than 20 years experience of manufacturing, Chorng Ko has organized a strict and efficient process management system to ensure every rod is made with excellent quality. Continuous improvement is one of our important principles. We keep modify our processes to achieve higher yielding and higher specification. Needs from customer are our motivation to get better and better.
Main Equipment
+

Computer-aided Shaping Machine(600 Ton)

+

CNC Bore Grinding Machine

+

CNC Lathe

+

Horizontal Bore Honing Machine

+

CNC Machine Center

+

Vertical Bore Honing Machine (Automatic Sizing)

+

Programmable Tempering Oven

+

Automatic Packing Machine

+

Double-disc Vertical Grinding Machine

+

Vacuum Packing Machine

+

Double-disc Horizontal Grinding Machine
About Chorng Ko
Chorng Ko IND., founded in 1993, are specialized in research and developing in connecting rod, especially for high quality motocross bike reinforced connecting rod kits. Our company incorporates high precision machinery and inspection equipment from German, Japan, USA as well as domestic. Currently we are ISO9001 and ISO/TS 16949 certified company. Based on the strict and well controlled quality system, every motocross bike connecting rod is guaranteed that the quality is second to none. We supply to customers worldwide with outstanding reputation for high quality, competitive pricing and satisfying customer service.
Chorng Ko works with varies of motorcycle OEM companies including SYM, KYMCO, AEON, PGO, Dinli, etc. Aftermarket parts for scooter, motorcycle, outboard engine, motocross bike, PWC, ATV, are well developed with excellent public praise and outstanding satisfaction in what we do and what we can do. Strong and long-lasting connecting rods with lightweight design are produced for motocross bike application. Our fracturing-splitting technique applied to marine rod is especially famous in this field.
We welcome your phone cell, comments, requests and certainly welcome the opportunity to cooperate the business with your company when it comes to the connecting rods.