Specific Information of Solar Yellow Flashing Light:
Unit Size

380(L)*130(W)*350(H)mm

Unit Weight

6.8kg

Solar panels

Power

8W

Voltage

18V

Material

Monocrystalline silicon

LED

Type

Epistar brand, dia 5mm

Quantity

138 pcs or customized

Color

Yellow

Shell

PC plastic anti-UV material

Battery

Type

Anti-high(low) temperature Lead-acid battery

Power

7Ah

Voltage

12V

Working environment

Frequency

1HZ ±20%

Protection level

IP65

Working time

10 days in rainy days

Visibility

>800m

Certification

CE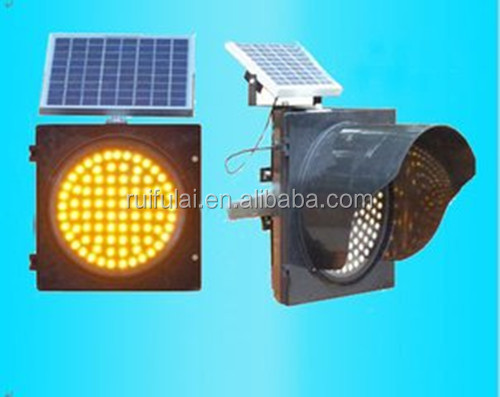 Application:
The solar yellow flashing light is widely used at traffic crossings, bridges, curves and somewhere in danger to warn the drivers of being careful so as to avoid traffic accidents.
The importance of solar yellow flashing light's appearance molding is equal to the quality of every functional device when you install solar yellow flashing light.
Though the solar yellow flashing light is small, it represents the style of a modernize city, it also reveals the image of the region traffic management.
Specifications:
1.Safety Warnings
2.Energy Efficiency
3.High Brightness
4.Super Penetrability
Features:
1.To supply electricity by solar panel, without external power supply, used at the traffic crossings
2.Sustain power supply continuously for over 10 days when in the wet or rainy days after full-charging
3.Battery can work 3-5 years and can be replaced.
4.Accessories: a solar panels, a hat, and four sets of mounting screws on.
5.For the LED quantity, we make for your requirement
Installation:
1. Open the package, install the lens hood, and fasten the screws.
2. Fix the light onto the post, adjust to right direction and fasten the two screws.
3. Move the universal wheel of solar panel towards the sun and fasten the screw